Personal loans up to $20,000
Low-interest starting from 13.95%
Repayment up to 5 years
In-page navigation
---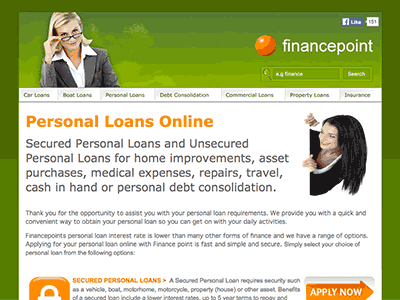 Author Finance Point. Screenshot of Finance Point website.


[Accessed April 17, 2018]
Finance Point - tailor-made personal loans
Our professional brokerage facility is committed to making your borrowing experience stress-free, simple and agreeable for your needs because our customers are valuable to us.
We offer specialised assistance to New Zealanders considering a personal loan and/or property finance. Simply tell us about your situation and requirements and we will find a solution to meets your specific needs.
Professional lending team
Finance Point will assist you every step of the way, our professional consultants are well trained and can answer any of your questions in an effortless manner, giving you complete peace of mind and confidence when applying for a personal loan through Finance Point.
Loan type options
Our specialties are both secured and unsecured personal loans. We offer maximum flexibility when it comes to your long or short term loan and we will assist you in reaching your financial goals and decision making.
Through Finance Point, you are able to obtain a personal loan that will suit your requirements as well as your budget; we also offer very low-interest rates and variable repayment terms.
Finance Point Services
We are here to accommodate you in any way possible, you can rest assured that you are in good hands because we offer our expertise that will guide you.
Finance Point acts swiftly and professionally to ensure that the process is as convenient for you as possible. You can select a personal loan term and repayment structure with confidence because we offer financial comfort, both in the short and long term.
Quick and convenient personal loans
Finance Point would like to take this opportunity in assisting you with all your personal loan requirements.
We provide a quick and convenient way so that you can obtain your quick cash loan in order for you to go about your business and not have to worry about a thing.
Stress-free loans
Allow Finance Point to take away the hassle of finding a personal loan, we will do all the work for you and we'll structure a personal loan that will suit your personal needs. No fuss, no hassle!
Complete our online loan application and let us know what you need, it's that simple because you need not do anything more we'll take it from there.
Finance Point – Personal loan
Loan Type

Personal loans

Interest Rate

13.95 – 15.95% p/a

Loan Amount

up to $20,000

Repayment

12 months to 5 years
Benefits of Finance Point
CAR Loans
PERSONAL Loans
DEBT CONSOLIDATION
Property Loans
Boat Loans
Commercial Loans
Finance Point - Unsecured and secured personal loans
You could take advantage of this loan to purchase a new motor car or perhaps a boat, as well as for personal reasons that would include medical expenses, travel, funerals, education or cash on hand.
You could also use a personal loan to consolidate your debt which means you combine all your current loans into one easy manage loan with lower repayments.
A secured personal loan could assist you with your home improvements so that you are able to renovate your property which is long overdue.
If you need finance for any other larger events or purchases, you may consider a Secured personal loan.
Features and benefits of a secured personal loan include:
Choose how you would prefer to pay by way of monthly, weekly or every fortnight.
You are able to loan larger amounts plus you don't pay any penalties should you want to make extra payments.
A secured personal loan is great because the interest rate is lower than that of many other forms of finance and offers a loan term of up to five years, plus you are able to increase your loan at any time.
Unsecured personal loans
The Secured Personal Loan features offer the exact same as that of an unsecured loan, except security is not required for an Unsecured Personal loan and your repayment terms are up to 7 years.
Secured & unsecured loans
We aim to give you the assistance you need to make the right decision. Work out how much you need to borrow and ensure that you have the affordability to maintain your repayments.
Our job is to help you make the right decision but it is you who will ultimately decide how much to borrow and how to repay the loan.
Debt consolidation loans
Are you fed up with juggling your debt? Our debt consolidation loan could possibly be your answer, combine your debt into one single account one single repayment, this may well give you the opportunity to take control of your life back. You are also able to save on interest over a time period and the interest rate is generally lower.
Quick & easy online applications
Our online application process is streamlined which makes the process that much easier and hassle-free, once your application is completed and you qualify your funds could be available in no time. So don't delay, apply online for an instant loan today so that you can enjoy some peace of mind.
Why should you choose Finance Point?
Our personal repayment terms are easier than most financial institutes because we take the time to ensure that your instalments are affordable and that your repayments will not have a significant influence on your regular spending plan.
Eligibility
To be eligible for a personal loan with Finance Point, you will need to be 18 years and older, the requirements are that you be a New Zealand resident, have a monthly income and proof of your remuneration being paid directly into your bank account for the last three months
If you fit the bill with the above requirements you may apply for a pre-approval for a Finance Point personal loan.
Customer Reviews & Testimonials
"
They have a fantastic team who helped me with a personal loan in the most efficient and professional manner.
Lauren A.
— Palmerston North —
Taking out a loan can sometimes be a seriously laborious process, so thank you so much for making it as less stressful as possible. That and your swiftness made getting my personal loan so easy.
Henry G.
— Tauranga —
The simple online application is very easy to get through and doesn't take long either.
Trent T.
— Dunedin —
Finance Point Contact
Contact Number
E-Mail
Website
Physical Address
St Leonards

Napier

Hastings

4120

New Zealand