Personal loans up to $1,000,000
Low-interest starting from 13.9%
Repayment up to 5 years
In-page navigation
---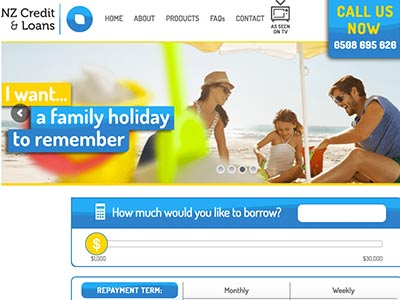 Author NZ Credit & Loans. Screenshot of NZ Credit & Loans website.


[Accessed April 17, 2018]
NZ Credit & Loans
NZ Credit & Loans was established to make it easy to borrow for Kiwis. Several of our competitors want their customers to complete pages and pages of application forms for multiple finance firms, including multiple credit checks; we decided that that was too complicated so we ask our customers to fill in one application.
You'll fill in one application and we'll assess your application and get back to you, once everything has been completed, your personal loan should into your bank account in no time. Plus, you can spend the money on anything you wish.
Simple loan applications
We also came to the realisation that New Zealanders prefer to deal with New Zealand owned businesses and not big banks or finance companies that are focussed on their profits.
Let's face it, we're a million miles away from cutting bureaucracy and unnecessary form-filling, so we have made things simple for the finance industry.
Loans for clients with bad credit
You don't need to worry too much if you have a bad credit record because we may still be in a position to assist you with our bad credit loans.
We understand that nobody's perfect and that we all go through a bad patch at some stage of our life.
What you need is a team of experts to assist you and get you back in control again, offer the security of a guarantor that is prepared to assist you.
NZ Credit & Loans Services
It doesn't matter if you apply online or telephonically, you could also apply in person, we make it easy for you because we do all the legwork.
We pride ourselves on making sure that the funds are paid promptly, this is often on the same day latest the next day. New Zealand Credit and Loans are in association with some of the East Bay Finance Group of companies.
Personal loans - don't wait to enjoy life
NZ Credit & Loans offer personal loans for almost anything. Be it a household appliances, a much-needed vacation, a family celebration, a day at the spa, a new vehicle, perhaps there are wedding bells.
Credit & Loan can help you with pretty much anything, all you need to do is fill in a simple loan application form and we can have the funds available is a jiffy.
The freedom of debt consolidation
If you are tired of juggling credit cards, store cards, and any other payday loans you may have. There could also be a possibility that you are being overcharged with interest. That's crazy right?! But true!
Why not allow NZ Credit & Loans to assist you in bringing all your debt under one roof with a consolidation loan. It means that you don't have all those ludicrous rates that are keeping you back from things you want to do!
Think about one simple loan to settle all your unwanted debt and make one simple repayment, in sync with your remuneration cycle which means you can pay monthly weekly or every fortnight. It can't get any simpler than that!!
NZ Credit & Loans – Personal loan
Loan Type

Personal loans

Interest Rate

13.9 – 39.95% p/a

Loan Amount

up to $1,000,000

Repayment

6 months to 5 years
Benefits of NZ Credit & Loans
PERSONAL Loans
DEBT CONSOLIDATION
Wedding Loans
CAR Loans
HOME Reno's
Holiday Loans
Property Finance
Moving Home
NZ Credit & Loans - Its easy to get a loan through us
NZ Credit and loan specialise in secured and unsecured quick cash loans. This type of loan will generally be reflected in the loan amount and also in the interest rate.
Go check out our online calculator and determine how much money you can save perhaps thousands of dollars. We have made applying for a debt consolidation with NZ Credit & Loans as simple as possible. It really is no brainer.
Wedding loans the biggest day of your life
This is one magic day you'll probably never forget, but the dress and reception are costly and let's not forget the honeymoon! We get that a lot of time and effort goes into a wedding and we don't always have the funds. They all add up!
This is where NZ Credit & Loans is able to assist with full financing, we want to make sure you have the funds for everything you want to do for your magical day and make it a day to remember forever contact us, we don't want you to sit there and wonder how on earth you're going to pay for it all.
Car loans - let us spin your wheels
Looking for new wheels? Apply for car finance through NZ Credit & Loans and drive away in style. Picture you and your family going for a drive in the comfort and safety of a nice new car.
It doesn't matter where or from whom you decide to purchase from, leaves all the hard work in our capable hands whilst you go off and negotiate with a cash deal. NZ Credit & Loans will ensure that no monies are outstanding on the vehicle and that ownership is verified. It's as easy as pie!
How much you are able to lend and how repayments work
The amount you borrow is entirely up to whether you have applied for a secured or unsecured personal loan. For a secured loan you are able to lend up to $ 1 million and an unsecured loan varies from lender to lender.
Your income and expenses will be taken into consideration and then work out what your regular payments are.
Customer Reviews & Testimonials
"
Quick cash and incredibly efficient service.
Nick T
— Christchurch —
The best way to describe the process of getting my personal loan is it was a smooth ride. From start to finish there was no fuss, just straightforward and easy.
Leah D
— Whangarei —
I rate NZ Credit & Loans pretty high because of how fantastic they were when I contacted them for a personal loan. The consultant who assisted me was so helpful and supportive, assisting me throu...
Henry C
— Nelson —
NZ Credit & Loans Contact
Contact Number
E-Mail
Website
Physical Address
109 Lyndon Rd E

Hastings

Hawke's Bay

4122

New Zealand