P2P loans up to $100,000
Low-interest starting from 5.03%
Repayment up to 120 months
In-page navigation
---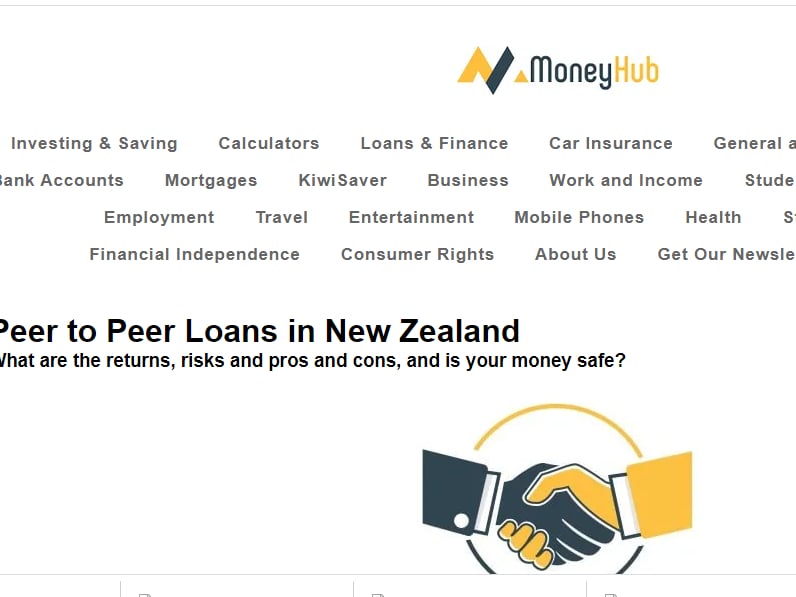 Author Money Hub. Screenshot of Money Hub website.


[Accessed August 10, 2021]
Money Hub - A diverse loan platform
Your money may not be lent to borrowers immediately. After funding your account, you will need to wait for someone who is looking for funding to make an online loan application.
There are peer-to-peer platforms that are a bit more popular than others, so whilst you are waiting to fund a loan your money is in no way earning any interest.
Should you be investing, let's ay $10 000, this may take a couple of weeks to drip feed into your loans that are available.
The majority of peer-to-peer lending is unsecured
Should you invest your cash with a bank and they lend it unwisely, the bank will still have the obligation of repaying your investment.
However, with a peer-to-peer lending you are not protected should the person who is borrowing the money defaults unless of course the loan has been secured.
You are also not able to go after them in a case of default as the borrower's identity is always protected by the peer-to-peer platform.
The loan amount will be written off against the lender's investment.
There are platforms that could possibly have funds set aside to protect you against any risk, but one way or other costs will be funded by your investment.
Money Hub Services
This is a considerable risk by way of the industry being new to New Zealand and it's realistic to suppose not every platform will stay afloat. By law, the business or personal loans are between the borrower and yourself, so if your peer-to-peer platform goes under you do have the right to your cash.
All platforms have a sovereign trustee, who will appoint a loan administrator as a backup third-party; however, this could possibly disrupt the day to day loan collections and management processes.
The particulars of peer to peer loans would be passed on, even so, the collections process could be dissimilar, plus the changes could possibly cause a rise in non-payments as borrowers to become aware of the circumstances.
Peer-to-peer lending
You are not able to withdraw your money early. As soon as you've lent your money to borrowers the repayment terms are fixed. This means that you are not permitted to break the guarantee and transfer or withdraw your cash early. In the case of a personal or business loan being a period of 36 months, you will receive your cash back in equal sums every 36 months, unless the borrower settles earlier than agreed.
Peer-to-peer providers frequently deduct the tax from your investment income. Should your investment be around the $1 000, it's probable that your pre-tax earnings will be between $50 and $150 annually, the RWT will be deducted at basis by the peer-to-peer provider.
Money Hub – Peer-to-peer loan
Loan Type

P2P loans

Interest Rate

from 5.03%

Loan Amount

up to $100,000

Repayment

1 month to 120 months
Benefits of Money Hub
Compare all loan types
Quick funding
Easy online application
Peer-to-peer loan calculator
Money Hub - Effective financial solutions
The more peer-to-peer platform has loaned, the better its data will be on lending
The more a peer-to-peer lender undertakes, the better the platform because it's likely to be on the terms of the credit process. It will also have more data and could possibly make better decisions and probably reduce bad debt for the investor.
Diverse investing opportunities
A peer-to-peer platform with a greater number of peer-to-peer loans is probable to be more effective and be in a better financial position than that of a smaller peer-to-peer lender with a smaller loan book. For instance, a peer-to-peer with 5 staff members and a loan book of $100 million is probably more financially secure than that of a peer-to-peer lender with 5 staff members and a $2 million loan book.
Your investment could be passive or active. Peer-to-peer lending platforms propose diverse means of investing. For instance, Squirrel Money is a passive investment – they choose the loans where your money should go into and invest accordingly.
You receive repayment when money is paid by the borrower. This is different to Harmoney; they allow investors to choose the business, long or short-term loans they want to invest in, and what interest rate they prefer to receive. Passive peer-to-peer proposes a 'set and forget' tactic, while active peer-to-peer lending inclines to grow investor data. In other words, what may be right for you will entirely depend on your overall interest as far as peer-to-peer lending goes.
Lenders have a greater chance of guarding their investment through diversification. For instance, should you lend $1,000 to a particular borrower and they don't make a repayment, you could possibly lose all the money that the borrower hasn't paid back. For this reason, the intentions are to encourage peer-to-peer platforms to split up your investment to reduce the chances of you being overexposed if a loan goes belly-up.
Generally, investors do not pay fees
Typically, there are no fees for investors to pay when joining a peer-to-peer but the borrower and the lender are charged on both sides of the loan transactions. Usually, the investors will pay a certain percentage of either a percentage of the interest received or the capital invested.
The borrower normally pays an application fee directly in order to contribute the peer-to-peer's margin when capital and interest are repaid. It's also important to remember that most p2p lenders specialize in a specific type of loan from some that offer business loans to others that offer quick loans
Customer Reviews & Testimonials
"
Money Hub offers a diverse platform for financial investment and borrowing. Investors will place money into a funding account and a borrower will make an application to apply for funding. The ent...
Peter Marks
— Alexandra —
Most of the loans you can choose from are all unsecured meaning that your home and other assets are all safe. Taking a large financial risk can be daunting especially if you have to offer your ho...
Fred B
— Hastings —
Money Hub will find you the perfect match. Think of it as the online dating version of finance. When I used their site, I was able to find the funding that I needed to finally get my business mov...
Clayton F
— Stratford —
Money Hub Contact
Contact Number
E-Mail
Website
Physical Address
MoneyHub Group Ltd 11 Waiau Street,

Auckland

0630

New Zealand