P2P loans up to $200,000
Low-interest starting from 5.03%
Repayment up to 5 years
In-page navigation
---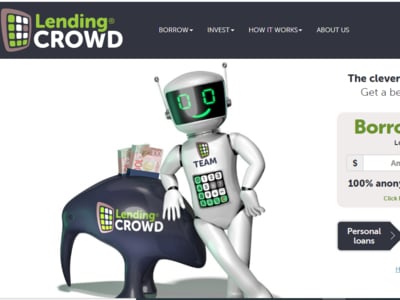 Author Lending Crowd. Screenshot of Lending Crowd website.


[Accessed August 10, 2021]
Lending Crowd - A team of experts
We are a foundation of two people who put their thinking caps on and created a team now known as the Lending Crowd.
A team of experts from around the world was assembled; they built and still maintain Lending Crowd.
One of the founders Wayne Croad has 25 years' experience in the finance industry with a robust foundation of expert risk assessment and Bob Durrant has experience in technology and has particularly high standards for technology and customer care.
We use current technology
We are a financial technology establishments built on decades of experience in the financial and technology industry.
We combine some ingenious philosophies with the up-to-date technology in order to create and drive a financial marketplace, enabling individuals with money to invest and connect indirectly and anonymously with individuals looking to borrow.
Peer-to-peer lending
Lending Crowd offers a peer-to-peer lending platform, peer-to-peer lending is not as complicated as it sounds, it's just a simple idea.
We're a website that allows individuals who would like to borrow money connect with those that want to invest their money.
Lending Crowd Services
Since we are a technology establishment and there are no middlemen, our marketplace works very competently and this gets passed on to both investors and borrowers with great deals.
Lending Crow's mission is to lower the cost of borrowing and take the stress out of the process for borrowers, we aim to open up a whole new class of investment that offers great returns to investors. What we do is smart and ingenious, plus it works!
Always on the lookout for new innovations
Our peer-to-peer loans are sensible and easy to obtain, we are 100% online, and you are able to get the money without the hassle, so get the money and a great rate from the crowd.
This is how it works
Complete your online loan application within minutes, choose the rate and term that suit's your needs.
Funds are deposited straight into your bank account in no time at all!
Zero bureaucracy - Say cheerio to the displeasure and hassle usually related to borrowing money. We aim to put your life at ease not make it harder ensuring the process of borrowing money at Lending Crowd is simple, fast, and100% online! To be sure you could always get an anonymous estimate before jumping in and applying for a loan.
Great fixed rates - Rates on Lending Crowd are viable since we don't have overheads or profit margins associated with traditional banks. With us you're borrowing money from people just like you – it's a win-win situation because there are no banks or finance companies in the middle. If you prefer you could always select terms between 36 or 60 months in order to obtain a regular repayment amount that's suited for you. Plus to top all this is that there are no penalties or fees for early repayment of your loan with the Lending Crowd.
For any purpose – There are hundreds of different reasons people need to borrow money, perhaps a much needed holiday is due, renovations for your home, buying a vehicle or maybe you want to consolidate your debt or for any reason what-so-ever. We don't why you need to borrow the money, we see you as a person, plus we offer the best rates.
Lending Crowd – Peer-to-peer loan
Loan Type

P2P loans

Interest Rate

5.03 – 20.3% p/a

Loan Amount

up to $200,000

Repayment

2 year to 5 years
Benefits of Lending Crowd
Quick approval
Affordable loans
No charges for early payment
Peer-to-peer loan calculator
Lending Crowd - Convenient online application
Lending Crowd do all the tricky parts that make it work such as setting interest rates, collecting all the necessary signatures, creating loan agreements, managing the peer-to-peer loans and ensuring that all parties are kept anonymous outside of the investor and borrowers that are dealing with each other.
Being a technology firm, we aim to do our part as professionals and professionally as possible. Making sure that everyone gets a better deal. It's clever as it is simple plus it works.
Lending Crowd's quick cash loan application is 100% online and will generally take all of 8 minutes to complete. You'll be requested to upload information such as bank statements, but this can be done at any time when you have a moment and not necessarily at the same time as filling in your application.
Application process
Your application will be assessed and we'll get back to you at our earliest convenience with some rates and terms. You'll always have the option of choosing between a 3 and 5-year term.
Our investors will review your online loan application and make funds available to you on your selected day, of which you would prefer your loan to be paid out. Generally, funds are deposited directly into your bank account. As easy as that!
Tailored rates, low cost and very competitive
We offer competitive rates - Lending Crowd takes the time to assess each loan application individually; we look for the best possible rate. No monthly fee for early settlement – we keep our structure as simple as possible.
Flexible loan options – Allows you to borrow up to $200,000 and you have the option of choosing a term between 3 and 5 years.
Should you require any more information on taking out a personal loan, please don't hesitate to contact us at the Lending Crow, we'll be more than happy to assist you.
Customer Reviews & Testimonials
"
The Lending Crowd consists of experts who know the in's and out's of finance. With a good number of years under the belt, you can definitely trust in their advice and abilities.
Randy F
— Wellington —
With the use of the latest technology, you can be certain that you will not only be able to borrow securely but also efficiently. Lending Crowd offers an awesome platform for prospective borrower...
Jonathan W
— Queenstown —
If you are looking for a trustworthy lender and a good deal then look no further than Lending Crowd. There are no middlemen in their transactions which assures you that you will get a better deal...
Drew C
— Nelson —
Lending Crowd Contact
Contact Number
E-Mail
Website
Physical Address
206 Jervois Road, Herne Bay, Auckland

Auckland

1011

New Zealand
---
Postal Address
PO Box 17422, Greenlane, Auckland, 1546, New Zealand
Opening Hours
Monday

Open – 24 hours

Tuesday

Open – 24 hours

Wednesday

Open – 24 hours

Thursday

Open – 24 hours

Friday

Open – 24 hours

Saturday

Open – 24 hours

Sunday

Open – 24 hours