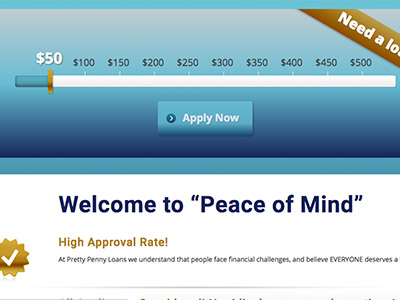 Author Teleloans. Screenshot of Teleloans website.


[Accessed April 17, 2018]
Teleloans - A reliable credit provider
Money certainly makes the world go around because when you have it, you feel on top of the world and when you don't, you feel utterly shattered. To some people, they feel like it is the end of the world actually.
The reason behind this notion is because money has the ability to do so many things for people.
However, when you don't have money to attend to some of your personal affairs, it becomes a rather difficult time for you especially considering the urgency of your matter.
We care about your financial needs
Teleloans acts like a financial knight and shining armour because we attend to your quick loan applications as soon as we can.
While there is nothing that we can do to stop life's difficulties from occurring, we can help you prepare for them. The payday loan option that we offer our customers has been helping many households.
This gives us an unexplainable joy knowing that we contribute towards the happiness of a Kiwi. We wouldn't be doing our customers any justice if we didn't care about their needs.
However, because we understand that everybody needs help from time to time, we stand in the gap and help our clients with our affordable instant cash loans.
A committed and reliable workforce
Having to look for trustworthy people come and work for you in an industry that is full of financial temptation and greed is not easy.
However, we are happy with the dedicated employees that we have in our circle because we know they will never let us down.
Teleloans Services
The first step that you have to take when applying for one of our payday loans is to complete the online application form. It is important to fill in accurate information when answering the questions in the form to avoid any delays to due to any discrepancies found.
What clients don't realize is that we check the precision of the details stipulated in your request sheet and if we find that you have lied about certain information, we will have no choice but to turn down your credit application.
After you have submitted the online loan application to us, we will get to it as soon as it arrives at us for our attention.
Teleloans assessment and verification
This is where we check and even double check the documents that you submit to us. There are so many scams happening of late, one has no choice but to verify that everything is in order.
The documents that you give to us will normally be your proof of residence, bank statements for the past three months and your latest payslip.
We have to check that you are in a financially good state to take up a payday loan.
Why was my loan application rejected?
There could be many reasons as to why we had to decline your credit request.
For starters, if you have a bad credit history that doesn't seem to get better, we will have no choice but to reject your short-term loan application. Having too much financial baggage is also a sufficient reason.
Benefits of Teleloans
PAYDAY Loan
Online Payday Loans
Teleloans - A unique approach to lending
Can I pay my loan earlier than the scheduled date?
Should you have money to settle your loan earlier than the required date, please don't hesitate to settle the credit. We look forward to having clients that take their personal loans seriously, unlike people who have to be reminded that their payments are due.
Also, when you do this, you are putting yourself in a more favourable position should you need a loan the next time you in a financial predicament. Therefore, pay your loan as early as you can if you have the money and don't wait for the scheduled date.
Will I be held accountable if I miss my payment deadlines?
In the event that you are unable to pay your loan on time due to unforeseen circumstances, please notify us as soon as possible. Don't wait for the date of the payment before informing us that you are facing financial difficulty.
We will see if we can't negotiate another payment date for you but we require you to tell us in time. Alternatively, if you are unable to follow your financial obligations timeously, you will be liable for extra charges.
If this continues any further, it will have a negative impact on your credit profile. It is for this reason why we always tell our customers to not apply for a bad credit loan if they don't have the financial capability to pay for it. Protecting your credit record is important because you will never know when you might need Teleloans to help you again.
Will my bad credit affect my loan application?
Having a bad credit history may result in you not getting the green light only if you still continue to not settle your debts. However, if you have shown a great level of improvement, we will see to it that we take your efforts into consideration when you are applying for a payday loan.
We know that a lot of clients have learnt from their past mistakes of being a bad credit payer and going forward, they do everything they can to ensure they start paying their debts earlier and faster.
Customer Reviews & Testimonials
"
They were a lot of help and my payday loan was reasonably priced too.
Faith E
— Tauranga —
Teleloans is very reliable. They provided me with a payday loan and they delivered fast and professionally.
Oscar C
— Invercargill —
The customer service was brilliant! I personally can't find anything to complain about.
Maia R
— Whanganui —
Teleloans Contact
Contact Number
E-Mail
Website
Physical Address
---
Postal Address
PO Box 29200, Fendalton, Christchurch, 8540, New Zealand