Payday loans up to $3,500
Low-interest starting from 227%
Repayment up to 30 days
In-page navigation
---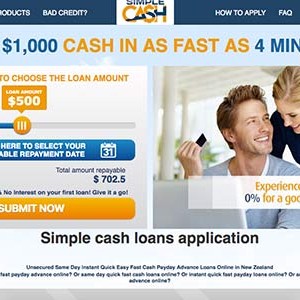 Author Simple Cash. Screenshot of Simple Cash website.


[Accessed July 3, 2019]
Simple Cash - loans in under 30 minutes
Do you need your cash in a hurry, in as little as 30 minutes Simple Cash will get you the cash you need simply and easily so that you can get on with your life?
When you need a little loan till payday our payday loans will get you up to $1,000 the money will only need to be repaid by your next payday. As soon as your loan application has been approved and we received your signed loan agreement, the money will be paid into your account within 30 minutes.
Online loan calculator
To simplify the process even further use our online calculator to determine how much you need to borrow and for how long.
Input your pay frequency monthly, fortnightly or weekly and the day you get your paycheck. The calculator will then work out more or less how much you will need and how much you can expect the loan to cost you.
Your helping hand at the end of the month
Food and other bills often mean that many New Zealand citizens struggle to stretch their paycheck until the end of the month. Our instant cash loans are the perfect solution. Simple Cash allows you to borrow up to $1,000 until you get your next paycheck, this helps stretch your salary a little further.
To keep the process simple and streamline we will set up a direct debit on your account. The entire loan amount will be deducted on your next payday. This will ensure that you don't miss a payment. We will send you a reminder the day before, so that you can ensure that there are sufficient funds available for the personal loan repayment.
If you miss a payment or the debt is dishonoured there will be additional fees and penalties charged. Your account will then be monitored and the loan amount debited as soon as there are funds available in the account.
Simple Cash Services
Payday loans are unsecured loans that don't require you to put up any form of collateral as security to ensure that you pay back the loan.
We process your loan application according to your personal circumstances and your affordability to repay the loan.
Why you should consider a payday loan
Payday loans include a host of different benefits and are much simpler to obtain.
You should apply for a payday loan to take advantage if the following benefits:
We don't run a credit check for payday loans
Able to apply for a loan online 24 hours a day 7 days per week
There is no need to provide collateral so there is no risk involved
Receive an outcome on your loan application within a few minutes
The money will be paid directly into your bank account
We don't get hung up on the details
Applying for a payday loan is easy and because we have less strict lending conditions and don't perform a credit check your application has a very high likelihood of being approved. To apply you will need to meet certain conditions and requirements.
These requirements are as follows:
You need to be at least 18 years old
You need to be a citizen of New Zealand and reside in New Zealand
You need to have an active bank account in your name that the money will be deposited into
You need to have a stable job and proof of your salary
You will need to agree to have a direct debit added to your account that aligns with your payment frequency
Simple Cash – Payday loan
Loan Type

Payday loans

Interest Rate

from 227%

Loan Amount

up to $3,500

Repayment

7 days to 30 days
Simple Cash - Quick payday solutions
A payday loan is a short-term financial solution. This type of loan charges a very high interest rate and you are required to repay the loan in full by your next payday.
The only disadvantage of a payday loan for those that have an already stretched budget is that the entire loan amount including additional costs and charges has to be repaid in full by your next payday this could leave those that are experiencing financial hardship in an even worse position than before.
It's so simple
Applying for a loan is easy, there is no need to complete paperwork, and our system is completely paperless. Applying online means that you can apply any time of the day or night from any device that has an internet connection. As we don't perform a credit check, you have more chance of your loan application being approved.
Complete the online application form with your personal details, in a few minutes you will receive an outcome and once your quick cash loan application is approved, we will pay the money into your account within 24 hours.
Consider all your options
If you are already struggling financially paying the loan back in one payment plus additional costs could cause you to fall into a vicious debt cycle and needing to rely on additional loans to cover the loan costs of the previous loan. Once you rely on loans to make it through the month it can become very difficult to break free of that cycle.
If you can't afford to repay the loan and the additional fees then you should try to find a different financial solution to help you out.
When applying for a payday loan is a good idea?
Payday as well as bad credit loans might get a bad reputation but sometimes they can be a lifesaver. In some situations, it is acceptable to apply for a payday loan these include:
When you require cash for a medical emergency
To pay your rent to prevent evicted from your apartment
Settling an account to prevent defaulting and affecting your credit score and credit history
Cash for a time-sensitive deal
If you are sick and you need to see a doctor or health professional
Customer Reviews & Testimonials
"
I'm very satisfied with the payday loan Simple Cash helped me with. Their promptness in getting me the funds meant that I could get through the last two weeks of the month comfortably.
Darcy L
— Hastings —
I really needed to compliment your entire team for providing such an outstanding service. Your politeness, warmth, and professionalism were very noticeable and much appreciated on my part. I will...
Bridge H
— Auckland —
So pleased with everything. If I could summarise Simple Cash in three words it would be quick, transparent and competent.
Connie M
— Nelson —
Simple Cash Contact
Contact Number
E-Mail
Website
Physical Address
132 Hurstmere Rd

Takapuna

Auckland

0622

New Zealand
---
Postal Address
PO Box 33-1009, Takapuna, 0740, New Zealand
Opening Hours
Monday

09:00 – 17:00

Tuesday

09:00 – 17:00

Wednesday

09:00 – 17:00

Thursday

09:00 – 17:00

Friday

09:00 – 17:00

Saturday

– Closed

Sunday

– Closed