Payday loans up to $600
Low-interest starting from 250%
Repayment up to 6 months
In-page navigation
---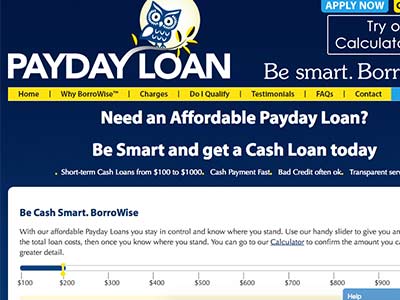 Author PayDay Loans. Screenshot of PayDay Loans website.


[Accessed April 17, 2018]
Pay Day Loans - Quick payday loans
Anybody can be in a financial crisis. There is a great misconception that is made by people who think that it is only people who can't use their money properly that are often in need of a quick loan.
However, this is not true; people who don't have money simply don't have it because there is usually so much to do and little money to do it with.
At Pay Day Loans, we understand how this can cause so much frustration. Nevertheless, we want our clients to have absolute security knowing that their problems are not theirs alone.
An exceptional and skilled workforce
Pay Day Loans will never take the credit of becoming one of the best payday loan providers in town without honoring the people who make us get in the good books.
Our staff comprises of ambitious people who are driven to succeed in their work. Helping customers is not only a job but a passion for them because they understand that money can be an enemy of progress if you don't utilize it properly.
They are always available to attend to your queries and give you the best financial service because you deserve it.
Our clients are the reason why we still operate and that is why we are so grateful for them.
PayDay Loans Services
After your online loan application has been approved, you will be given a contractual agreement that you have to read thoroughly and only sign after you have understood every paragraph.
Clients that sign without going through the contract will have a problem when there is an instance that takes them back to a certain clause in the credit contract.
Therefore, we understand that no matter how excited you might be, please read everything in the contract before you put your name on the dotted line and take out one of our payday loans.
Should either party fail to adhere to their end of the bargain, it will render a default in the agreement and corrective measures will have to be taken.
When will the money reflect in my designated bank account?
The money will be made available in your bank account as soon as your short-term loan has been approved. It might take one or two business days for the money to reflect in your bank account.
After we have made the necessary transfer, we are not liable for the turnaround time of the availability of the funds in your bank account.
The bank that you use will have to confirm any information you may require from this point in time.
PayDay Loans – Payday loan
Loan Type

Payday loans

Interest Rate

from 250%

Loan Amount

up to $600

Repayment

30 days to 6 months
Pay Day Loans - We support responsible lending
The main reason why you would have your payday loan application declined is usually that your credit profile is slightly worse.
There are other reasons such as you may have too many obligations you are responsible for.
Pay Day Loans is a responsible lender
As much as we would like to help everyone who comes to us for assistance, we will not be able to help you if we can see that you already have too much on your hands.
What we would do instead, is help you get financially better by cutting down on certain loans and paying off the ones that you can.
After all, we don't find any pleasure in seeing our customers deep in debt. It is for this reason why we see to it that we protect you where we can and refuse to provide bad credit loans for those who cannot afford it.
Can I apply for an additional loan while I currently have one running?
There has been a lot of debate regarding this issue as some people feel it is a total waste of money to apply for an additional credit plan.
If you meet our requirements and you will be able to juggle paying two loans at once, we don't see any reason why we would reject you. However, we must admit that we usually advise our clients to finish paying off one loan before you apply for another one.
Can I make a complaint?
As much as we try our level best to make everyone happy, we know, we won't always get it right. Having said that, we do whatever we can to ensure that the needs of our clients are always put first.
However, if you feel that we have neglected you in any way and you would like to report the matter, you can do so by submitting a complaint.
The matter will be investigated and proper actions will be taken. The issue can also be escalated to senior level if you feel it was not dealt with properly by middle or bottom management.
When can I make an appointment?
We know that some people are not comfortable with discussing their personal affairs and personal loan needs over the phone especially if it has to do with their money.
Customers are more than welcome to book an appointment with one of our agents and we will assist you in the best way we know how.
Customer Reviews & Testimonials
"
I was very impressed with how smooth the process was to get my payday loan. Pay Day Loans has made it really easy.
Michaela S
— Christchurch —
Even though getting my loan was quick, they were still efficient and didn't compromise on delivering great customer service.
Owen J
— Gisborne —
Everything was clear from beginning to end.
Joe F
— Hastings —
PayDay Loans Contact
Contact Number
E-Mail
Website
Physical Address
215 Kepa Rd

Mission Bay

Eastridge

1071

New Zealand
Opening Hours
Monday

09:00 – 16:30

Tuesday

09:00 – 16:30

Wednesday

09:00 – 16:30

Thursday

09:00 – 16:30

Friday

09:00 – 16:30

Saturday

Closed –

Sunday

Closed –