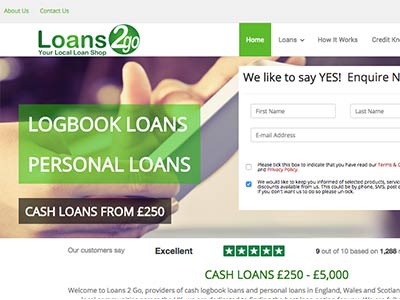 Author Loans2Go. Screenshot of Loans2Go website.


[Accessed April 17, 2018]
Loans2go - Convenient and fast
Loans2Go is a part of the Admiral Finance group and proudly owned and run by New Zealand citizens that have a passion for customer service. Our staff listens to your needs and invite you to join the Loans2Go family.
Our managing director Dougal Shend takes a personal approach to find you the financial solution that you require he leads a team of customer service experts that have over 120 combined years of experience between them.
Our business was developed to help those that find it difficult to obtain a fast cash loan from the traditional banking system.
Our short-term cash solutions are there to help you up and back over the debt hill.
Helping you give back to the community
We believe that it is every business's duty to give back to the community and to try and enrich the lives of others.
We do this by supporting charities such as the Christ church City Mission and the Aviva Family Violence services.
We volunteer and give back to these charities on your behalf so that you too can make a difference.
Our loans are unique
Our loans are different because we understand that you don't have time to waste when you are applying for a loan.
Our loans are approved quickly, we offer flexible lending criteria, unsecured loans and payment protection plans.
Our staff is standing by to take your call and you will not be put to an automated answering service, talk to a consultant in real time.
Our payday loan interest rates are very competitive and applying online means that you have access 24 hours a day.
Loans2Go Services
Applying for a Loan2Go cash solution is very easy as all you need to do is log onto our website and complete the online loan application form. This process should only take about 5 minutes to complete.
Apply by following these easy steps
Apply online in 5 minutes by completing the online application form
We will review and process your application and give you an outcome within 30 minutes
Once your application has been approved and you have signed the contract the money will be available in your account within 1 hour
Loans2go keeps you on the go
In this fast paced life it is difficult to be slowed down by annoying paperwork or needing to find a cash solution when you need it. Banks and traditional lending offices can have very strict lending criteria and decline almost all payday loan applications if you have a bad credit score.
Benefits of Loans2Go pay day loans
Your loan application will be processed quickly and you will receive an outcome quickly
Our lending criteria is very flexible and we design the loan to suit your needs
Our rates are highly competitive with very low interest rates
We are better than a traditional bank because our office is your cell phone
Our customer are happy and often return because of our service excellence
Arrange repayment terms to suit your budget
The personal touch means that you are now part of our Loans2Go family
Unsecured loans mean that you don't need to provide collateral as security for your loan
Secured loans allow you to use your property or household items as collateral
If you are looking for a vehicle we can offer up to 100% of your vehicle or hire purchase loan to get you that dream car
Benefits of Loans2Go
PERSONAL Loans
PAYDAY Loans
Loans2go - Loan approvals under 90 minutes
Our payday loans are unique as we understand your needs and create a tailor-made solution that will suit your budget and your loan requirements.
Borrow between $1,000 and up to $50,000 with one of our secured loans. The amount that you will be able to borrow will depend on how much your security is worth and other factors.
We will let you know if your loan application is approved within 90 minutes so if it isn't approved then you can make another plan without wasting too much time. If your short-term loan application is declined, then you can re-apply for a secured loan or get a guarantor to apply to you as a joint application.
Our lending criteria
To apply for an instant loan you will need to meet the minimum lending criteria. To apply for any of our loans you will need to be at least 21 years old and a citizen of New Zealand with an active bank account.
If you are applying for a secured loan you will need to provide an item of value as collateral to secure your loan.
You can use tv's, electronic goods, stereos, vehicles, property or any item of value that can secure the loan should you be unable to repay the loan and lose your collateral
We will perform a credit check and see that a loan would be in your best interest. If you are under the age of 21 then you may apply with a guarantor
Our secured personal loans are perfect for those that have a bad credit score as their credit report will not really matter; the loan is secured by an item of collateral so anyone can apply including self-employed and part-time workers.
Customer Reviews & Testimonials
"
Finally! A company that delivers on its promises. I got my payday loan quickly and with no hiccups. On top of that, the staff was fantastic!
Carla M
— Hastings —
The convenience of applying for my payday loan online was very handy for me because I don't have the time to go and stand in a line at the bank, so this was extremely helpful for me.
Emilia B
— Nelson —
Thank you, thank you, thank you for an affordable payday loan! The rate you offered me was better than what I was expecting and I'm very, very happy!
Quinn P
— Lower Hutt —
Loans2Go Contact
Contact Number
E-Mail
Website
Physical Address
1/45 Mandeville St

Riccarton

Christchurch

8011

New Zealand
---
Postal Address
PO Box 36 606, Merivale, Christchurch, 8146, New Zealand
Opening Hours
Monday

08:30 – 17:00

Tuesday

08:30 – 17:00

Wednesday

08:30 – 17:00

Thursday

08:30 – 17:00

Friday

08:30 – 17:00

Saturday

Closed –

Sunday

Closed –