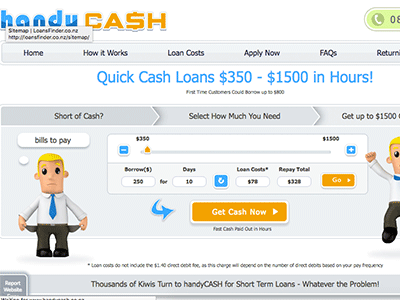 Author Handy CASH. Screenshot of Handy CASH website.


[Accessed April 17, 2018]
Handy Cash - the loan experts
Having cash handy is often a bit of a mission, especially when payday draws nearer. This is usually the time when you count every cent you have because there is just not enough money that can be lost.
However, when you come to Handy Cash, we will make you forget what day it is because we will see to it that you are not that low on cash.
We would do this by honouring your credit applications and ensuring that we help you n the best way we can.
Get your application approved
We must agree that honouring to help you doesn't always mean granting your payday loan application.
If you don't qualify for our criterion, we will advise you on the steps you can take to ensure that you fix what needs to be fixed and you get the green light the next time you apply.
Customers often think we will never take a careful interest in their application if we rejected it the first time.
However, we would like to break the ice in a good way and affirm to our clients that we will always look into their online loan applications regardless of the number of times you've been rejected.
In essence, that is the main reason we started Handy Cash.
Investing in efficient workforce
We are often told that we are nothing without our employees and we couldn't agree more.
Having such an exceptional team of experts at Handy Cash is one of the reasons we have managed to stay on top of our game regardless of the constant competition that keeps coming and going.
Handy CASH Services
Nobody comes to Handy Cash and leaves an unhappy customer. There is always some sense of joy that comes because we genuinely put you first as a customer.
Our costs are affordable and we take a lot of things into consideration that most financial providers don't. For starters, we know that most customers already have other short-term loans under their names and we will not add more strain to your budget by giving you a credit plan that will be too much for you.
Secondly, we know that everything can do with a payday loan so we will try to help you enhance your chances of getting approved as soon as possible.
How soon can I get the money?
Depending on how fast you submit the documents that we requested, the money will be available to you in one or two business days. It is for this reason why you shouldn't delay when there is a certain document that we have requested you to submit.
Why must I submit my documents?
The reason you have to submit your documents when applying for a personal loan is simply for verification and assessment purposes. We need to verify whether we are dealing with the right person.
With so many scams happening lately, it doesn't hurt being a little conscious about the clients that you help especially since there is money involved. Not many people are comfortable with having to give their documents to agents but there is nothing to be afraid of. Our consultants are trained individuals who will never jeopardize your chances of getting a credit plan.
If you don't submit your documents, we will not be able to process your loan application and this can cause an extensive delay on your request for one of our payday loans. However, the sooner you furnish us with the papers that we asked for, the faster we will start processing your credit plan.
Benefits of Handy CASH
SHORT-TERMs Loans
PAYDAY Loans
Handy Cash - Bad credit clients can apply
The people that would like to apply for credit have to be above the age of 18 years and should have a constant employment that gives them a salary.
We don't want clients who only have government benefits as means of income because we believe this is how most people survive and if we start taking that money, you will not be able to live accordingly. The customer should be a New Zealand citizen or should possess permanent residency to stay in the country of the Kiwis.
I have a bad credit history
We urge people who have a history of bad credit to apply regardless of how bad their financial past is. We will not immediately write your payday loan application off, but we will have to do an extensive assessment of the severity of your bad credit history.
Therefore, people shouldn't feel like they wouldn't be given equal opportunities as other customers would. There is always room for improvement and everybody deserves a second chance at life.
Can I make a complaint?
If you are not happy with our online loans or service, you can lodge a complaint and we will see to it that we rectify the issue at hand as soon as possible.
Customer Reviews & Testimonials
"
I have been a client for years and the service has been and still is top-notch.
Claudia M
— Ashburton —
Easiest online application I have ever completed, just so smooth.
Matthew B
— Auckland —
Most affordable payday loan I have found to date.
Howard L
— Nelson —
Handy CASH Contact
Contact Number
E-Mail
Website
Physical Address
---
Postal Address
P.O. Box 22, Seventh Avenue Mail Centre, Tauranga, 3140, New Zealand
Opening Hours
Monday

11:30 – 20:00

Tuesday

11:30 – 20:00

Wednesday

11:30 – 20:00

Thursday

11:30 – 20:00

Friday

11:30 – 20:00

Saturday

Closed –

Sunday

Closed –