Payday loans up to $1,000
Low-interest starting from 365%
Repayment up to 8 weeks
In-page navigation
---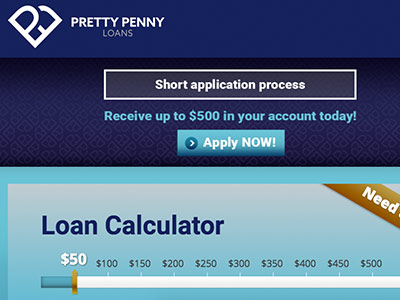 Author Pretty Penny. Screenshot of Pretty Penny website.


[Accessed April 17, 2018]
Pretty Penny - Loans up to $1000
Pretty Penny is a proudly New Zealand company that's main business focuses on short-term loans of up to $1000.
There are no restrictions on the loan and it can be used for any purpose that you require. At Pretty Penny, we will save you money on your loan and find you exactly what you are looking for quickly and efficiently.
Streamlined loan applications
The payday loan application process is a breeze and it should only take you a few minutes to complete the generated application form. The approval process will only take a few moments and if you have bad credit you won't be discriminated against. If you have any questions or concerns any step of the way our consultants would be happy to assist in any way that you need.
No need to wait around for your cash
As soon as your instant cash loan application has been approved the funds will be paid into your account, there is no need to wait around for hours and you will receive your outcome quickly. We know you need the cash quickly so we get it to you quickly.
Design your customized your repayments terms
At Pretty Penny, we don't get caught up in the details and demand you chose a date that suits us to pay back the loan. Instead, we design a repayment schedule that suits your needs and your budget.
Your customized repayment schedule and loan agreement is in fact designed with you in mind and that your personal circumstances into account. You can decide exactly how much you are able to borrow and how long you will need to pay back the money.
Our personal loans solutions are designed to provide a quick cash injection when you need it our short-term loans range between 4 – 8 weeks. There are no penalties for repaying your loan early and we encourage you to do so if you are able to. You should always try to repay your loan as quickly as you can because the longer that you take to repay your loan the more it will end up costing you.
Pretty Penny Services
Apply for a Pretty Penny loan online from the comfort of your smartphone 24 hours a day and receive your outcome and your cash in record breaking time.
The interest rate will then be charged at 1% per day for the life of the loan agreement.
First-time clients will be charged a setup fee of $24.
Ever advancing technology simplifies the application process
To get one of our payday loans there is no need for a face to face meeting with banks or loan officers and the application process can be completed entirely online in a few minutes.
Using Credit Sense to upload a copy of your bank statement that works by giving us access to view and verify your bank statement by using your internet banking details.
Credit Sense safe is the safest solution
Credit Sense is completely safe and very easy to use, we are granted once off read-only access and can't make any changes.
Lending criteria to qualify for a loan
You must be at least 18 years old to apply for a Pretty Penny loan
You must be residence and citizen of New Zealand
You must have a bank account that is in your name and that the cash can be paid into
You must prove that you have a stable income and possess the ability to repay the bad credit loan without it causing you financial strain
You will need to provide this identification can include your passport number, driver's license or birth certificate
Pretty Penny – Payday loan
Loan Type

Payday loans

Interest Rate

from 365%

Loan Amount

up to $1,000

Repayment

7 days to 8 weeks
Benefits of Pretty Penny
PAYDAY Loans
SHORT-TERM Loans
Pretty Penny Loans - apply for a loan using your smartphone
Once your Pretty Penny online loan application is approved and you have repaid the loan, the next time that you apply it will be even faster and easier than ever before this is because you will be given a unique customer number that you can use to speed up the process. You can only apply for a new loan once you have repaid the outstanding amount on your previous loan.
Keeping us informed
If any of your personal information has changed then it is your obligation to let know either by sending us an SMS or an e-mail. To update your personal details log onto our website and update them.
Once you have applied for a payday loan we will send you an SMS reminder and let you know exactly how much you have paid and how much you still need to pay back. When your payment is due we will send you a reminder the day before so you can make sure that you have enough money in your account to cover the payment.
Let us know if you are struggling
If you are struggling to make a payment on your online loan let us know and we can have the payment postponed, you will be charged a small fee for the use of this service but it will save you penalty charges and a bad credit review.
Customer Reviews & Testimonials
"
It was a speedy process. Very efficient service.
Asafo C
— Auckland —
I'm so glad I was approved quickly. Thank you for everything.
Mandy W
— Rotorua —
They didn't just help me with a payday loan. They are also great people who are very helpful and understanding.
Delaney L
— Wellington —
Pretty Penny Contact
Contact Number
E-Mail
Website
Physical Address
---
Postal Address
PO Box 11360, Palm Beach, Papamoa, 3151, New Zealand