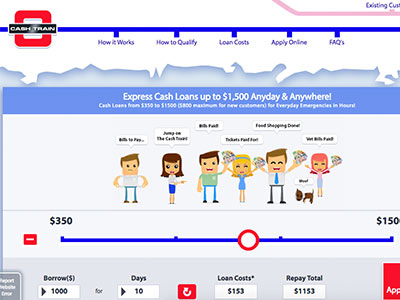 Author Cash Train. Screenshot of Cash Train website.


[Accessed April 17, 2018]
Jump aboard the Cash Train
If you need a quick cash injection then cash train may exactly what you are looking for. We offer loans to New Zealand citizens in their time of need as quickly and painlessly as possible.
Cash Train can help you through those tough times were your salary just doesn't quite stretch far enough. We offer payday loans between $200 and up to $2,000 that are easy to repay.
We give you the opportunity to space out your payments, by giving you time to repay the loan over a longer period of time our terms range between 10 weeks to 3 months depending on the loan amount.
Cash conveniently paid into your account
Once your loan is approved we will deposit the money directly into your bank account within a few hours.
Our online loan application form only takes a few minutes to complete and we will give you an outcome quickly.
Once we have verified your personal information and we will send you a conditional loan offer.
If you accept the terms all you need to do is sign the contract and send it back to us. Once we have received it, we will deposit your money into your account.
Decision Logic decides if a loan is right for you
We use the latest technology to verify your details and determine your level of affordability. The system will require you to send us your bank statement.
This information is highly sensitive, for this reason, we have partnered with Decision Logic to keep your personal information as safe and possible.
This technology keeps your information encrypted and ensures that your details cannot be hacked.
The added benefit is that we can also confirm your identity with Decision Logic so you won't need to e-mail us identification or bank statements. The system works together to verify your details and give you an outcome as quickly as possible.
Cash Train Services
Do you often run out of money before the end of the month? Or is that designer bag that you've had your eye on for weeks finally on sale but only on special for today?
In the case that there is a medical emergency or for whatever you need the money for we will be able to assist you.
Helping you get ahead
Our payday loans for first-time clients range between $200 up to $800 with a customized repayment schedule. You will have up to 3 months to repay the loan. This means that payments can be smaller and managed more easily.
Once you have successfully repaid your loan you will become a member of the Cash Train club.
This membership will allow you to borrow up to $2,000 the process will also become even quicker as you can apply with your membership number and we will already have all your details.
To qualify you must meet the following criteria:
You must be at least 18 years old or older
You must have a job with a stable income
You need to be a New Zealand citizen
You will need to have a bank account in your own name where the loan can be paid into
You must be able to afford the repayment terms
How the loan process works
When you need a bad credit loan you usually need it in a hurry, we make the process simple by giving you the ability to apply online. Our technology will determine how much you can afford to borrow and we will send you a conditional offer. If you agree to the terms in the loan agreement, sign the contract and send it back to us, once we have received it we will pay the cash into your bank account.
It's as simple as following these easy steps:
Apply online and qualify for the loan
We will send you a quick loan offer
Sign the deal online to save time
Get your cash paid directly into your bank account
Benefits of Cash Train
PAYDAY Loans
SHORT-TERM Loans
INSTANT Loans
Cash Train - Convenient payday loans
The major difference between our Cash Train loans and payday loans is that a payday loan needs to be repaid in full by your next payday.
While a Cash Train loan allows you room to breathe before you need to pay back your loan. We allow you to choose to repay your loan over 10 weeks if you are paid on a weekly basis, 5 weeks if you are paid fortnightly or 3 months if you are paid monthly.
By spacing out your payments you will put a less financial strain on your budget than having to repay your loan in one large lump sum on your next payday.
Checking your affordability
Some clients have previously fallen into a debt cycle and struggle to make ends meet. Loan terms that require the client to pay back the entire loan plus interest at once. This forces them to rely on additional bad credit loans to pay back the previous loan.
Helping you succeed
We know that sometimes you might have problems making payments on your loan, we understand that life happens if you are struggling to make repayments on your instant loan please contact us so that we can help you by setting up a payment plan that better suits your requirements.
Customer Reviews & Testimonials
"
Quick and simple application with affordable rates.
Tammy U
— Auckland —
Application process and approval went by quickly, payout could have come in sooner.
Henry H
— Napier —
No complaints whatsoever, keep up the great work!
Shaun M
— Christchurch —
Cash Train Contact
Contact Number
E-Mail
Website
Physical Address
147 Cameron Rd

Tauranga

Bay of Plenty Region

7140

New Zealand
---
Postal Address
PO Box 22, Seventh Avenue Mail Centre, Tauranga, 3140, New Zealand
Opening Hours
Monday

11:30 – 20:00

Tuesday

11:30 – 20:00

Wednesday

11:30 – 20:00

Thursday

11:30 – 20:00

Friday

11:30 – 20:00

Saturday

Closed –

Sunday

Closed –