Payday loans up to $10,000
Low-interest starting from 39%
Repayment up to 48 months
In-page navigation
---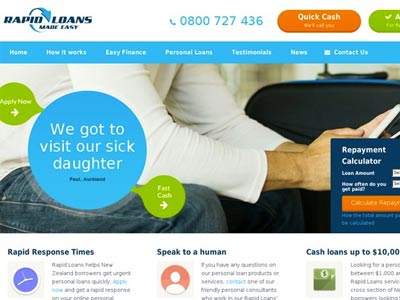 Author Rapid Loans. Screenshot of Rapid Loans website.


[Accessed April 17, 2018]
Rapid Loans - Convenient online loans
Rapid Loans have been assisting New Zealand citizens ever since 2003 with all their financing needs, they specialize in personal loans, business loans and vehicle financing.
Our business continues to grow and to date, we have assisted over 50,000 satisfied clients across Australia and New Zealand.
When you need quick cash for whatever reason look no further than Rapid Loans to assist you in securing your financial future and getting you the loan you need.
Simply log on and apply online
Save yourself time and effort by applying for a loan online forgo the annoying process of looking for a branch and having to see a loan consultant in person.
There is no reason to leave the comfort of your home to apply. All you need is an internet connection and a device that connects to the internet to log onto our website and apply.
What makes us different is our customer benefits
Efficiency and speed. Applying online saves you time, effort, and money
Rapid payment of the payday loan straight into your bank account as soon as your loan application is approved.
Service excellence is offered by our friendly consultants who are standing by to assist you with every step of the process.
Rapid Loans Services
Our interest rates and fees are very highly competitive to ensure that you get the best loan deal that is available to you.
Our rapid process means that you will receive your cash on the very same day that your loan application is approved. The latest technology allows your instant cash loan to be processed in just a few moments so that you can get an outcome quickly.
The personal touch
It is extremely frustrating when you call a company only to be put through to a computer-generated voice message system. Or spend your time explaining to the consultant only to be transferred to another person and you need to start the story from the start.
You want to speak to a real person and get answers from someone that knows what they are talking about not leave messages.
When you call us you will be connected to a trained payday loan consultant that will be able to assist you in any way that you require and answer any questions you may have.
Loans made simple
Rapid Loans offers financial solutions for all your loan needs. Our fast cash loans are quick and convenient. Apply online for car loans, rapid business financing, personal loans, and debt consolidation options, as well as fast loans. Payday loans are designed to be a short-term loan solution when you are having a cash flow problem.
Rapid Loans – Payday loan
Loan Type

Payday loans

Interest Rate

39 – 47.75% p/a

Loan Amount

up to $10,000

Repayment

6 months to 48 months
Benefits of Rapid Loans
Quick loan approval
Rates are affordable
Repayment terms are flexible
Rapid Loans - Tailor-made loans to suit your lifestyle
Our payday loans can be customized to suit your needs and the repayment options are easy to manage.
All you need to do is let us know how often you get paid either weekly, fortnightly or monthly and our clever system will let you know how much you can borrow and how much you need to pay back.
The requirements for applying for a loan
To apply for a loan you need to be at least 18 years old.
We will need a copy of your photo ID, ask you to supply your financial details and ask you questions about your lifestyle and spending habits.
Repayment options
The repayment options we offer can be customized and are flexible to suit your needs and adjusted accordingly as your requirements change.
Our online loans are structured loans this means that the loan is for a fixed amount, with a fixed repayment fee and a fixed repayment term and you will be charged a fixed interest rate for the duration of the loan agreement this will allow you to budget more easily.
Understand what you are signing
When you apply for a loan it is important that you understand the loan agreement. You will need to know how much the loan will cost you in order for you to know if taking a loan would be in your best interest or not.
You will need to know the interest rate that you will be charged on the loan amount. A low interest rated does not automatically mean that the loan is a good offer, it is important to read the contract carefully and take all the variables into consideration.
Weigh the pros and cons of the loan and make sure that you will be able to afford the loan even if something were to affect your income.
Things to consider when applying for a loan
Know how much you need to borrow
Use the online calculator to help work out how much you need and how much you will need to pay back
Work out how often you can make payments on the loan
Work out how much you can comfortably afford to repay per pay cycle
Decide if you want a secured or unsecured loan
Compare options and chose the one that suits you - you can opt for a debt consolidation loan, a payday loan, a car loan or a personal loan
Customer Reviews & Testimonials
"
Super quick response and delivery. My payday loan was paid out as soon as I got approved.
Karl K
— Upper Hutt —
A customer consultant assisted me with my application for a payday loan. She was very patient with me, helping me step-by-step. If that is how every staff member is, you should be very proud of y...
Temalisi M
— Hamilton —
Rapid Loans tailored my payday loan to what I could afford. As a result, repaying my loan was very easy to manage.
Bernadine W
— Timaru —
Rapid Loans Contact
Contact Number
E-Mail
Website
Physical Address
48 Shortland St

Auckland

Auckland Region

1010

New Zealand