Payday loans up to $800
Fast approval
Quick funding
In-page navigation
---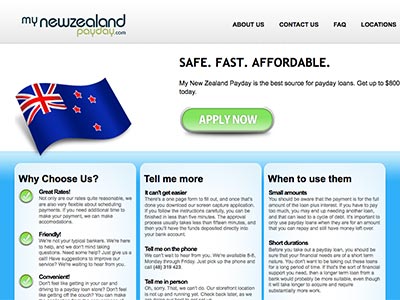 Author My New Zealand Payday. Screenshot of My New Zealand Payday website.


[Accessed July 3, 2019]
My New Zealand Payday - A reliable credit provider
My New Zealand Payday has been in operation for a number of years. Throughout the years, we have met a lot of different characters and some have decided to make My New Zealand Payday their second home.
We are not complaining because that is the primary reason we opened shop. We started this business for the mere purpose of welcoming every client who needed money during a difficult time. It doesn't have to always be an emergency, sometimes, you just need money to buy some household supplies. Whatever the reason, we are here to help you with a payday loan, all you have to do is shout.
My New Zealand Payday is a responsible lender
While we would like to help everybody who comes to us for a little financial push, we have to take a lot of thought in this regard. For starters, we need to check whether your budget can afford another quick cash loan. If we see that you already have too much on your plate, we wouldn't be doing you any justice if we still granted you a loan while you are clearly not in a financial state to pay for it.
It is very important that we give you a credit advance that you can afford. Although clients usually prove that they will be able to meet their financial obligations, numbers don't lie and it is our job to advise you where we feel you are putting a lot of strain on your monthly budget and finances as a whole.
My New Zealand Payday Services
The loan calculator that we make use of makes things so much easier for clients. We usually advise them to make use of it before they can apply for credit.
By doing this, they will have a clearer idea about how much money they can afford, the interest charges involved in the credit plan and the time is taken to settle the debt.
When you calculate before you take the short term loan, you will also be preparing yourself about how much you would then have to pay on your payday.
Only take what you can afford
Some clients may realize that they qualify for so much more, but because they are only applying for a certain amount, they take just enough to settle what they need to take care of.
Financial discipline is very important when applying for one of our payday loans.
If you don't have any sense of self-control, you will end up paying for a loan that you don't really need.
Therefore, it's extremely important to only take the money that you are looking for and nothing else.
My New Zealand Payday – Payday loan
Loan Type

Payday loans

Loan Amount

up to $800
Benefits of My New Zealand Payday
Approval within minutes
Funds deposited directly in the bank account
Flexible loans
My New Zealand Payday - Quick payday loan solutions
How long does it take before the payday loan reflects on my bank account?
It usually takes one or two business days for the actual transfer to take place. However, we are not certain as to when the money will show in your bank account. After we have made the credit transfer, we are not responsible for anything anymore after this stage, your bank is. Therefore, you will have to get in touch with your bank to find out more information.
Applying for a second loan
The same criterion that we use when we approve your initial loan is the same type of requirements that we will want should you apply for a second instant cash loan. In the event of no findings raised, you will be permitted a secondary loan.
However, we usually advise our clients to finish off paying one loan before applying for another one. Furthermore, we will never stop you from going ahead with your plans if you have seen to it that your budget can take another debt, we will support you nonetheless. At the end of the day, we just want you to have debts you can maintain and nothing that will be too hard for your bear.
The requirements for a payday loan
Successful unsecured loan candidates have to be New Zealand citizens or should at least have permanent residency to stay in New Zealand. They should also be above the age of 18 years as we believe by this stage, they are matured and know what they are doing especially since there is money involved. There has to be some level of employment that you are undertaking that gives you a solid salary. After all, that is how you going to be paying for your loan.
Should you not meet all the above requirements, we will have no choice but to decline your application. This doesn't mean we are closing all our doors on you, it just means we are giving you time to fix the deviations we have raised and come back when you are financially capable.
Adhering to the terms and conditions
Reading your personal loan agreement is one thing but understanding it is a whole different concept. Ensure that you understand your duties as a customer regarding your contract andfulfill them.
If you don't do what is stipulated in your agreement, you will have to be penalized which will bring another financial strain on your credit profile.
Everything that is written in black and white is documented with the sole purpose of you fulfilling it as a client and us ensuring that we keep our end of the bargain too as a financial service provider.
Customer Reviews & Testimonials
"
So understanding! Not many lenders are willing to be flexible but My New Zealand Payday is different. They were willing to accommodate my needs and that made my life so much easier. I doubt I'll ...
Dalton L
— Gisborne —
Their call center is always friendly when you call. Also, you can ask them anything and they'll help you at the drop of a hat.
Izayah W
— New Plymouth —
The turnaround time is insanely quick. A couple of minutes is all it took for me to get approved and it wasn't long after that I got the cash. Outstanding!
Genevieve I
— Tauranga —
My New Zealand Payday Contact
Contact Number
E-Mail
Website
Opening Hours
Monday

08:00 – 20:00

Tuesday

08:00 – 20:00

Wednesday

08:00 – 20:00

Thursday

08:00 – 20:00

Friday

08:00 – 20:00

Saturday

08:00 – 20:00

Sunday

08:00 – 20:00