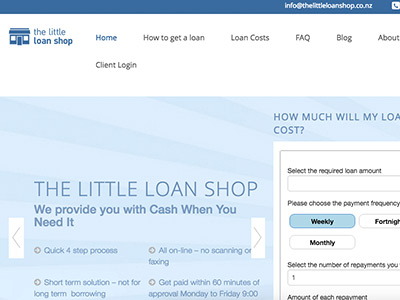 Author The Little Loan shop. Screenshot of The Little Loan shop website.


[Accessed April 17, 2018]
The Little Loan Shop - Stress-free loans
The Little Loan Shop is a place where you can shop for a little loan when you need one. Our loans range from $200 and up to $600 that needs to be repaid by your next payday. The payday loan application process is quick and painless and you can receive your cash within 60 minutes if your loan application is approved.
Applying for a loan shouldn't be difficult or confusing that is why our process is easy, we ensure that your personal information remains confidential and that you get your cash as quickly as possible.
Bad credit is not the end
If you have a bad credit score you may still apply for a loan as we judge each loan application on its individual merits and find a way to assist you if we can.
The amazing technology will only take a few moments to let you know if you qualify and get you the cash that you need.
To apply for a little loan shop loan you will need to:
Earn at least $450 per week from paid employment
Your salary must be paid into your bank account on a regular basis and you must provide proof that it is
You will need to have internet access and a working mobile telephone number
If your short term loan application is approved we will send you an e-mail with an offer from us if you accept our offer sign the agreement and send it back to us. If you don't want to continue you are under no obligation to do so.
The Little Loan shop Services
Our payday loans are perfect for when you are short on cash. If you are employed and have a stable income and meet a few other requirements, then you may apply for a payday loan.
Payday loans range between $100 and up to $600 this loan needs to be repaid by your next payday in full including interest. Make sure that you are able to afford the loan before you apply, you can calculate if you can afford the loan by using our online calculators.
Loans to lend a helping hand
We lend you need money for an urgent situation that has popped up or if you don't have enough cash to make it until payday, then a payday loan is the solution that you have been searching for.
Our instant cash loans are designed as a short-term cash solution and are for small amounts of money.
The only disadvantage of these types of loan is that they need to be repaid in full by your next payday this can prove quite difficult to manage if you are already struggling.
Fast, easy payday loans from the Little Loan Shop
Payday loans are ideal when you need cash very quickly as the lending criteria aren't very strict. The online loan application can be approved very quickly and the money paid into your account very quickly. If you need cash for an emergency this type of loan is the quickest way to get the cash that you need.
Our payday loans are unsecured so there is no risk to you. If you are having problems settling your account, then let us know so that we can try to assist you if possible.
The Little Loan shop – Payday loan
Benefits of The Little Loan shop
PAYDAY Loans
Bad Credit Loans
Quick Cash Loans
SHORT-TERM Loans
The Little Loan Shop - Bad credit clients can apply
We understand that some clients aren't able to afford to repay their loan in one payment that is why we give you the option of paying off your loan off either in one payment, 4 weeks or 6 weeks the quicker that you repay your loan the less the loan will cost.
Payday loans are given a bad reputation because they need to be repaid in one full payment and this can cause some people to rely on additional loans to repay their original loan. Our loan options give you longer to repay the money so that if you can budget and plan accordingly without pushing yourself into debt.
60 minutes from start to finish
We believe in speed. Once you have completed the online application form and provided the necessary supporting documentation then start your clock because we will verify your details, approve your application and have the money paid into your bank account within 60 minutes.
Bad credit gets a second chance
Bad credit makes it very difficult to apply for a quick loan from a bank, we believe that your bad credit score should not affect your ability to apply for a loan and we will not hold your bad credit score against you.
We have developed special bad credit loans that are designed especially for those with bad credit or those that don't yet have any credit.
We have your best interests in mind
We are a responsible lender and will perform a credit check to ensure that you will be able to make payments on your loan easily without the loan repayments causing you financial strain.
It is a good idea to know your credit score before you apply for a personal loan and to ensure that all the information listed on your credit report is correct. If there are any problems they need to be reported and fixed.
Customer Reviews & Testimonials
"
Sometimes the process of getting a loan can be a bumpy ride, but I had a really good experience with The Little Loan Shop. Their customer service was nothing short of exemplary, which made gettin...
Rebecca F
— Palmerston North —
Thanks for processing my payday loan so quickly, and for being available throughout the process to answer my questions.
Jolene M
— Napier —
The online application wasn't strenuous. It was actually very simple to fill in.
Callum B
— Timaru —
The Little Loan shop Contact
Contact Number
E-Mail
Website
Physical Address
52C Mokoia Rd

Birkenhead

Auckland Region

0626

New Zealand
---
Postal Address
PO Box 34 673, Birkenhead, 0746, New Zealand
Opening Hours
Monday

09:00 – 16:30

Tuesday

09:00 – 16:30

Wednesday

09:00 – 16:30

Thursday

09:00 – 16:30

Friday

09:00 – 16:30

Saturday

Closed –

Sunday

Closed –