How to combat your financial holiday spending spree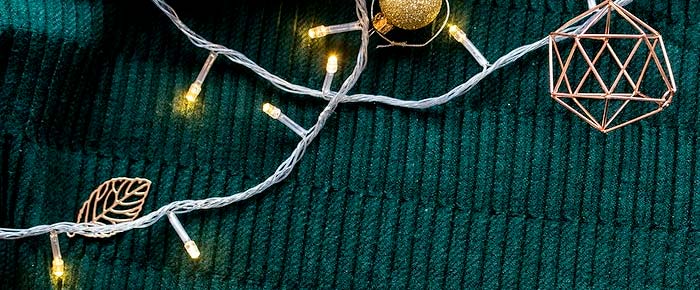 From alternative gifting ideas and tips on how to save money on all your Christmas shopping to consolidating your debt to free up some income, we've got all the tips and tricks you need to prepare for and combat your financial holiday hangover!
The holidays are a time to relax with your family and indulge in all the things you love. This includes overeating, drinking too much and often spending way more money than your budget allows.
It's no secret that holidays increase your financial burden and, if you don't plan and spend your cash with care, you could end up with a serious short fall.
When Santa was kind and left a few too many gifts under the Christmas tree it can have a big impact on your wallet.
Many people overspend around the holidays and end up in debt with maxed out credit cards and personal loans. After the holidays when the bills start rolling in, they end up suffering from the financial blues!
This guide has been split into two parts, part one is all about what you need to do to prepare for the holidays while part two is all about what you can do once the holidays are over and you need to get your finances back on track.
If you're reading this before the holidays, continue reading part one but if you're reading this after the holidays have passed please proceed to part two.
Part 1: Preparing your finances for the holidays
Start your Christmas shopping early
If you're really looking to get through the holiday without a hiccup starting your Christmas shopping early can save you hundred if not thousands of Dollars. How early? During the month of October would be a good idea since this will give you 2 full months before the holiday madness hits every retailer in town.
Even better? Get ahead of the holidays by making gift purchases throughout the year, not only will you save money by avoiding inflated Christmas prices, you can also space out your purchases. Look for clearance specials and make use of coupons, vouchers and discount offers to your advantage!
If you prefer waiting for the Christmas specials to hit the shelves, you can start putting money away for gifts from as early as July or August. You should work this into your monthly budget or set up a debit order to transfer a set amount from your regular checking account to a savings account on your payday.
Think about alternative gifting
"It's the thought that counts", isn't just a saying but actually quite a good piece of advice. Think about making a gift by hand, gifting flowers from your garden or a homemade treat.
Make your own gift-wrapping paper or make a voucher to provide a service or an experience to your loved one. Get the kids involved and make it special! Be sure to set a limit on how much money can be spent on a gift and encourage friends and family to honour the agreement.
Leave your credit card at home
When it's time to do your holiday shopping it is best to leave your credit card at home. Draw up a budget and assign an amount that you will be able to comfortably spend on gifts and don't exceed this amount.
Use your debit card and only spend the money you have, so that you don't rack up extra debt that will come to haunt you once the holiday season is over.
Create a detailed shopping list & stick to it
In addition to leaving your credit card at home, you should also ensure you use the money that you have saved or decided to use for gifts and holiday shopping wisely by creating a detailed shopping list and sticking to it.
It's very easy to buy extra decorations, gifts and food items if you don't have a list in your hand. Remember it may seem like a good idea in the spur of the moment but it may mean you'll have a very difficult start to the New Year.
If you plan on using a credit card, compare & choose wisely
Many people make use of credit cards to be able to afford Christmas gifts and groceries over the Festive Season. If you plan on doing this, you should apply for a credit card well ahead of time and take the time to research, compare and apply for the credit cards that will meet your needs.
If you're going to be using the credit card for shopping perhaps you need to look for a cashback credit card or a 0% interest credit card. You will only have to make the minimum repayments on these credit cards until the 6 to 12 month introductory 0% interest offer expires and reverts to the "revert rate".
Always make use of a credit card comparison tool or loan comparison site to find the best offers and products on the market. When using these sites pay particular attention to the listed APRs and not only the interest rates on offer.
Important things to consider when taking out a credit card:
The APR or annual percentage rate (the lower the APR the less the credit card will cost).
Duration of 0% interest periods which usually run from 6 to 12 months.
The revert rate or the interest rate.
Any additional fees and annual fees.
Rewards partners and retailers.
Cashback reward systems and the percentage of cashback per Dollar spent.
Any additional features and benefits such as insurance and vouchers.
Part 2: Getting your finances back in line after the holidays
Prioritise your debt like an expert
It is very important to know how much debt you have, in order to be able to manage it. Make a list of exactly how much money you need in order to settle the outstanding amounts on all your loans.
Once you have a clear picture of what's going on then you need to pay off the bills and personal loans that have the highest interest rate charges. This is typically your retail cards and credit cards but can also be any short-term loans you may have taken out during the holidays.
Once you have a complete picture of what debts you have and the extent of these, it's time to prioritise payments based on either which cost the most or which have the lowest overall balance and you can pay off faster.
You can choose to prioritise the high-interest debt or start off by repaying loans that carry the lowest balance. Paying the loans that carry the lowest balance first does not save you any money but works miracles in motivating you to continue your journey towards becoming debt-free.
Automate your debt repayments
Some companies offer incentives and bonuses, a little extra cash to spread some Christmas cheer. Although you may have good intentions to put that money to good use and pay off your credit card or loans, once the money is in your account, it can be much more tempting to spend it on gifts or other unnecessary purchases.
The best way to make sure that the extra funds get put to good use is to set up an automatic debit order to pay you credit cards and loans that is set to run as soon as the cash enters your account. Many credit card companies encourage this type of payment plan and can offer incentives which could end up saving you even more money.
Pay your bills on time
It's surprising how quickly penalty fees and late charges add up. If you miss a payment or you pay your account late, this will have a negative impact on your credit score and you will end up paying a lot more money than you originally budgeted for, so always pay your bills on time.
You are entitled to a free copy of your credit report from any of the three major credit bureaus once per annum. Don't be afraid to request a copy so you can review it and check if there are any errors that you can have corrected. It's also just a healthy financial habit to get into to review your credit file at least once a year.
If there are any loans or credit card payments that you know you'll be unable to make, you should contact your bank or creditor to inform them of your situation ahead of time. This will prevent unnecessary penalties and charges and you may be able to arrange a longer loan term to help you better manage the payments.
Don't have enough money to repay your debts?
If your income is simply insufficient to cover all of your debt obligations and expenses the only less drastic option you have left is to increase your income. This can be don't by working overtime, requesting a pay increase, getting a part-time job, starting a small side-business or freelancing.
Whichever of these options you decide to choose you must make a commitment to using any surplus income to repay your debts. Once you get out of debt, if you want to keep the side hustle, this money should be put towards savings.
Use a debt consolidation loan
Another way to start with a clean slate after the holidays is to combine your debt and then settle it using a debt consolidation loan. If you have a good credit score you may be offered a better interest rate and be able to save a lot more money.
Using a debt consolidation loan will help improve your monthly cash flow and encourage you to start saving. You will only need to make one small payment per month and not have to remember to pay multiple creditors. There are 3 main types of debt consolidation loans and we will briefly look at each of these.
Top benefits of consolidating debt after the holidays:
Make your debt easier to manage since you will only have to make one repayment per month.
Save on interest overall if you have a good credit score.
Avoid late payments and damage to your credit.
Free up income and relieve some financial pressure.
Home equity debt consolidation loans
If you have multiple short-term debts and have equity in your home, you may want to consider a home equity debt consolidation loan. This is essentially when you take out a loan secured against the equity you have in your home to repay your smaller, high-interest debts.
This may extend the length of you home loans, costing you more long term but, this is one of the best ways to consolidate debt if you're struggling to keep up with the various repayments.
Combine credit card debt with a balance transfer card
When you have multiple credit cards you can use a balance transfer to combine them all onto one card. This way you can benefit from a low introductory APR and a more favourable interest rate.
Consolidating your debt into one credit card will save you money and start you on the journey of becoming debt free. You will also benefit from the fact that you don't need to juggle paying multiple creditors.
Using a personal loan to consolidate debt
Another option, which may be slightly more expensive than the preceding two options, is that of using a personal loan. This may be the only option for those that have no equity in their homes as well as those that may not qualify for a 0% interest balance transfer credit card.
This option works in the exact same way as the other two options and allows you to roll your debts into one and thereafter repay a single loan amount.
So when the New Year rolls around make sure you only need to worry about a hangover from drinking too much and make your financial holiday hangover a thing of the past by using your money wisely and combating your debt head on.
You might also be interested in