Debt consolidation up to $20,000
Flexible repayment terms
Repayment up to 6 months
In-page navigation
---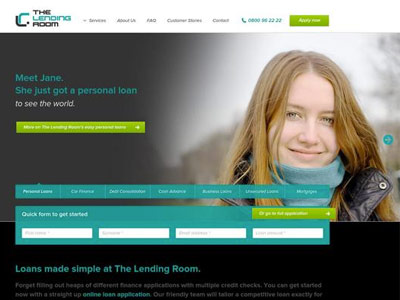 Author The Lending Room. Screenshot of The Lending Room website.


[Accessed November 12, 2018]
The Lending Room offers quick and simple solutions
You'll find that working with The Lensing Room is highly satisfactory as it is easy and simple. We work with a wide range of credible New Zealand lenders since we are an experienced finance broker.
We offer the most flexible repayment plan, the best interest rates and the highest chance of approval. If one lender is not the right one for you we'll continue searching until we find one that's best suited to you.
We have the experience to perfect your loan application
If you should have a bad credit The Lending Room will do whatever we can to ensure that you are able to get approved for a bad credit loan.
Should we find that there is no point in applying for a loan, we'll be in touch to let you know as soon as we can. We have an excellent customer service which is coupled with an exceptionally good track record.
We try and eliminate the frustration associated with borrowing in order to give you the debt consolidation loan you require with ease and as fast as we possibly can.
The Lending Room Services
The Lending Room is a specialized broker, we will not only get you a fantastic loan deal, we'll get you an ideal consolidation loan, and we will also ensure that the financial package is tailored to your specific needs and requirements.
You'll find that the interest rate and repayment are also flexible. When you make use of our services, you won't need to compare all the different products from several lenders. The Lending Room will ensure that you get the best possible service one can ask for.
Quick loan approvals
The Lending Room will do all the paperwork for you because we have the expertise and experience and we are well aware of the qualifying criteria the lenders look for, we will make sure that your online loan application is perfectly completed giving you the best chance of having your application approved in the best possible time.
Whether you're looking for a perfect vacation, or maybe you would like to do some home renovations or would prefer to settle some unexpected bills doesn't matter what you need the funds for we are able to assist you.
The Lending Room – Consolidation loan
Loan Type

Debt consolidation

Loan Amount

up to $20,000

Repayment

30 days to 6 months
Benefits of The Lending Room
Loans tailored to suit you
Interest rates are customized
Repayment terms are flexible
---
The Lending Room - Make your life simpler with a debt consolidation loan
Managing a whole lot of debt is not only a hassle but also stressful, particularly when a payment is skipped!
Consolidating your debt with The Lending room allows you to manage one debt consolidation loan and one simple payment. If your interest rates are too high somewhere else, our expert advisors will ensure that you receive the best possible interest rate as this product normally does carry a lower interest rate than that of a credit card.
Tailor-made loans to suit your needs
Depending on your financial situation and your credit record, we'll tailor your debt consolidation loan and interest rates to suit your circumstances. We will require some information such as income and expenses and you may choose the payment plan according to your remuneration schedule, in other words, you can make monthly, weekly or fortnightly repayments.
One affordable monthly payment
You won't need to stress yourself out about payment dates or repaying several different accounts since you only have one consolidated account and one repayment plan.
A debt consolidation allows you to budget because your repayments and terms are fixed. Take control of your life and get your finance back in order. You don't have any security to provide then consider an unsecured loan with The Lending Room
Unsecured loans
These unsecured loans are for individuals who are not able to provide security. Irrespective of that you may have a bad credit record as a customer or non-payments on your current loans and accounts and if you're being subjected to not being able to get funding, our loaning specialists can more than likely offer support.
Even if you don't have a vehicle to offer as a guarantee, or in the event where you don't owe any money on your vehicle an unsecured short-term loan could be the answer for you– merely state your case and see what options we have available for you.
Are you paying an excess of interest elsewhere?
Renegotiate your loan with us and we'll assist you with financing cost and repayments to suit you. We say the best personal loans are the ones that have been customised to suit your needs, and that is what we have to offer here at The Lending Room, our repayments are pretty straightforward, set your repayment up for the day you get paid and you never need to worry or be stressed out about upcoming instalments again.
You'll equally get a tailored loan fee, depending upon things like your cash related conditions and record as a customer. In order for The Lending Room to continue with your quick loan application, we will require some personal information from you such as your payslip, banking and employment details and of course your identification document.
Customer Reviews & Testimonials
"
The Lending Room offers affordable credit especially when your credit is not so perfect.
Tommy D
— Masterton —
Using the Lending Room website proved to be easier than I thought. I didn't encounter any difficulties while completing the application.
Adam L
— Levin —
The interest rates that the Lending Room charges are the reason why I have been able to pay all my advances on time.
Patterson N
— Cromwell —
The Lending Room Contact
Contact Number
E-Mail
Website
Physical Address
6 Findlay Street, Ellerslie,

Auckland

1051

New Zealand
---
Postal Address
PO Box 87294, Meadowbank, Auckland, 2013, New Zealand
Opening Hours
Monday

08:30 – 17:30

Tuesday

08:30 – 17:30

Wednesday

08:30 – 17:30

Thursday

08:30 – 17:30

Friday

08:30 – 17:30

Saturday

– Closed

Sunday

– Closed