Debt consolidation up to $50,000
Low-interest starting from 9.90%
Repayment up to 7 years
In-page navigation
---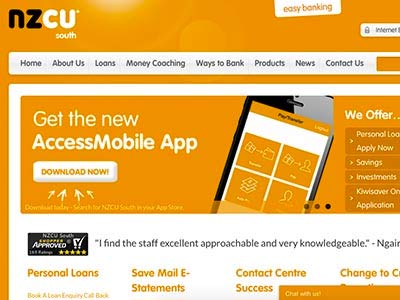 Author NZCU South. Screenshot of NZCU South website.


[Accessed April 17, 2018]
NZCU South - A reliable credit provider
We are Credit Union South and we trade as NZCU, we have 55 years of making families as well as communities financially stronger.
Now we reckon that's a long time if you compare these years with other financial businesses. NZCU South was originally established by the parishioner of St Mary's Nelson Catholic Parish way back in Oct 1962.
Award-winning customer care
We have provided continuous support to our members through the years and we've believed that we have been able to accomplish, by keeping our mission during the course of these 55 years, we've been consistent and to the point. 'Backing Kiwis who back themselves'
We've been able to keep our ultimate responsibility to our members, just like the parishioners who planted that one little seed enabling NZCU South to grow. We provide a wide range of financial products and services such as debt consolidation loans and credit cards to help you with your financial requirements. NZCY South also offers an award-winning customer care service, and we work very hard so that we can bring you a world-class customer experience.
What makes NZCU South different
First of all, we are a non-profit organization, meaning we're not all about profit-making, percentages, or pie charts; we make it all about you and what it is you need.
The profits are given back to our owners and the NZCY South members, and they stay in New Zealand. The reinvestment comes in the way of competitive interest rates on lower costs and savings on personal loans. We are all about assisting you with reasonable fees, better rates a personalized service.
NZCU South Services
NZCU South shares your enthusiasm with regards to your financial status and we seek to adopt a healthy attitude towards money with you.
In the way we treat everyone and by treating every person as an individual, we are able to utilize our financial tools and quick loan services to assist you to achieve the life you deserve.
We have made our services faster and more user-friendly. Back yourself and NZCU will be willing to back you all the way.
NZCU South debt consolidation
Are you in distress from overextending yourself with debt like hire purchases, credit cards, and perhaps an overdraft could be that you are spending too much?
Sometimes you don't see another way out but to make debt and debt is easy to make but another ball game when it comes to the repayment of these debts, it's not always easy.
NZCU South can assist you with combing your debt, leaving you with one simple debt consolidation loan account and one easy repayment at the end of each month; you could possibly make a huge saving on interest payments.
Debt consolidation
Chat with one of our friendly staff today and enquire how we can be of assistance and responsibly succeed together in order for you to live your dreams. You don't need to delay, apply online today. Please note the lending criteria do apply. Whilst we are based in South Island, we assist all Kiwis who would prefer their debt to be consolidated by offering them debt consolidation loans throughout New Zealand.
NZCU South – Consolidation loan
Loan Type

Debt consolidation

Interest Rate

9.90 – 28.90% p/a

Loan Amount

up to $50,000

Repayment

6 months to 7 years
Benefits of NZCU South
One easy to manage payment
Affordable rate
Fast funding
---
NZCU South offer services second to none
Should you choose to go with NZCU you will receive a personalized service that will exceed your expectations because you will never be treated as just a number with us.
You will be treated with dignity and respect and as part-owner of your Credit Union; you will have equal say in how your credit union is to be run. Each year there is a general meeting and a stand for a position on the board of directors and each member gets to vote for these events.
Competitive interest rates
We offer low-interest personal and short-term loans across the country, we will work with you in order to personalize a repayment amount and terms, so that you can be in a position to get the things you need, at extremely competitive interest rates together with a repayment plan that will not only suit your needs but more importantly your budget.
Once we've received your application and you've been approved, you'll be free to top up your personal loan at any given time. But be sure to give us a call so that we can make it happen.
Our New Zealand personal loans can be used for anything well almost anything which could include home improvement, debt consolidation, a vacation, a new vehicle even a boat if you want one.
Why you should consider NZCU South
Our repayments are affordable.
You have a selection of repayment terms to suit you.
You will also have a dedicated lending consultant to assist you with all your needs.
You may top up your payday loan at any given time.
There is no need for you to put your housing needs on hold. NZCU South has the know how to finance it all for you, plus we can provide you with flexible financing for a home improvement, which will be tailored to your needs.
It's important to make sure your home actually feels like a home, and it doesn't matter what you want to do; tidy up the backyard, add a little more light into the kitchen, and build a deck or an extra room. Well, now you have no excuse for not doing what needs to be done because we are here to assist you in reaching the goal.
Customer Reviews & Testimonials
"
I would recommend NZCU South simply because they offer affordable credit plans.
Alex B
— Levin —
NZCU South has never disappointed me when it comes to ensuring that I receive my loans best suited for my budget.
Nick H
— Gore —
Thanks to NZCU South, I got the loan right when I needed the money to attend to my financial emergency.
Lara M
— Dunedin —
NZCU South Contact
Contact Number
E-Mail
Website
Physical Address
212 Queen St

Richmond

Nelson

7020

New Zealand
---
Postal Address
PO Box 1437, Invercargill, 9840, New Zealand
Opening Hours
Monday

09:00 – 16:30

Tuesday

09:00 – 16:30

Wednesday

09:00 – 16:30

Thursday

09:00 – 16:30

Friday

09:30 – 16:30

Saturday

– Closed

Sunday

– Closed