Debt consolidation up to $15,000
Low-interest up to 19.95%
Repayment up to 3 years
In-page navigation
---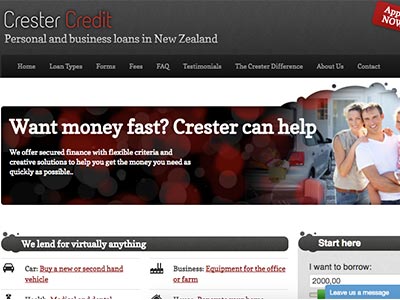 Author Crester. Screenshot of Crester website.


[Accessed April 17, 2018]
Crester Credit – first class customer service
Crester Credit was established in 1983, we are a locally based Christchurch concern. The famous Shirley Road Site which was originally Dave Biggs Motors and has been around for more or less 25 years.
We offer secured finance along with creative debt consolidation solutions and flexibility on criteria to assist you in obtaining the cash you need as fast as possible. An essential part of our business is that we provide a second to none customer service.
We are different from other lenders
Our personnel all have different experiences; this allows us to understand real-life circumstances and sufferings. Crester Credit relates to what you may be going through, many of us have been single mothers and many of us have been on benefits so we know life brings with it ups and downs.
With that being said, we are here to help you in times of trouble. No matter what the reason in is it to pay an unexpected bill or purchasing a much-needed car.
We give great attention to our community
We are actively involved in funding and supporting Christchurch as well as New Zealand charities. Close to 80% of our clients return to us the minute they need a short-term loan.
We pride ourselves on making sure our client service is the best there is to offer. Our Gold Card loyalty scheme provides approved recurring clients with lower interest rates and reduced set-up fees on future loans.
Crester Services
Crester Credit is able to assist you in managing your debt by offering you a debt consolidation loan. Our debt consolidation loan allows you to pay weekly or monthly whichever one suits you best.
You should consider a debt consolidation loan if you're finding it difficult to keep up with your monthly payments on your current debt.
Maybe you're finding it difficult to borrow funds because your credit history is not up to scratch and you have a bad credit rating or perhaps you just need a fresh start.
We can assist with a bad credit loan
A fresh start
Crester Credit's debt consolidation loan may be that fresh start you're looking for, our consolidation loan settle's all your current debt, such as hire purchase, credit cards and any other small debt you have, leaving you with one easy monthly or weekly repayment.
Low-interest rates to get you debt-free faster
Our interest rates are competitive and you'll have extra cash each month, leaving you to use that money for anything else you may need.
A debt consolidation loan may possibly make life a bit easier as you don't need to stress out about multiple debts.
Speak to one of our friendly staff members at Crester Credit today.
We are here to assist you in any way we can ensure that all your requirements are met, leaving you stress-free.
Crester – Consolidation loan
Loan Type

Debt consolidation

Interest Rate

19.95%

Loan Amount

up to $15,000

Repayment

6 months to 3 years
Benefits of Crester
Simple loan application
Quick funding
Affordable rates
---
Crester - We love helping people
Crester Credit treats everyone with respect and we pride ourselves on a top-notch customer care service, customer loyalty is of utmost importance to us and what's more, we love helping people wherever possible.
Why you should use Crester Credit as your number one choice
We offer easy debt consolidation loans with flexible terms and repayments tailored to your needs
Our Interest rates are better; we feel that you shouldn't pay more than you already are.
Since we prefer to look at the guarantee you have to offer means we look beyond your credit rating.
We offer loans to individuals who receive unemployment benefits, invalids benefit, single parents, widows or widower's, pensions or superannuation and have a bad credit rating.
Once we receive your completed application, we strive to get back to you within 60 minutes and we aim to have your funds in your account within 24 hours
Our lending criteria and eligibility are as follows:
Applying for a Crester Credit online loan is easy and simple; it'll only take a few minutes of your time.
You need to be 18 years or older, have a stable address and have your identification photo.
Something you should know
We also offer payday loans up to $2,000 for recipients and individuals with bad credit records throughout New Zealand. It's okay if your credit score is not that great, however, we are not able to accept any individuals who have been placed under bankruptcy or insolvency.
Fill in your online loan application today and should you have any questions or queries please do not hesitate to give us a call, we have your best interest at heart and will make ourselves available at all times.
Customer Reviews & Testimonials
"
Crester has a loan package for any kind of financial background.
Eric P
— Hastings —
Applying for the Crester loan was not only easy; it also saved me a lot of time because the application was online.
Jack P
— Wanaka —
I would recommend Crester simply because of the affordable interest rates they charge on their loan advances.
Emily W
— Picton —
Crester Contact
Contact Number
E-Mail
Website
Physical Address
3 Shirley Rd

Mairehau

Christchurch

8013

New Zealand
Opening Hours
Monday

08:30 – 17:00

Tuesday

08:30 – 17:00

Wednesday

08:30 – 17:00

Thursday

08:30 – 17:00

Friday

08:30 – 17:00

Saturday

Closed –

Sunday

Closed –