Debt consolidation up to $15,000
Low-interest starting from 13.95%
Repayment up to 3 years
In-page navigation
---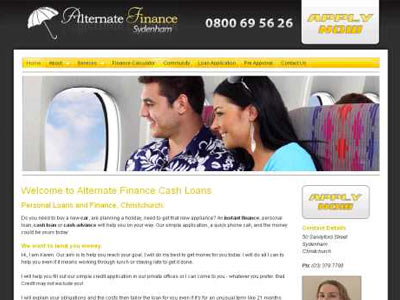 Author Alternate Finance. Screenshot of Alternate Finance website.


[Accessed April 17, 2018]
Alternate Finance at your service
We are a locally based financial organisation in Christchurch, we were founded in 1983 and our customer care is focused on you!
Alternate Finance will treat you with respect. Since our consultants are from all walks of life and all have unique backgrounds so this means that we understand what life is all about and how sometimes we just dealt the wrong card, bringing with it a hardship, we've all been there and can relate to what you may be going through.
Our sponsorship towards community
We are actively involved in sponsoring charities in New Zealand such as Christchurch amongst others; we also supported numerous Christchurch facilities over the past three years.
Debt consolidation provided quick and easy
Alternate Finance is able to assist you with a fresh start by offering you a debt consolidation loan. Are you perhaps having trouble keeping up with your monthly account payments and you're having a bit of trouble with borrowing funds because you have a bad credit history?
Alternate Finance understands and would love to be of assistance because we put your needs first and want to assist you in taking back the control of your finances.
Alternate Finance Services
Debt consolidation allows you to combine all your debt; be it a credit card, store cards, overdraft and any loose debt you have that you just can't seem to make payment on. This could possibly be what you are looking for.
Our consolidation loans generally offer a lower interest rate and a fixed period which means you can budget, only have one repayment to make on a monthly basis, plus it gives you the opportunity to get back on track, take back your control and live a life you're accustomed to.
Manage your debt
We can be of assistance to manage your debt with our easy debt consolidation loans. Should you want to pay a little each week or make a larger repayment every month, choose what suits you with our debt consolidation loans. Note that should you have Baycorp bills, we could possibly settle them for you which could maybe clear your credit rating, giving you space to breathe again.
Loans for clients with bad credit
Alternate Finance looks beyond your credit rating, we are more concerned about the security you have to offer, even if you have compromised credit rating we will still be of assistance to you as we previously mentioned we do understand and you are still able to give you a bad credit loan if you need to consolidate your debts, no problem.
Alternate Finance – Consolidation loan
Loan Type

Debt consolidation

Interest Rate

13.95 – 26.98% p/a

Loan Amount

up to $15,000

Repayment

3 years
Benefits of Alternate Finance
Flexible repayments
Low-interest rates
Quick funding
---
Alternate Finance - The emergency loan
We totally understand the difficulties that we sometimes have to plan ahead of time and that's the reason we offer cash advances for those unexpected bills and unforeseen emergencies.
If you've received an unexpected invoice or expense and you don't have the money freely available, you could possibly be suitable for an instant cash loan. We're not like traditional payday loans concerns. We offer our highly competitive interest rates and our offers are fair and transparent and our service is great.
The requirements for an Emergency Loan
We understand that not everyone has a perfect credit record; so we offer flexibility and are different to other lenders as do our loan requirements differ. Alternate Finance invites you to complete our fast loan application call or you may feel more comfortable speaking to one of our consultants to get clarity on your personal situation. So even if you do have a poor credit rating you can still apply by completing an online loan application form, we'll review your situation and determine if you qualify or not.
Any time you're considering a short-term cash loan, look us up. We're here to look after your needs.
The proof is in the pudding - our customers always return to us
Alternate finance is proud in the fact that more than 80% of our customers return to us for further financing because they feel comfortable with our services and are well aware that we always put our customer's needs first.
Our debt consolidation services are second to none and we even remember your birthday, so be assured that you'll receive a card wishing you on your special day, we offer old fashioned customer care we'll also send you a Christmas calendar as an appreciation token from our wonderful team.
Alternate Finance will always make time for you
We don't have a problem with working late to get you the finance you need when you need it! Should you by any chance have a problem in making a payment, we'll be pleased to find a solution to your dilemma.
Alternate Finance will make the time for you as we understand that when a decision needs to be made, no matter what hour it is, we are prepared to make that decision, we strive to make time for our customers at any given time!
Customer Reviews & Testimonials
"
For the number of years, I have used Alternate Finance, I have never felt like they were not being financially considerate.
Amelia D
— Rotorua —
Alternate Finance will always ensure that you can afford the loan you applying for before they approve your application.
Hunter W
— Queenstown —
After my loan application was approved at Alternate Finance, I was able to settle all my loans on time.
Patrick H
— Taupo —
Alternate Finance Contact
Contact Number
E-Mail
Website
Physical Address
50 Sandyford St

Sydenham

Christchurch

8023

New Zealand
---
Postal Address
PO Box 7130, Sydenham, Christchurch, 8240, New Zealand
Opening Hours
Monday

08:30 – 17:00

Tuesday

08:30 – 17:00

Wednesday

08:30 – 17:00

Thursday

08:30 – 17:00

Friday

08:30 – 17:00

Saturday

– Closed

Sunday

– Closed