Debt consolidation up to $5,000
Low-interest starting from 29.99%
Repayment up to 156 weeks
In-page navigation
---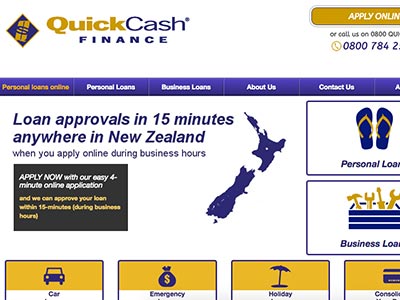 Author QuickCash Finance. Screenshot of QuickCash Finance website.


[Accessed April 17, 2018]
Meet QuickCash and find out what we have to offer
We are a family privately owned instant loan business and are operated in New Zealand by good honest Kiwis.
QuickCash opened shop back in 1998; the same year the Crusaders won their first Super Rugby title.
We have always had the know-how to provide fast approvals and at the same time taking the unique statuses of all our customers into consideration.
Speedy loans
Our debt consolidation loans are fast when you need them. We are a responsible lender and we pride ourselves on not only being approachable but also easy to deal with; we are transparent so there won't be any surprises or hidden costs and the interest rates are fixed, meaning, that they stay the same for the duration of the loan plus the are no extra charges for early settlement of your loan.
Perhaps that's the reason why the majority of our customers have had more than a payday loan or two with us. Another important benefit of working with us is that you are dealing directly with the lender.
You don't have to wait for some hotshot behind his leather chair to approve your short-term loan; it can be approved on the spot and you could possibly have the funds within the hour.
QuickCash Finance Services
Perhaps you're finding it a bit complicated or even a bit difficult to repay multiple outstanding debts? QuickCash can provide you with a debt consolidation loan which may be the one solution that you're looking for.
Our debt consolidation loan service permits you to bundle all your accounts into one single loan and one single repayment. This saves you time and effort and could lessen your stress levels.
Quick loan approvals
It takes no longer than an hour for your application to be approved. However, we do prefer that you sit down and consult with one of our staff members so that we have a better understanding surrounding your scenario and also to provide you with the information and understanding of our full range of options suited to your circumstances.
QuickCash also encourages you to consult with a budget advisor or in serious cases with a debt counselor so that they can assist you with your finances in order to settle all your debt.
QuickCash consolidation loans NZ on offer could be most helpful for individuals who have several debts and accounts with high interest rates that are paid on a monthly basis and don't you just dread those phone calls from debt collection agencies well the good news is, is that we can take care of those frequent calls and you don't need to worry yourself about your phone ringing for debt coverage.
QuickCash Finance – Consolidation loan
Loan Type

Debt consolidation

Interest Rate

29.99 – 34.99% p/a

Loan Amount

up to $5,000

Repayment

52 weeks to 156 weeks
Benefits of QuickCash Finance
Fixed interest rate
No penalty fee for early repayment
Quick loan application
---
Consolidate your bills with a debt consolidation loan
QuickCash keeps things transparent from the get-go, your interest rates are fixed for the duration of your loan repayment period.
We don't want you to stress about the interest rate when you change your personal loan options and then having to pay extra cash. We also allow you to settle your loan account earlier because we would love for you to be debt-free as soon as you can be.
QuickCash Finances also offers legal loans
The reason you should get a legal loan with QuickCash is that we have been assisting kiwis with legal loans as well as court finance for the past two decades. We are proud that we are able to assist you with a fast and convenient loan without all the hassle.
Thanks to our 100% online loan application it's easier than ever. You are able to do everything from the comfort of your computer; tablet or smartphone, now how convenient is that?
Apply online
All you need to do is complete your loan application online, once we have received your application it only takes 25 minutes for a response, in other words, one of our debt consolidation loans could also be in your account within 25 minutes, there is absolutely no need for you to make a trip to the bank, or make use of scanners and printers because you can sign your loan contract electronically.
We never know when an emergency may take place and we don't always have cash available for this. The last thing you need to be concerned about is the process and high repayments cost that is often associated with cash loans.
With a QuickCash fast loan that offers low repayment fees and professional assistance ensures that you have no need to feel anxious. A quick cash loan takes 3 minutes to approve and you don't need to stress about the paperwork or stand in queues.
You also don't need to worry about interest rates fluctuating because our emergency loans offer a fixed rate for the lifespan of the loan.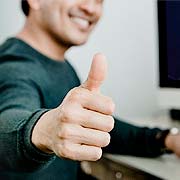 QuickCash Finance is a trusted & reliable provider of debt consolidation
Customer Reviews & Testimonials
"
If you looking for affordable credit offers, QuickCash Finance is the name to trust.
Rose V
— Picton —
QuickCash Finance uses such a convenient loan application system.
Elizabeth S
— Blenheim —
The affordable interest rates that I am paying at QuickCash Finance have given me the opportunity to also maintain constant payment plans on my other financial obligations.
Phillip H
— Hamilton —
QuickCash Finance Contact
Contact Number
E-Mail
Website
Physical Address
56 Scott Street, Blenheim

Blenheim

7201

New Zealand
---
Postal Address
PO Box 3093, Richmond, 7011, New Zealand
Opening Hours
Monday

08:30 – 17:00

Tuesday

08:30 – 17:00

Wednesday

08:30 – 17:00

Thursday

08:30 – 17:00

Friday

08:30 – 17:00

Saturday

Closed –

Sunday

Closed –