Debt consolidation up to $100,000
Low-interest starting from 8.95%
Repayment up to 5 years
In-page navigation
---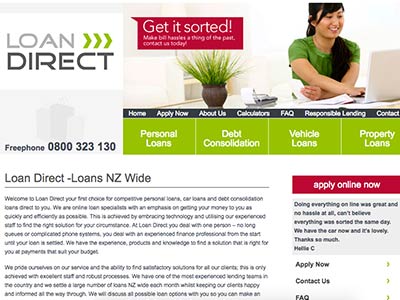 Author Loan Direct. Screenshot of Loan Direct website.


[Accessed April 17, 2018]
Loan Direct your number one finance broker
We are finance brokers, although in some instances we will lend money through our parent company Loansmart Ltd.
When your application is received and processed one of our consultants will advise whether your loan is being brokered to another lender or if it is with Loansmart. Should your personal loan be brokered to another lender you will be advised of the fees, repayments and interest rate prior to your loan being drawn down. It's safe to say that fees do vary from company to company of which you will also be advised.
A responsible lender
When applying for a consolidation loan, Loan Direct does carry some responsibility towards you, this will include that we are fully aware of what it is you need as well as your circumstances. This will permit you to make the right decision with regard to your loan. You can rest assured that all private information provided by you will be kept private and confidential.
We may request the following information
Your age, current bank statements confirming your income as well as expenses, if you have full time or part time employment, the value of your assets, you need to present your credit history and you need to give Loan Direct permission to do a credit check, we will require a copy of your ID or drivers license or passport, what amount you are looking to borrow, when the quick loan would be required, for what purpose the loan is needed and a loan term that is best suited for your budget.
Our terms and conditions are clear and easy to understand!
Loan Direct Services
Loan Direct offers affordable debt consolidation loans, we take all your debt, such as credit cards, hire purchase, store account and any other debt that needs to be paid and we roll them all into one loan which means you only one loan to repay which will be in line with your pay cycle.
Debt consolidation is a great way of reducing payments and gives you an opportunity to get your life back on track.
You only need to concern yourself with one payment meaning you are able to budget and it becomes a bit easier because you may have some extra cash to spend.
Online loan applications
You're welcome to use our online calculator to find out how much you can borrow, what your repayments will be and what sort of saving you can make each month.
Should you have any questions, please contact one of our friendly consultants who will willingly assist you or complete our online loan application so that we can get the ball rolling and reduce your monthly repayments.
Debt consolidation
Loan Direct will require settlement figures on your debt (with a valid settlement date) as well as your creditor's banking details.
We will then settle all your debt and make sure that any security the creditors may hold is removed. Please note that we don't offer a short-term loan, all our debt consolidation loans and other loans are between six to sixty months.
Loan Direct – Consolidation loan
Loan Type

Debt consolidation

Interest Rate

8.95 – 29.95% p/a

Loan Amount

up to $100,000

Repayment

6 months to 5 years
Benefits of Loan Direct
Affordable rates
Simple loan application
Quick loan payout
---
Loan Direct is the top choice for a debt consolidation loan
We take our responsibility and obligation seriously because we are a responsible lender.
Quick personal loans to all Kiwis
We are a leading online leader as far as personal loans go, we provide instant cash loans for almost any purpose. Should it be a personal loan in order for you to clear your credit perhaps take a vacation or for any unexpected bills? Loans Direct can arrange a convenient repayment schedule that will suit your affordability offering a flexible loan repayment that is in sync with your remuneration.
When life throws curve balls at you Loans Direct will be there for you because we understand, when an unexpected situation creeps up we generally are able to get you an approved loan plus the funds could be in your bank account sooner than you think.
Business loans up to $250 000
Our business loans offer up to $250 000 with multiple options available from business assets to financing also providing much-needed cash flow, we can help. We also offer primary and interest term loans, cash flow financing and interest-only loans to help your business.
First off, we will send you an email acknowledging that your application has been received, we will advise you who your loan consultant is and give you the contact details. Your dedicated loan consultant will then start the loan approval process, generally, this can between one and two hours, should there be any queries your loan consultant will contact you to clarify.
Once your loan has been approved
We will arrange for the debt consolidation loan documents for you to sign, we may request any outstanding documents such as your bank statement, identification document, payslip and insurance details.
Once you have signed the documents and provided any outstanding information we requested and you've returned the signed agreement to Loans Direct, your loan will then be processed the same day and the funds are paid within 24 hours.
Give Loans Direct a call today; we'll assist you in getting your life back in order.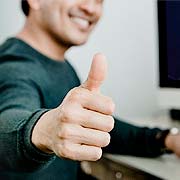 Loan Direct is a trusted & reliable provider of debt consolidation
Customer Reviews & Testimonials
"
I applied for a Loan Direct credit plan in the morning and the very next day my loan application was approved.
Jeffery S
— Masterton —
There are a number of benefits you can get from a Loan Direct credit package.
Felix A
— Gore —
The agents at Loan Direct will ensure that you clearly understand the terms and conditions of your loan.
Sam W
— Gisborne —
Loan Direct Contact
Contact Number
E-Mail
Website
Physical Address
33 Broadway, Newmarket,

Auckland

1023

New Zealand
---
Postal Address
P O Box 28 231, Remuera, Auckland, 1541, New Zealand
Opening Hours
Monday

08:00 – 17:00

Tuesday

08:00 – 17:00

Wednesday

08:00 – 17:00

Thursday

08:00 – 17:00

Friday

08:00 – 17:00

Saturday

– Closed

Sunday

– Closed