Debt consolidation up to $100,000
Low-interest starting from 11.95%
Repayment up to 7 years
In-page navigation
---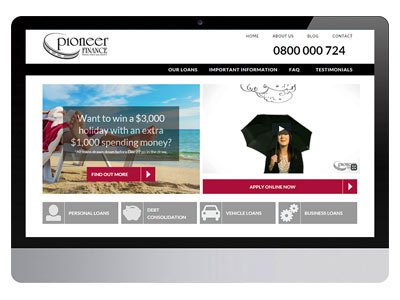 Author Pioneer Finance. Screenshot of Pioneer Finance website.


[Accessed April 17, 2018]
Pioneer Finance - A responsible credit provider
Pioneer Finance established in 1995. We offer finance solutions and online loans throughout New Zealand from Auckland to Wellington and we practice responsible lending, which is simple and fast, we are a registered financial service provider.
Whether you're seeking for a loan in Auckland or Wellington, or you are looking for a fast online in Christchurch, perhaps you want a car loan in Invercargill, Pioneer Finance has real people who will listen and understand your dilemmas but you can rest assured that we are here to assist in any way that we can. Our friendly, experienced team does their best place we have been assisting kiwis to reach their personal goals.
Fast and flexible loans
Our offices are situated in Auckland and Wellington and we offer quick and easy services to all our Kiwis with a trustworthy service.
Our debt consolidation loans are not only fast, but they are flexible with our personal loans reasonable and offer competitive interest rate across the country.
Pioneer Finance is a 100% New Zealand owned financial company and we ensure that you will deal with the same person from the beginning of the process to the very end.
We serve New Zealand
Our staff members are considerate; they are also approachable they are genuinely interested in assisting you to find a personal loan solution that works for you. We love assisting Kiwis like you build a relationship with dependable and specialised money lenders.
Perhaps the milk van doesn't arrive at your doorstep anymore, but Pioneer Finance will. Our services sector is available countrywide, and if possible we love to deal with you personally, face to face.
Pioneer Finance Services
We understand that when you apply for finance online you may need the cash quickly. We put an emphasis on getting your loan directly to you as soon as possible, which can often be within 24 hours. It's important that you are comfortable with the personal loan you're getting.
You can be guaranteed that you will be dealing with a Registered Financial Services Provider, we are members of Financial Services Complaints Ltd, a business who will represent you, at no charge, and should you have any concerns with Pioneer's products or services.
Debt consolidation loans that work
Pioneer Finance offers debt consolidation loans throughout New Zealand.
So if you feel your bills are getting the better of you and you need help, we'll assist you in combining your debt and getting your finances under control by rolling all your debt into one single debt consolidation loan which will be easy to manage the personal loan.
We'll assist you by setting a loan term the will be within your budget, a consolidation of debt normally reduces the amount you're currently paying on debt each month, it'll be a bit easier for you to manage your monthly budget and get you back on track sooner than you think.
Loans up to $100,000
Eliminate the tiresomeness of having to pay numerous finance companies; nobody enjoys all the paperwork so we'll do that for you in order to consolidate your current debt and you'll only have one single loan repayment to concentrate on each month.
The Pioneer Finance personal and short-term loans offer between $1 000 and $100 000, we are a trusted New Zealand Finance organization and we are committed to obtaining a loan that is fitted to your circumstances.
Pioneer Finance – Consolidation loan
Loan Type

Debt consolidation

Interest Rate

11.95 – 27.95% p/a

Loan Amount

up to $100,000

Repayment

1 year to 7 years
Benefits of Pioneer Finance
Bad credit is welcome
Flexible repayment terms
Easy loan application
---
Pioneer Finance offer lending solutions for all New Zealanders
We are your trusted go-to finance solutions company; we are committed to obtaining the right personal loan options that are tailored to your needs.
Personal loans are a lifestyle choice; it's more than just choosing what you want to buy! We offer secure and affordable personal loans, it'll bring you absolute freedom, it'll give you what you need and you can have some peace of mind.
The loan experts
Our team are experts at personal loans and they will assist you in the best way possible, you'll be in good hands and be treated with dignity at all times. Pioneer Finance loans are quick and easy, plus we can structure the loan according to your personal needs.
Fixed interest rates
We offer you a fixed interest rate for the lifespan of the debt consolidation loan; we are here to lend a hand when you need it most. The upside is that you can plan your finances with confidence; it's less stress when you know that you don't need to worry about your repayments being increased and that they will always remain the same.
No matter what life throws your way, Pioneer Finance will willing assist you in any way we can as far as finances are concerned.
The instant cash loan amount that you borrow will depend on your personal situation and the security you have to offer as well as your financial history. We base this on your present financial situation and we look at you affordability and see if you are able to meet your repayments. Because we are a responsible lender we tend to do what is best for our customers.
Customer Reviews & Testimonials
"
Pioneer Finances uses such an easy loan application system.
Ruby D
— Russell —
Pioneer Finance will never give you a loan you won't be able to pay.
Maria C
— Masterton —
I would have never been able to pay for my financial obligations if it weren't for the loan I received from Pioneer Finance.
Chris L
— Christchurch —
Pioneer Finance Contact
Contact Number
E-Mail
Website
Physical Address
119 Queens Drive, Hutt Central,

Lower Hutt

5010

New Zealand
---
Postal Address
PO Box 30602, , Lower Hutt , 5040, New Zealand
Opening Hours
Monday

09:00 – 17:00

Tuesday

09:00 – 17:00

Wednesday

09:00 – 17:00

Thursday

09:00 – 17:00

Friday

09:00 – 17:00

Saturday

Closed –

Sunday

Closed –