Debt consolidation starting from $1,500
Repayment up to 60 months
In-page navigation
---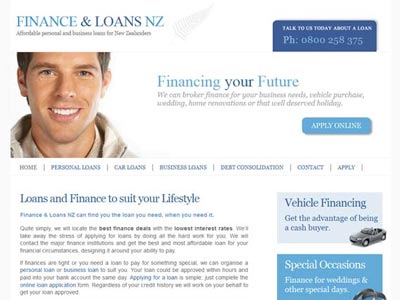 Author Finance & Loans NZ. Screenshot of Finance & Loans NZ website.


[Accessed April 17, 2018]
Finance & Loans - The best deals on loans
It's simple if you are looking for the best personal loan deal with the lowest rates, you found us!
It's not only hard work to search for the right loan but can be quite stressful, that's why we do all the hard work for you.
We'll contact all the major finance organisations to find the best and most affordable loan that will suit your financial circumstances; we'll tailor a loan that's fit for your affordability.
Loans for clients with bad credit
There are times when finances are low or you need to apply for a loan in order to buy something special for a loved one if you need a personal loan or perhaps a business loan finance & Loans NZ can arrange a loan that will suit you best.
Apply for a loan with us is pretty easy; all you need to do is complete the online loan application form, it's possible for your loan to be approved in just a couple of hours and get it paid directly into your bank account on the same day. We'll work on your behalf and get your loan approved if you by any chance have a bad credit history.
We will keep you informed
Finance & Loan NZ will keep you up-to-date every step of the way. We are aware that you need the understanding before you accept a debt consolidation loan from us when financing your future, but you can rest assured that we are committed to honest communication at all time.
You may contact any one of our professional team members at any time if you have any questions, we will gladly assist and guide you in the right direction.
Finance & Loans NZ Services
Take a break, go on that well deserved holiday, go purchase that car you've been dreaming about, put some sparkle back in your kitchen or maybe there are wedding bells in the near future?
You can use the funds any way you wish and we are here to assist you! Below are some pointers on what you need to know about applying for a debt consolidation loan with Finance & Loans NZ
Are you in despair with your debt?
We understand that keeping track multiple debts and repayments can make you feel somewhat low, but you don't need to feel that way because you are not alone, we are here to assist you in any way we can and we have the perfect solution for you.
A debt consolidated loan typically offers a lower interest rate and could possibly save you some money in the long run; this unsecured loan also offers a fixed term and flexible repayments, which is great because you can budget accordingly.
Keeping track of multiple due dates and different repayment amounts could be a thing of the past!
Become debt free
A debt consolidation allows you to roll all your debt into one loan account. You can consolidate your credit card, store card as well as any personal or short-term loans or small accounts like medical bill etc... Into one single consolidated loan account.
If you feel that this is the product you need then all you need to do is fill in your online application for a debt consolidation loan today. You have better things to worry about so eliminate all the stress and take back the control of your finances and start enjoying life!
Finance & Loans NZ – Consolidation loan
Loan Type

Debt consolidation

Loan Amount

from $1,500

Repayment

1 month to 60 months
Benefits of Finance & Loans NZ
DEBT CONSOLIDATION Loan
PERSONAL Loans
---
Finance and Loans NZ - Affordable repayments
We accommodate individuals who earn low incomes or benefits. Students and super-annuitants and people who have a poor credit history are more than welcome to apply for a quick loan with us.
Apply for your one of our consolidation loans from $1 500 and more to assist you with those unexpected bills, or maybe you want to purchase something special for a special person in your life.
Perhaps you have some cash flow problems
Your working capital is what keeps your business running smoothly, Finance & Loans NZ knows this so should you be running a little short on cash and you need to pay wages to tax or perhaps you need to invest in new equipment we will assist you as best as we possibly can. Whatever it is your business needs apply online for your business loan or contact us directly to find out how we can assist with financing.
Finance & Loans NZ will work hand in hand with you to ensure that your payment is affordable and the same applies with your repayments, if you find that you are having difficulties in repayments talk to us and find out how we can assist.
Note that Finance and Loans NZ do accept early payments and should you require an extended payment, feel free to give us a call.
In order to apply for a loan you will need to meet the following criteria:
You need to be 18 years of age or older,
Be a permanent NZ resident,
Have a regular job,
You need a driver's license, and proof of residential address.
Customer Reviews & Testimonials
"
Applying for the Finance and Loans NZ credit plan was the best decision I took for my budget.
William L
— Picton —
I would recommend Finance and Loans NZ to anybody requesting affordable loans from a reliable credit supplier.
Ellie T
— Napier —
The agents at Finance and Loans NZ are professional and always willing to assist get the best loan suited for your budget.
Amber B
— Hawke's Bay —
Finance & Loans NZ Contact
Contact Number
E-Mail
Website