Debt consolidation up to $70,000
Low-interest starting from 7.95%
Repayment up to 5 years
In-page navigation
---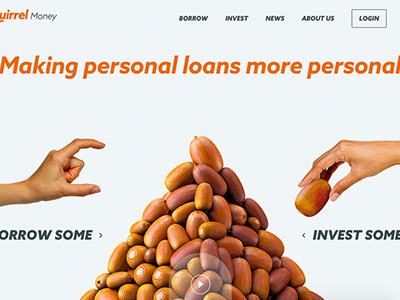 Author Squirrel Money. Screenshot of Squirrel Money website.


[Accessed November 12, 2018]
This is Squirrel and we're a mortgage broker
Squirrel has been in the mortgage broking industry for over 10 years, and over a period of time we have been able to add other carefully chosen products in the likes of peer-to-peer lending, investing and insurance.
We are an organization that loves to do what we do best! We're not going to bore you with all the blurbs about how fantastic we are; instead, we've put together facts in a more interesting Squirrel way.
One easy to manage repayment
Do you have bills that are just lying around that need to be paid but you're not getting to them? Or maybe you have finally decided to settle those credit cards.
Our Squirrel debt consolidation loan could be just what you're looking for, it could get you back on the right track to getting your finances under control again, then maybe you can take some time to just breathe without the stress.
To apply for a debt consolidation loan
We have the magic of technology to thank because you can complete the online loan application right in your living room and in your jammies from the comfort of your home.
Ensure that you have your New Zealand driver's license and if you don't have one a passport will do, but have it hand as well as access to your bank statement with all those bills you just want to disappear!
Squirrel Money Services
When you have multiple short-term loans, credit cards, hire purchase payments and perhaps store cards and you combine them into one easy debt consolidation loan which is easy to manage.
Use a squirrel debt consolidation to settle all your current debt and only have one consolidation loan and one easy repayment each month. A debt consolidation loan generally offers a lower interest rate than that of a credit card (credit card interest rates are generally very high) which could possibly save you some cash in the long run and perhaps clear your debt a bit faster. It's a good way of assisting you to regain control of your finances.
Squirrel is more than just a mortgage broker
It's our job to make the mortgage process as simple as possible; it's also our job to save you money. Our team of mortgage brokers will ensure that you get personal, impartial advice. Plus we'll offer you the best rate ever.
Whether you're reviewing your existing mortgage or looking to invest in property, maybe you're a first time home buyer no worries, we are here to assist you to make an informed, forward-thinking decision. It won't cost you a blue cent because out advisers work quite hard to make your buying experience easy and pleasurable.
Get onto it with a Personal Loan
With a Squirrel personal loan you can borrow up to $20 000, which you can use for any reason that will help you achieve your goal; go on a vacation, purchase a laptop, are there wedding bells? Further your education if that's what you want or take a boat trip! We will back you 100%
Squirrel Money – Consolidation loan
Loan Type

Debt consolidation

Interest Rate

7.95 – 12.7% p/a

Loan Amount

up to $70,000

Repayment

24 months to 5 years
Benefits of Squirrel Money
No penalties for early payments
Affordable loans
Simple loan application
---
Squirrel Money - We offer advice you can trust
A good mortgage broker will not only have your back, but they will also save you time and money, where most are working for the seller. Plus, our expert advisers are not paid on commission, meaning the advice you get is unbiased and most reliable.
Our Vehicle Loan is for anything on wheels
You are able to apply for a car loan online between the amount of $ 1 000 and $70 000 all you need to do is use your vehicle as a guarantee. Squirrel can get you behind the wheel of your new Vehicle if you're looking for a good buy for your existing car loan or perhaps shopping around.
What we look for in our borrowers
We typically focus on high-quality borrowers, and you need to pass our creditworthy check with flying colors, this means we may not be the right lender for every person who applies for a debt consolidation loan.
Our average borrower
They're pretty decent people. Credit history is inspected with a fine tooth comb and we make sure you're up to a standard that our investors are happy with. As we're a peer-to-peer lender means its other people's hard-earned month that's being borrowed. You don't need to take our word - we've got over 600 five star reviews and that's why you should choose Squirrel
Squirrel has assisted many people in New Zealand, since, we're written close to $1 billion of loans in the past year when it comes to obtaining the best possible mortgage solution, and we're your go-to broker! We have access to a lot more options and good interest rates since our mortgage brokers engage with all the major banks.
Make things easier, it may seem like a minefield of forms and mumbo jumbo but it doesn't have to be. Our skilled consultants can cut through the waffle and find the right solution suited for you.
Customer Reviews & Testimonials
"
Squirrel Money has the best consultants; they always take you through your loan application.
Taylor W
— Wanaka —
Squirrel Money is my preferred credit provider because they offer consistent and budget-friendly loans.
Noah X
— Blenheim —
Applying for the Squirrel Money loan was fast, easy and convenient.
Robert S
— Gisborne —
Squirrel Money Contact
Contact Number
E-Mail
Website
Physical Address
38 College Hill

Freemans Bay

Auckland

1011

New Zealand
---
Postal Address
PO Box 911254 Victoria Street, West Auckland, 1142, New Zealand
Opening Hours
Monday

09:00 – 17:00

Tuesday

09:00 – 17:00

Wednesday

09:00 – 17:00

Thursday

09:00 – 17:00

Friday

09:00 – 17:00

Saturday

– Closed

Sunday

– Closed