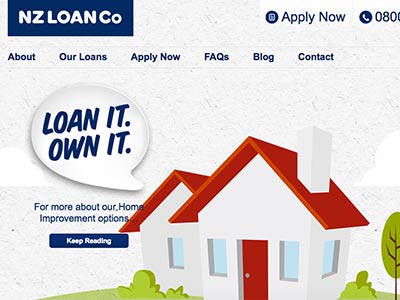 Author NZ Loan Co. Screenshot of NZ Loan Co website.


[Accessed April 17, 2018]
NZ Loan Co - You can become debt free
Debt consolidation refers to the act of combining all your existing debt into one easy to manage the loan. This gives you the benefit if having one reduced payment per month. This will save you on late fees and helps you reduce your interest rate.
Every person should make sure that they know their credit score and what is going on in their credit report. If you have entries that are incorrect or you have settled your bad debt you will need to inform the company to rectify the entry on your behalf.
How debt consolidation can help you
If you have a lot of debt with multiple creditors and you don't have enough money to pay all your accounts every month then you should consider debt consolidation. Debt consolidation is a lifeboat for those that are currently drowning in debt and don't know how they are going to keep their head above water.
Debt consolidation allows the lender to negotiate a settlement fee on your behalf on your existing debt. The lender then pays off your debt. The lender then grants you a personal loan for that amount, so the only money you need to repay is the loan from the lender.
This means you won't need to worry about paying multiple late fees on credit cards and short-term loans, defaulting on payments or juggling your debt. Your debt consolidation loan will only require a smaller monthly payment per month, this will allow you to get on top of your finances so in the future you can make better financial decisions.
NZ Loan Co Services
There are many different types of debt consolidation loans to choose between. The most popular is 0% interest credit card.
This credit card allows you to transfer your existing credit card balance to your new card to take advantage of the lower interest rate. If you chose this option then you need to make sure that you pay off the entire balance before the 0% interest period is over.
Using your property to consolidate your debt
The second popular type of debt consolidation loan involves using your property in order to consolidate your debt. This type of instant loan is a secured loan as the loan is secured by the value of your property. If you have any existing loans these can be transferred into your home equity. This will mean that you will be charged a lower interest rate because the loan is secured.
The main problem with the type of loan that it is very risky because if you don't stick to your loan terms you could be at risk of losing your home. If you lose your property then you will be in an even worse position than ever before.
Ask a professional for advice
If you are having problems managing your debt and you don't know where else to turn then you should consider speaking to an expert to find out what your best option would be, they will assess your finances and give you professional advice so that you can make the best decision.
NZ Loan Co – Consolidation loan
Loan Type

Debt consolidation
Benefits of NZ Loan Co
DEBT CONSOLIDATION Loan
CAR Loans
PERSONAL Loans
---
NZ Loan Co - Debt consolidation is the answer
Debt consolidation can be a helping hand when you need it most.
The first step is to make sure that you qualify for debt consolidation and that it will be beneficial to your specific circumstance and individual requirements.
You will need to make sure that you can afford a debt consolidation loan and that you will be able to meet the requirements. It can be more difficult for those with bad credit to apply for a of loan unless they have an item of value to secure the loan with.
Save by paying a settlement fee
Most creditors want to get their money from you and if you are seen as a risky client then they would rather get a percentage of their fees than struggle to get anything.
That is why most creditors will agree to settle the entire account for the settlement amount. This is normally a certain percentage of the total amount that you owe.
By paying the settlement amount you will save money on the actual account, you will save money on late fees and your new low will be charged at a much lower interest rate.
Consider all the costs of reconsolidation
You need to calculate the entire outstanding amount of debt that you owe. It is important to contact a service of debt counsellor to find out exactly where you stand and get a true map of your finances.
They will advise you on your best quick loan solution and assist you in finding the best debt consolidation loan.
Benefits of a debt consolidation loan
Combing your debt into one of our easy to manage debt consolidation loans means that you will no longer need to juggle your bills or remember multiple payment days. You will save money overall and per month by having a lower monthly repayment fee.
You will be able to have better control of your financial future and tailor make a payment plan to suit your needs. This will mean that you will have less stress and have a much more secure financial future.
Customer Reviews & Testimonials
"
NZ LoanCo has been my preferred credit provider for a number of years due to their professional and accurate loan services.
Felix L
— Alexandra —
I am one happy customer because NZ LoanCo works with some of the best consultants that always do more than what is required for us.
Spencer T
— Russell —
Applying for an NZ LoanCo loan was fast, effective and convenient.
Thomas H
— Gisborne —
NZ Loan Co Contact
Contact Number
E-Mail
Website
Physical Address
7 Levinge Ln

Middleton

Christchurch

8024

New Zealand
---
Postal Address
PO Box 22097, Christchurch, 8142, New Zealand