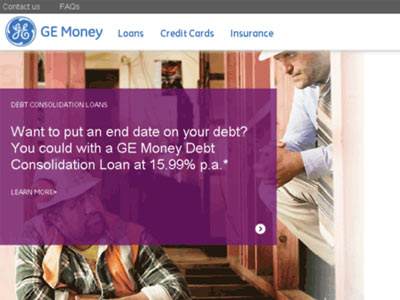 Author GE Money. Screenshot of GE Money website.


[Accessed April 17, 2018]
GE Money the leading financier in New Zealand
We are one of the leading finance companies in New Zealand; we offer retail finance, personal and debt consolidation loans, and insurance.
Our customer base is more than 530 000, around 2 000 retail partners and brokers across New Zealand (this includes ATM's) value of assets is well over NZ$ 1.4 million and we are a major substitute to the banks. GE Money is part of GE Capital, which is one of the leading businesses of General Electric, one of the most inventive businesses in the world.
Debt consolidation loans made easy
When you feel that you're not able to meet your obligations with monthly repayments of your accounts, this will be a good time to take action so that you can avoid problems going forward, especially when your bills are more than your income. Then perhaps it's time to think of a debt consolidation loan, it could possibly be a way for you, get on top instead of feeling like you are drowning in debt.
A debt consolidation loan is where all your debt is rolled into one single loan account which makes it easier to manage. Apply for a quick loan today and settle all your current accounts which could include credit card or store accounts maybe a hire purchase account or overdraft.
A tailor-made loan
In order for you to regain control of your finances once again, GE Money will work closely with you and tailor a loan that is best suited for your circumstances.
You can benefit from a personal loan because we offer a fixed interest rate for the duration of the loan; with the reduction of your interest payments, you are able to make a saving.
GE Money Services
Consolidation of debt is great since you only need to worry about one consolidated loan account and one repayment each month plus it's great for budgeting and you'll know exactly when your last repayment will be.
When you do your financial planning, you should start cutting back on needs first, but in the same breath, allow some spending for entertainment so that you are still able to enjoy the simple little things life has to offer.
Option 1
We offer several debt consolidation options for you to choose from, so there certainly will be a solution suited to your needs. Our most effective strategies would be the use of a zero per cent interest credit card.
If you do opt for this option it will require that you transfer all your outstanding credit card balances to your zero percent credit card so that you can save on interest.
Your main objective will be to settle the entire outstanding amount before the zero percent interest is over.
Option 2
You could make use of a home equity loan, transfer the outstanding balances on your existing unsecured loans to your home loan account or perhaps you can consider applying for a new home equity loan an then use those funds to settle all your outstanding debt.
It matters not which one of the two you choose the interest rate to be lower since your loan will be secured.
GE Money – Consolidation loan
Loan Type

Debt consolidation
Benefits of GE Money
PERSONAL Loans
DEBT CONSOLIDATION Loans
---
Advise on how to consolidate debt
When it becomes difficult to repay your current debt and you keep getting yourself into trouble, this is when you need to break this vicious cycle and go and seek professional help.
Maybe work with a financial advisor. They are experts at what they do, the advisor will analyse your present financial situation, your income and expenses will be taken into consideration and come up with a perfect solution for the repayment of your debt consolidation loan. You will then be advised and you'll have a better understanding of what your repayments will be enabling you to work according to a budget.
If by any chance you do have a bad credit, speak to a consultant about it, they'll advise you and lead you in the right direction as what can be done for people with bad credit.
Eligibility assessment
Ensure that you have a sufficient income which will secure a debt consolidation loan. You will also need to make sure that you that the amount of funds you have left after all your expenses have been paid is more than the monthly loan instalment (you need to be comfortable with your repayment and still have some funds left for day-to-day expenses) the more money you have left the better your chances!
It's important that you have a clear credit history so that you can be approved. But if you do have a few defaults it may still be possible to obtain a bad credit loan some lenders are flexible about defaults on your credit record, (not more than two late payments) your circumstances will be weighed and then decided upon.
Make the right choice today
It's all about having one consolidated loan account which will be of great assistance; you can keep those finances under control by setting a payment plan
GE Money can be of assistance with a debt consolidation or instant cash loan, give us a call you'll be surprised at our excellent service!!!
Customer Reviews & Testimonials
"
GE Money has never given me a loan without considering my monthly budget first.
Noah D
— Cromwell —
GE Money has such a fast response time on credit applications.
Spencer H
— Gore —
Ever since I got my loan application approved at GE Money, I have never looked back.
Eric W
— Auckland —
GE Money Contact
Contact Number
E-Mail
Website
Physical Address
8 Tangihua St

Auckland

Auckland Region

1010

New Zealand
---
Postal Address
PO Box 4058, Shortland Street, Auckland, 1140, New Zealand
Opening Hours
Monday

08:00 – 18:00

Tuesday

08:00 – 18:00

Wednesday

08:00 – 18:00

Thursday

08:00 – 18:00

Friday

08:00 – 18:00

Saturday

09:00 – 17:00

Sunday

09:00 – 17:00