Debt consolidation up to $50,000
Low-interest up to 13.95%
Repayment up to 60 months
In-page navigation
---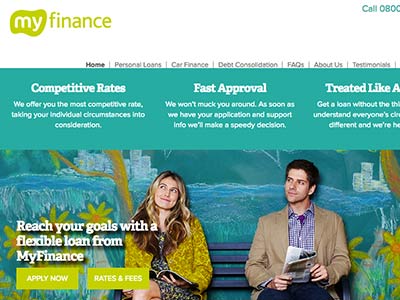 Author My Finance. Screenshot of My Finance website.


[Accessed April 17, 2018]
My Finance - Loans with added benefits
MyFinance we would love to assist Kiwis in making their finances faster, smoother and less stressful. Thus we offer a wide selection of loans from personal loans to debt consolidation loans that will assist you in reaching your goals as quickly as possible.
We like to think it's our friendly service, flexible repayment plans, and competitive interest rates that make us special and difficult to compare with. We are based in Auckland and we are a trading division of Instant Finance Limited.
Streamlined loan service
We offer fuss-free finance with our streamlined services. With a MyFinance loan, you'll discover how fast out personal loan services are. By offering our Kiwis a fuss-free system allows our customers to get their online loan application completed fast and funds in their account in no time at all. It's that simple because that's the way it should be!
Debt consolidation is the smart way to become debt-free
Take the stresses of trying to get out of debt with a MyFinance debt consolidation loan today by consolidating multiple debts into one single consolidation loan.
It's true that making debt is far easier than trying to get out of it, and we understand that due to circumstances it's the only thing to do at the time of desperation, but it doesn't have to be that way!
If you put your mind to being debt-free and you're serious about getting out of debt then a MyFinance quick cash loan may be what you need. A debt consolidation loan with MyFinance can make your life more manageable and relive some of the anxiousness you may be feeling.
Once your debt has been consolidated for you, we are able to arrange a payment schedule that will allow you to make repayment weekly, monthly or fortnightly because we understand that there may be different payment frequencies. MyFinance always has our customer's best interest at heart and therefore are willing to flexible on repayment terms that are best suited to your needs.
My Finance Services
Combine all your debt into one debt consolidation loan account with MyFinance and all your debt will be moved into one single repayment, this will stop the worrying that you have about paying multiple accounts with varying amounts and dates so that you can enjoy a hassle-free way of paying your loan.
Why pay more than you need, since having multiple debts to pay means you are paying more interest than you should be, generally credit cards and hire purchase accounts normally carry a higher interest rate, where you can be spending more time organizing your finance's and working out an appropriate budget plan.
A personal loan for what you need –for when you need it
So let's get personal – life waits for no one and neither should you.
MyFinance understands that there are times a personal loan is absolutely necessary.
It doesn't matter what it's for perhaps you need a new set of wheels or maybe you would love to renovate your home for if you're thinking of tying the knot and want to plan a honeymoon. We are able to assist.
Car loans
My Finance can get those wheels turning with car finance and you can get up to $50 000 towards a new vehicle of your choice or perhaps you're after a caravan, boat or motorbike, it doesn't matter what it is we can assist you.
It's more than just car finance – if it has a motor, we can assist you in getting it on the road or on the water.
Whether you just want to upgrade the vehicle you have presently because you have an addition to the family, perhaps you just can't let another summer go by without the boat of your dreams or a motorbike to hit the long road with. MyFinance is here for you, give us a shout!
My Finance – Consolidation loan
Loan Type

Debt consolidation

Interest Rate

13.95%

Loan Amount

up to $50,000

Repayment

6 months to 60 months
Benefits of My Finance
Fixed interest rate
Bad credit is welcome
Flexible repayment terms
---
My Finance - personalised loan services
MyFinance has streamlined and simplified our vehicle finance as well as payday loan services.
You will be pleased to discover how fast our car loan service is, with a fuss-free online application process mean that your car loan is completed with a dash of speed and the funds will be in your account in no time. It's easy and simple just the way it should be.
Car loans
Did you know that you can act like a cash buyer by securing your vehicle before you go car shopping for a new car, motorbike, campervan or boat since you'll be in a position to negotiate the best price possible enabling you to get that motor going sooner? We offer clever upfront vehicle finance – just the way it should be!
Flexible payments
MyFinance offers flexible vehicle repayments on your terms. So when you apply for a debt consolidation loan with us you may make repayments that are not only best suited for your circumstances but your budget as well.
We give you the opportunity to choose how you are able to make repayments that are most comfortable for you.
Note that you are able to settle your instant loan with MyFinance within a period of 3 months to 4 years.
Customer Reviews & Testimonials
"
With the loan I got at My Finance, I was able to pay for all my financial obligations.
Michael W
— Cromwell —
The interest rates that I am paying at My Finance are well worth my budget. I can manage to pay for other expenses.
Catherine T
— Raglan —
Applying for the My Finance loan was easy, convenient and simple.
Ethan H
— Gore —
My Finance Contact
Contact Number
E-Mail
Website