Debt consolidation up to $3,000
Low-interest starting from 14.9%
Repayment up to 48 months
In-page navigation
---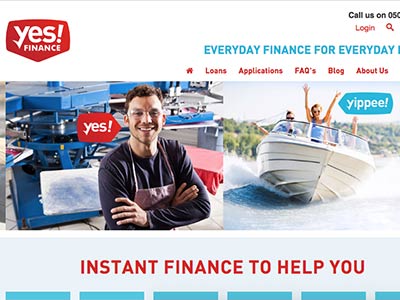 Author Yes Finance. Screenshot of Yes Finance website.


[Accessed April 17, 2018]
Yes Finance - a finance company that cares
Let's just cut to the chase. We are 100% New Zealand owned and operated and we were founded in 1997.
We are a private concern and started out by offering a Yes service to the retail sector throughout New Zealand, providing all retail outlets finance facilities in order for their customers to purchase goods.
Loans made easy
At the time it became clear that many Kiwis found it difficult to communicate with mainstream lenders, such as larger financial organizations and banks because they were so inflexible and difficult to approach especially when it comes to bad credit loans.
New Zealanders wanted an alternative; a financial concern they could open and frank with, a company small enough that would just listen to what it is they needed!
We said yes since we are customer-focused we were able to provide them with the quick loan solution so they desperately needed it.
Speedy loans
Yes Finance had prospered through the global economy and we became stronger and have gone from strength to strength through the years.
Now, Yes Finance is a robust, solid, and dependable financial solution provider. We deliver speedy and stress-free financial products and services, in person or online.
Yes Finance Services
Stressed about keeping up with hire purchase payments, credit card bills, payday loans with other lenders, store card bills, different due dates, and different repayment amounts? A Yes Finance debt consolidation loan can assist you in getting it sorted!
A debt consolidation loan merely means taking out one single loan to repay multiple accounts. There are several benefits of rolling various debts into a single personal loan (consolidation of debt). You'll have a single stress-free repayment to look after, offering a fixed-term loan. Giving you the opportunity to get rid yourself of all those credit cards and store cards that never seem to end.
Personal finance
Personal loans for private individuals are great because you can spend the funds on anything you want there is absolutely no limit. Take a vacation, purchase a new vehicle, caravan, or perhaps you would like a boat, pay for your wedding or just use some of the funds to spoil yourself.
Yes Finance strives to say YES
We provide a variety of financial products in Auckland City suburbs Monaco, and Nationally all through New Zealand both unsecured and secured consolidation loans for whatever it is you want or need. With secured personal loans, you are able to borrow between $700 and $25,000 and an unsecured personal loan up to $2,000. Yes, Fin understands that everyone's situation is never the same; we all have our own unique situations.
Yes Finance – Consolidation loan
Loan Type

Debt consolidation

Interest Rate

14.9 – 29.9% p/a

Loan Amount

up to $3,000

Repayment

12 months to 48 months
Benefits of Yes Finance
Interest rates are low
Fast online application
Unsecured debt consolidation loans
---
Yes Finance - You can get out of debt
The best thing about a debt consolidation loan is that your repayments are normally reduced.
Becoming free of debt allows taking control of your finances as well as your budget plus the interest rate is generally lower than you are paying currently.
Motor vehicle finance
Yes Finance provides financial solutions to vehicle dealerships for the sale of trucks, cars, caravans, and boats.
Online loan application
Our online loan application is designed to gather the slightest amount of personalized data to allow us to do a quick valuation to see how we can be of assistance.
At Yes Finance our customers mean everything to us, our experienced team are experts at what they do and are committed to listening and working closely with all of our customers.
We understand that nobody enjoys filling in forms, but the most effort and detail you provide us, the quicker we are able to confirm a yay or nay, so if we are able to assist you, you'll be required to complete a detailed application. Should you rather have one of our expert consultants call you to assist in filling out the loan application, we will do so with pleasure.
Give us a shout -Yes Finance is here for you
Perhaps you may be interested in a personal loan to pay an unexpected bill, a holiday loan to travel overseas or within New Zealand, a loan to repair the car, a wedding loan to pay for the big day, or the engagement ring, or funds for the home improvement project you have been waiting to do, whatever the reason.
We not only listen to you, but we are here to work hand-in-hand with you at all times. We'll be of assistance in all your needs and help you decide how much you are able to borrow, how much your repayments will be.
Yes Finance will aim to tailor-make a quick cash loan that will be fitted to your unique situation and your budget. Did you know that easy finance is our mantra; well not quite, however, we do strive to make quick decisions in order to get you the funds you need to sort out your finances.
More significantly, we endeavor to get it done quickly and say YES
If you like what you see then try not to delay the process, fill in your online loan application and we're sure to get back to you as soon as we possibly can. We'll be pleased to hear from you and one of our experts will be sure to give you a call right back.
Customer Reviews & Testimonials
"
The reason Yes Finance is the credit provider I prefer is because they always a phone call or an email away from offering assistance.
Sam Y
— Hamilton —
Apply for the Yes Finance loan and get amazing savings.
John K
— Napier —
Applying for the Yes Finance loan took me less than 10 minutes to complete.
Catherine A
— Nelson —
Yes Finance Contact
Contact Number
E-Mail
Website
Physical Address
6 Sharkey St

Manukau

Auckland Region

2104

New Zealand
---
Postal Address
PO Box 23008, Hunters Corner, Papatoetoe, 2155, New Zealand
Opening Hours
Monday

08:30 – 17:00

Tuesday

08:30 – 17:00

Wednesday

08:30 – 17:00

Thursday

08:30 – 17:00

Friday

08:30 – 17:00

Saturday

10:00 – 13:00

Sunday

Closed –