Debt consolidation up to $50,000
Low-interest starting from 9.95%
Repayment up to 4 years
In-page navigation
---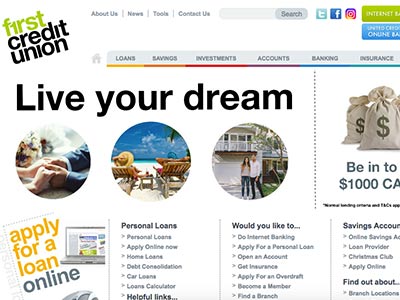 Author First Credit Union. Screenshot of First Credit Union website.


[Accessed April 17, 2018]
First Credit Union assisting New Zealander for over 60 years
First Credit Union is actively involved with our community, we have been helping individuals for over 60 years with their financial situations, and we also offer a great low-cost personal banking service.
We are 100% New Zealand owned and operated; we're a local credit union and we would love to assist you by means of making your personal finance easier and more manageable
History
Credit Union is New Zealand's first affiliated union; our success is thanks to our devoted volunteers who united in order to promote the philosophy of "people helping people".
We reflect on the importance of getting out and about in the community and in educating people about what is we do and the importance of saving!
Sponsorship
We pride ourselves in the fact that we support our community and love to get involved with local events. Our staff members follow a sustainable policy that was put in place.
Since it's the little things that count we are proud today that we recycle paper, glass, and plastic, we turn our computers off at the end of a working day, we are also proud that we are assisting to reduce our footprint on our environment.
The board members of First Credit Union strive to make the best decisions in order for all New Zealand people to be successful!
First Credit Union Services
Apply for your personal loan today and borrow for less and have a bigger saving with a First Credit Union personal loan.
Our loans offer a great interest rate with no fees and our repayments are made easy.
Try our online vintage loan
You can apply for a personal loan online and receive an answer quicker than you anticipated or if you would rather prefer to pop into one of our branches closest to you (in New Zealand) of course since we are a Kiwi-owned company.
Our online loan application form is simple and it'll only take about 15 minutes of your precious time to complete. Once we have received your application and all the necessary info is provided a loans officer will be in contact as soon as they possibly can, and that's how easy it is!
Debt consolidation
If you feel that you are under a lot of pressure because of credit card debt or store card debt and any other loose bills that need attention like perhaps a medical bill or two. Then a debt consolidation loan may be what you need.
All you're your current debt will be settled leaving you with only one debt consolidation loan to repay. You may find it easier to control because you'll be in a position to work out a monthly budget due to you only have one fixed repayment and one fixed loan amount.
First Credit Union – Consolidation loan
Loan Type

Debt consolidation

Interest Rate

9.95 – 18% p/a

Loan Amount

up to $50,000

Repayment

12 months to 4 years
Benefits of First Credit Union
No fees for early repayment
Extra payments options
Quick loan application
---
First Credit Union - Top-up your loan
Should you be running a bit low on cash you could consider a top-up loan with us, it always comes in handy when you have unexpected bills to cover and you don't have cash on hand.
In order to apply for a short-term loan or top-up loan, you need to be a member of First Credit Union
Home loans
A First Credit Union home loan suited for you. If you want to purchase your first home and you need financing we can assist. Get pre-approval so that you know how much you have to spend before you go start looking, it's a great way of shopping for a home when you know how much you can borrow in order to buy what you are looking for. You can also apply for a pre-approval if you want to refinance.
Overdrafts
You may apply for an overdraft when you're running low on cash and you need to pay for or purchase something urgently but once again you should hold a membership with First Credit Union.
Car loans
Are you looking to purchase a new car? If so, you may apply for a pre-approved car loan; this is great because now you can negotiate a better price with the dealer because you know how much you have to spend. You could possibly drive away in your car of choice without any hassle.
Personal loan
Apply for one of our debt consolidation loans today, we offer low interest rates and our fees are low which means you save hundreds of dollars on application and processing fees. Interest rates on personal loans may vary and we don't charge any loan fees
Personal loans calculator
We don't always know where to start, making use of our personal loan calculator could be a good place, use the calculator to see how much you are able to borrow and how much your repayments could be.
Apply for your online loan today for whatever reason you need the funds, we are here to guide you and make sure you making the right choice and more importantly ensuring that you have affordability!!
Customer Reviews & Testimonials
"
When I applied for the First Credit Union, the agents had already explained all the terms and conditions of my loan.
Noah M
— Gore —
First Credit Union is the reason why I was able to settle all my bills on time.
Chris J
— Ashburton —
The interest rates that I am paying at First Credit Union are affordable and well within my budget.
Jack K
— Alexandra —
First Credit Union Contact
Contact Number
E-Mail
Website
Physical Address
524 Cameron Road

Tauranga

Tauranga

3110

New Zealand
Opening Hours
Monday

09:00 – 16:30

Tuesday

09:00 – 16:30

Wednesday

09:00 – 16:30

Thursday

09:00 – 16:30

Friday

09:00 – 16:30

Saturday

Closed –

Sunday

Closed –