Debt consolidation up to $40,000
Low-interest starting from 10.95%
Repayment up to 7 years
In-page navigation
---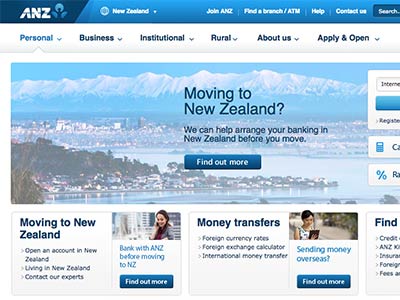 Author ANZ Bank. Screenshot of ANZ Bank website.


[Accessed April 17, 2018]
ANZ Bank - A responsible credit provider
Presently we are one of New Zealand's major establishments based on profit and assets. But with that scale comes responsibility, and we take that responsibility seriously.
We play a major part in assisting New Zealanders to achieve their financial goals be it from individuals or families, from farms and small businesses which is the essence of our economy, to large corporations or and institutions.
Our range and multiplicity are revealed in our people
ANZ has a workforce of around 9 000 people all through New Zealand. They come from all types of backgrounds with skills and specializations, the richness and diversity that is brought to our company brings great value. As part of our central services, we offer unparalleled career opportunities within our different brands which include IT, Marketing Strategy, and Risk Management.
Sustainable business practices
ANZ takes pleasure in making major contributions to the people we serve, through initiatives such as our volunteering program and our staff foundation.
Our belief is that by applying sustainable business practice helps us deliver better results for our valued customers, the environment and more importantly, our employees, we are very serious about our commitment to the corporate world.
ANZ Bank Services
It's difficult to juggle different types of debt like credit cards, overdrafts, hire purchase and all those small accounts that need to be paid, we understand that it can be very stressful! Ever thought of debt consolidation?
By consolidating all your debt into one ANZ personal loan can not only make your life a bit easier but could also save you hundreds of dollars just on the interest costs alone.
Debt consolidation
Here's why you should consolidate your debt; you won't need to keep track of all the different due dates or repayment amounts. It makes managing your debt and your budget simpler by rolling all your debt into one repayment.
Generally, a debt consolidated personal loan offers a lower interest rate than that of any other loan – like your credit card and or bad credit loan accounts, meaning interest costs will be reduced saving you some money.
Saving benefits
You are permitted to make extra repayments at any given time with no extra charges. Another saving on charges!
ANZ allows for you to adjust the term of your personal loan, which allows you to budget more accurately you are also given the option of paying according to your income schedule, in other words, you can pay monthly, weekly or every fortnight, whichever option suits you best.
ANZ Bank – Consolidation loan
Loan Type

Debt consolidation

Interest Rate

from 10.95%

Loan Amount

up to $40,000

Repayment

6 months to 7 years
Benefits of ANZ Bank
No application fee
No additional charges
Fixed interest rate
---
ANZ Bank - Become debt free
Want to know how much you can save with a debt consolidation loan?
You may make use of our debt consolidation saving calculator, this will assist you to work out how much you could possibly save by all your debt together with our personal loan. You can also make use of the debt consolidation calculator to work out how soon you could be debt free it also shows you how much you would need to borrow and what sort of repayment you're looking at. Use the calculator to test different repayment amounts and how you could settle your debt earlier by making a few extra payments.
Flexible repayments
How much you'll be making on repayments will depend on the term of your loan, again, you could make use of our handy instant loan repayment calculator also allows you to see different repayment scenarios based on the length of the repayment of your loan.
You are permitted to consolidate any debt you may have like credit cards which could also include an ANZ credit card, any number of store cards, overdrafts, payday loans even if you have a hire purchase account, and any other personal loans that are not related to ANZ. It's a possibility that we may consider any other forms of debt; contact one of our team members who will be glad to assist you if you have any questions.
Some other facts about us
Approximately one in two Kiwis has a banking affiliation with one of our well-known brands.
We finance more than 30% of all home loans in New Zealand.
We provided over 16 000 volunteer hours for various community groups in our last financial year.
One present of NZ Gross Domestic Products is accounted for by ANZ.
One of our longest running sponsorships is Daffodil Day which is sponsored by us.
Staff fundraising has generated more than $15 Million for the Cancer Society since 1990.
We have a market share of 39% making ANZ the largest rural banker in New Zealand.
Approximately, 20% of New Zealand's finance and insurance are employed by ANZ.
Your next step would be:
Think about getting started with a personal loan with ANZ today, you can do this by making use of our online loan application or if you have any questions or queries on you're welcome to give us a call or pop into your nearest branch.
Let us know when it's convenient and a Personal Banker will be in with you. And don't forget that you can make a huge saving on interest by consolidating your debts.
Customer Reviews & Testimonials
"
I would like to commend ANZ Bank for always ensuring that we get the most affordable loan offers.
Peter A
— Levin —
After applying for a loan at ANZ Bank, I only had to wait a few hours before getting a positive response from the agents at ANZ Bank.
Sam W
— Dunedin —
The loan I got at ANZ Bank made sure that I close all my debts.
Rachel C
— Rotorua —
ANZ Bank Contact
Contact Number
E-Mail
Website
Physical Address
527-529 Victoria Street, Hamilton Central

Hamilton

3204

New Zealand
---
Postal Address
Private Bag 92210 Victoria St, West Auckland, 1142, New Zealand
Opening Hours
Monday

09:00 – 16:30

Tuesday

09:00 – 16:30

Wednesday

09:00 – 16:30

Thursday

09:00 – 16:30

Friday

09:00 – 16:30

Saturday

Closed –

Sunday

Closed –