Debt consolidation up to $20,000
Low-interest starting from 12.95%
Repayment up to 5 years
In-page navigation
---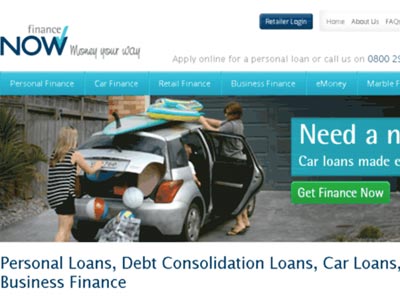 Author FINANCE NOW. Screenshot of FINANCE NOW website.


[Accessed April 17, 2018]
Finance Now - Loans for everyday needs
Finance Now has been providing a finance solution to over 320 000 people in New Zealand since the year 2000.
We offer flexibility on secured, unsecured and business loans which are fast to obtain.
Our product range has been developed in alignment with the everyday needs of our customers; we aim to assist them in resolving challenging situations and strive to make their dreams a reality.
Finance Now places people first
When you apply for a loan with us, we will always look at your status quo whilst taking into account the value of the collateral that you have to offer in order to secure a suitable quick loan.
You will also be dealing with ordinary people just like yourself who are able to show compassion and understanding.
Our debt consolidation and quick loans service is centred on proficiency and we comply with the highest industry standards. Plus we are 100 % New Zealand owned.
FINANCE NOW Services
We totally understand when it comes to making repayments on multitude accounts and we also get that none of them is payable on the same day so now you have different dates to worry about on top of trying to keep up with multitude debt.
Apply for a debt consolidation loan with Finance Now, roll all your debt into one loan account, pay off all your existing debt and only have one simple repayment to do each month.
This option allows you to plan better with a fixed budget which is convenient and hassle-free. You can choose when you would prefer to make payment monthly, weekly or every fortnight depending on you remuneration schedule.
Debt consolidation
A debt consolidation loan typically has a lower interest rate than that of most short-term loans so you are able to make a bit of a saving on the interest, which could possibly make things a bit easier for you in the future. Finance Now offers attractive interest rates and fees and out terms and conditions are well structured.
FINANCE NOW – Consolidation loan
Loan Type

Debt consolidation

Interest Rate

12.95 – 29.95% p/a

Loan Amount

up to $20,000

Repayment

6 months to 5 years
Benefits of FINANCE NOW
Competitive rates
Affordable loans
Simple loan application process
---
Finance Now - You can become debt free
As a customer of Finance Now, you don't have to panic every-time a payment comes up or you lose track of who has to be paid and when.
We want to alleviate the stress levels in your life so that you can take back the joys of life by being debt free. Unravel the debts in your life and apply for a straightforward debt consolidation Loans offered to all New Zealanders.
Finance Now offers a variety of loans to suit your budget
Finance Now has been privileged to build up an extensive variety of loan products to suit your needs, from retail to personal loans; secured or unsecured, to business financing. We have to be doing something right Kiwis have trusted us since the year of 2000 (more than 320 000 people) they have put their trust in Finance Now to get them back on the road of financial recovery from debt.
Our instant loans are snappy and trouble-free. We welcome you to talk to one of our professional team members should you have any questions regarding any one of our loan products. We are here to make your life easier and for you to see light at the end of the debt tunnel.
We will assist you in managing your finances and to be more responsible; we invite you to meet a firm that friendly, trustworthy and always willing to go the extra mile, we comprehend the needs of our customers.
Finance Now will love to meet you, apply for one of our online debt consolidation loans today and let today be the first step to being debt free and stress-free by taking charge of your life and finances and get back on to the road of recovery sooner than you anticipated.
We offer a lot more; this is just the start of what we have to offer:
If you've been thinking of purchasing a new car we are able to assist with a car loan. Home renovations can be costly so if you have been waiting forever in a day to give your home a bit of a much-needed facelift, contact Finance Now we can help.
Do you own your own business and you've run into a bit of a cash flow problem? Maybe you need to pay wages or perhaps you need a new forklift, no problem, we will assist in any way that we can.
You may apply for a loan with Finance now even if you do have a bad credit history, we are here to assist and will look at your circumstances before declining anyone because we are a company that has empathy with all our Kiwis and we understand that at times some things are just beyond our control.
Customer Reviews & Testimonials
"
Finance Now has been and still offers the best loan offers in New Zealand. I am one happy customer because of their credit plans.
Oliver W
— Gore —
If you are looking for a loan that won't allow you to spend too much money on your interest charges, Finance Now is your best choice.
Mia T
— Raglan —
What I love about Finance Now is their consultants; they work tirelessly to ensure that you get a good credit plan.
Phillip W
— Nelson —
FINANCE NOW Contact
Contact Number
E-Mail
Website
Physical Address
114 Dominion Rd, Mount Eden

Auckland

Auckland Region

1024

New Zealand
---
Postal Address
PO Box 1204, Invercargill, 9840, New Zealand
Opening Hours
Monday

08:30 – 18:00

Tuesday

08:30 – 18:00

Wednesday

08:30 – 18:00

Thursday

08:30 – 18:00

Friday

08:30 – 18:00

Saturday

09:00 – 16:00

Sunday

Closed –