Lower interest rates
Repay quicker
Easy loan application
In-page navigation
---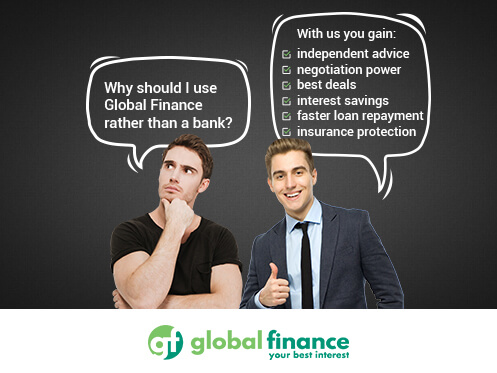 Author Global Finance. Screenshot of Global Finance website.


[Accessed November 12, 2018]
Global Finance - Tailor-made loans
We were established in 1999 as a mortgage advisor in Auckland and we have saved homeowners millions of dollars in interest.
Global Finance has been assisting New Zealander's reach their dreams by means of loans to purchase their very first home or to invest in property, businesses and commercial property. We like to think of ourselves as mortgage advisors and not just being limited to mortgage brokers. We take time to understand your circumstances and what your goals are and then tailor a loan that will fit your unique situation.
Debt consolidation
Our job is to negotiate with the bank on your behalf and to make sure you receive the best deal for your personal loan, it is also our job to help you structure your loan to in sync with your affordability in order for you to settle your loan as quickly as possible without your instalment being increased.
For more than 19 years we've seen and handled almost every type of scenario you could imagine when it comes to lending. From this experience, we have discovered so we can present your case as best as possible so that you essentially get the maximum finance from the banks. Once your loan has been approved and settled, we even go a step further by ensuring that your assets are protected by arranging the right level of personal insurance.
More importantly, you are not obliged to pay for our mortgage or insurance services since the banks & insurance company already cover our commission when your debt consolidation loan or insurance has been settled or drawn down.
Global Finance Services
Global Finance will get your consolidation loan approved by several banks which in essence gives you the freedom to choose the bank that suits you best.
We'll structure your loan is such a way that you are able to settle your loan before the term expires, which mean you could possibly avoid paying all those unnecessary interest fees.
We've learned to speak your language so we are able to take out all the gobbledygook of the lending process, assisting you to understand how banks will evaluate your online loan application.
Convenient loans
Global Finance will work around your business hours because we understand that you have a full-time business to look after, offering you the convenience and comfort.
Our customers have become mortgage free between 7 and 12 years in comparison to the 30-year term the bank provides on mortgages.
We also assist our customers at the time of insurance claims, in other words, our claim settlement ratio with regards to life insurance is 100%.
In Aug 2010, Global Finance presented to the then Prime Minister, John Key, how it would be possible to reduce New Zealand Debt.
We are proud to say that there are not just savings for customers but also for our country as some of our suggestions were incorporated in the NZ budget to increase national savings.
Global Finance – Consolidation loan
Loan Type

Debt consolidation
Benefits of Global Finance
Affordable loans
Quick funding
Interest rates are lower
---
Global Finance - Don't let your debt get the better of you and spiral out of control
Debt consolidation means that you apply for a new loan from the bank which generally offers a lower interest rate and will replace your current debt such as outstanding hire purchases, personal loans, car loans and credit cards which typically carry a higher interest rate.
Your present debt taken for private finance organisations at interest rates varying between 10-25% can be settled and replaced with the new debt consolidation loan from the bank offering home loan interest rates. Your debt consolidation loan is borrowed with your home/property acting as security, note that your present home loan should be below 80% of the value of your home/property.
By replacing your hire purchase debt and credit cards with an additional loan on your home/property will generally lower the overall interest rate, giving you a bit more breathing space; you can use the extra funds to cover any unexpected expenses.
Combine your debt into one payment
Only having one debt consolidation loan repayment makes budgeting easier to track rather than tracking repayments of each individual debt.
By having your hire purchase and credit card consolidated at a lower rate will more than likely free up more money which will allow you to pay more towards home loan repayments and you could possibly pay off your home loan quicker? \
Also by taking the additional debt on your home loan may give you more time to repay the debt because the repayment terms on home loans are longer than that of hire purchase and or credit cards.
Fees and costs of debt consolidation
Discharge fee – when you settle your current debt, your creditor may charge additions discharge fees for early settlement.
Valuation fee – when it comes to debt consolidation loans the banks only allow up to 80%, perhaps you will need to request a valuation of your house in order to see how much of your debt can be consolidated.
Solicitor fee – A bank may ask you to sign a new loan document in front of a solicitor since it will be a new loan to repay current debt. Note that there may be a fee charged for this.
Customer Reviews & Testimonials
"
I would recommend Global Finance because they offer affordable loans and they attend to customer's requirements timeously.
Erin V
— Invercargill —
Global Finance will always go out of its way to ensure that the clients get a loan on the same business day of application.
Elizabeth B
— Palmerston North —
The loan application system that Global Finances uses is easy to understand and doesn't require a number of questions to be answered.
Luther R
— Auckland —
Global Finance Contact
Contact Number
E-Mail
Website
Physical Address
Kudos Business Centre 19/203 Kirkbride Road

Mangere

Auckland

2022

New Zealand
---
Postal Address
PO Box 24087, Royal Oak, Auckland, 1345, New Zealand
Opening Hours
Monday

09:00 – 19:00

Tuesday

09:00 – 19:00

Wednesday

09:00 – 19:00

Thursday

09:00 – 19:00

Friday

09:00 – 19:00

Saturday

12:00 – 18:00

Sunday

– Closed