Debt consolidation up to $10,000
Low-interest starting from 39%
Repayment up to 48 months
In-page navigation
---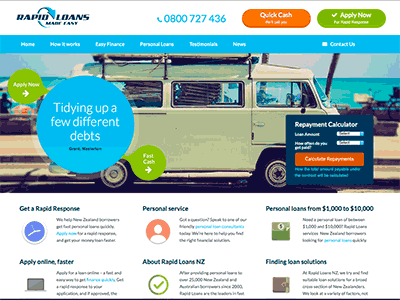 Author Rapid Loans. Screenshot of Rapid Loans website.


[Accessed November 12, 2018]
Rapid Loans - When you need a loan fast
We have assisted more than 25 000 Kiwis across New Zealand and Australia.
We were established in 2003 and are a 100% online alternative for Kiwis to secure fast loans, we aid in finding the right personal loan solution easily and quickly from the beginning of the process. There are no restrictions and requirements of traditional brick and mortar lenders.
We have built our business on the below customer benefits
Online application approvals are easy and speedy
Deposits of funds into your account are rapid
Friendly and highly personalised service
Professional loan consultants
Speak to one of our personal loan specialists today.
We have professional loan consultants who are able to assist you immediately and offer their assistance of guiding you through the process and can assist with any concerns you may have, however, our products and services are also available online.
Once your application has been approved, a personal loan consultant will be dedicated to you and will remain your point of contact for the duration of the loan.
Secure your consolidation loan with ease, once you decided all you need to is; complete one of our loan applications or speak to a professional personal loan consultant.
Rapid Loans Services
Life, as we know it in today's world, is not easy and we sometimes get ourselves way over our head into debt and then find it difficult to keep up with the repayments and this can be quite challenging.
When you need to keep up with payments of credit cards, store accounts, car loans and so on. Rapid Loans understands that this can build up and cause you to be anxious over a long period of time because it feels that it's never coming to an end.
Rapid Loans offer a solution to simplify multiple debts
We offer debt consolidation loans, which allows you to settle all your current debt, meaning that your debt is rolled into one easy online personal loan. This means you don't need to steal from Peter to pay Paul each month, you'll also not have to worry about paying multiple accounts and you can manage one simple loan to repay. Pay according to your remuneration schedule and make repayments monthly, weekly or every fortnight we are flexible that way.
Debt consolidation
There are benefits to applying for an online loan to consolidate all your debt and combining them into one total amount could save you some money and provide long-term financial benefits.
A debt consolidation (personal loan) offers fixed payments for the duration of the loan and you have a fixed period of time, this will give you the confidence that your debt will be settled within a certain time frame, giving you the opportunity to budget accordingly.
Rapid Loans – Consolidation loan
Loan Type

Debt consolidation

Interest Rate

39 – 48% p/a

Loan Amount

up to $10,000

Repayment

6 months to 48 months
Benefits of Rapid Loans
Speedy online application
Quick loan approval
Simple online repayments
---
Rapid Loans - Quick loan applications
Rapid loans take pride in finding you the best possible debt consolidation loans, we will tailor a loan repayment plan to suit your individual needs, we are aware that circumstances do change from time to time and we will be happy to accommodate you in any way we can – just give us a call.
A debt consolidation loan can give you peace of mind by just knowing that you'll be debt free and that you won't need to worry about your repayments changing and you can be rest assured that we will give you all the assistance we possibly can because we put our customers' needs first and would like to see you debt free sooner, we will also ensure that you get a loan that you are able to afford.
Make use of our loan repayment calculator
it will assist you in working our your expected repayment for your debt consolidation, our personal loan calculator is simple to use, enter the amount you would like to borrow and when and how often you get paid, the calculator will shout your what your repayment will be and how much you are able to borrow.
We have a team that decided this would be the perfect tool for customers so that the process could be easier, it also gives you the opportunity to find an instant loan that will work best for you.
Speak to one of our personal loan consultants they are friendly that will work with you and find a consolidated loan that works for you.
What rapid loans can do for you
We provide online cash loans across New Zealand, we also take the time to understand that each person has a unique situation so we tailor a personal cash loan that will suit each person's affordability, budget and lifestyle and take all financial circumstances into consideration.
We are proud of the fact that our service is friendly and professional and we aim to respond to an online application as fast as we possibly can.
We appreciate that people are correct in being cautious about sharing their finances online. But, Rapid Loans is a concern that's been in this business of lending for over a decade. During that time we have established our name as one of the most reliable and safest payday loan providers in New Zealand.
Customer Reviews & Testimonials
"
There are always benefits that come with being a Rapid Loans customer.
Vicky P
— Alexandra —
Rapid Loans has never disappointed me when it comes to loan applications. They respond quickly and offer affordable credit packages.
Nate B
— Napier —
I would recommend Rapid Loans to customers that would like to work with a reputable credit provider.
Patricia R
— Raglan —
Rapid Loans Contact
Contact Number
E-Mail
Website
Physical Address
Level 31, Vero Building, 48 Shortland Street

Auckland

Auckland Region

1010

New Zealand
Opening Hours
Monday

08:30 – 17:30

Tuesday

08:30 – 17:30

Wednesday

08:30 – 17:30

Thursday

08:30 – 17:30

Friday

08:30 – 17:30

Saturday

– Closed

Sunday

– Closed