Debt consolidation up to $40,000
Low-interest starting from 12.90%
Repayment up to 7 years
In-page navigation
---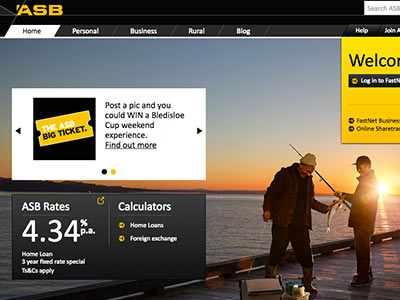 Author ASB Bank. Screenshot of ASB Bank website.


[Accessed April 17, 2018]
ASB Bank - A reliable financial partner
We have provided and served the people of New Zealand since 1847, we have also served our community well since we opened our doors back then.
In order for our community to thrive, we ensure that our customers are able to grow. We have never been able to sit still and do nothing; innovation and growth are the core of our business.
We have and will continue to keep up with technology to find easier ways for our Kiwis to do their online banking and manage their funds. In order for us to do that, we offer a more advanced and flexible personal product.
We aim to be a true financial partner
When our clients reach a milestone, it not only encourages us, but it's such a great inspiration for us to continue delivering an even better service by using our diverse experience and expertise.
This may well be the main factor why we have over 1.3 million customers, which include families, businesses, and of course our New Zealand people.
ASB Bank Services
ASB encourages you to take control of your finances! If you feel that you are being pulled down by your debt such as credit cards or hire purchase which typically has a high-interest rate, then perhaps a debt consolidation loan could be what you need.
ASB can assist you and guide you in the best possible way.
Consolidating your debt is by no means that you are under debt administration.
This is how a debt consolidation loan works
All your debt is rolled into one single debt consolidation loan, and this allows you to settle all your existing debt, it could be a credit card, hire purchase, store cards and/or any other small accounts that you are not able to make repayments on.
You will only have one personal loan and one repayment to think about, no more juggling a multitude of accounts that have different repayment dates and amounts.
ASB Bank – Consolidation loan
Loan Type

Debt consolidation

Interest Rate

from 12.90%

Loan Amount

up to $40,000

Repayment

6 months to 7 years
Benefits of ASB Bank
Fixed interest rate
No charges for extra payment
Affordable monthly payments
---
ASB Bank - Take care of overwhelming debt
Since we understand how stressful it can be when you have sleepless nights because you think there is no way out for you but you don't need to feel that way!
Our debt consolidation loans in Auckland take, your budget to new heights – since we offer a fixed monthly repayment amount with flexible terms, perhaps you can have some extra cash to spend how you wish.
Debt consolidation
You are also permitted to choose how you would prefer to make repayment by means of monthly, weekly or every fortnight depending on your income schedule. Consider your store cards, credit cards, various personal or payday loans and different debts, work out the amount you'll have to obtain on our easy to use loan calculator and see how much you can comfortably afford to lend.
ASB won't charge you any extra fees if you want to make additional repayment at any given time.
How much you can borrow
If you're not sure how much you can borrow, you can make use of our debt consolidation calculator provided on our web page; this allows you to plan the ideal solution that will work for you, find out how much you can borrow it also assist you to see what your repayments will be which is a great help.
Are you in serious need of being debt-free
ASB has a motivated and extremely experienced team who have a passion, they will assist you will all your financial queries plus they are always ready to guide, they will also assist you through the process and if you need any advice, please don't hesitate to give us a call.
Once your online loan application has been approved one of our consultants will contact you within 24 hours "yes, that's right a debt consolidation loan can take as little as 24 hours
Expect the unexpected with ASB
Approval within a 24-hour time frame
You are permitted to make additional repayments without any extra expenses
Take control of your life back by only worrying about one repayment
You are able to repay your loan over a period of up to 7 years
Are you 18 years of age and a New Zealand resident? Apply for an online loan of for as much as you need to be provided it's more than $2 000. Please note criteria, terms and conditions apply.
Once we've received your online loan application for an advance and checked your credit history and you've been approved, we'll send you the loan agreement documents together with the term and conditions of the contract for you to sign and send back. The funds could possibly be in your account on the same day!
Note that you are able to apply for a loan online by filling in our instant loan application form, telephonically or pop into any branch in New Zealand. However, there is a once-off-application fee that will need to be paid in order to get the process started. This fee amount may be added to your loan just to make it a bit easier.
Customer Reviews & Testimonials
"
With the interest rates that ASB Bank is charging, there is absolutely no way I'm going to fall behind on my financial obligations.
Mary T
— Nelson —
If you looking for an affordable loan offer, ASB Bank is the way to go.
Thomas E
— Hamilton —
Applying for the ASB Bank loan took me less than ten minutes to complete.
Peter H
— Taupo —
ASB Bank Contact
Contact Number
E-Mail
Website
Physical Address
Corner Bryce and, Barton Street,

Hamilton

3204

New Zealand
---
Postal Address
P.O. Box 35 Shortland Street, Auckland, 1140, New Zealand
Opening Hours
Monday

09:00 – 16:30

Tuesday

09:00 – 16:30

Wednesday

09:00 – 16:30

Thursday

09:00 – 16:30

Friday

09:00 – 16:30

Saturday

Closed –

Sunday

Closed –