The Auckland Loan Company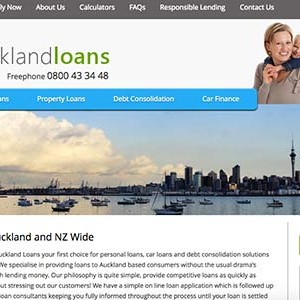 Author The Auckland Loan Company. Screenshot of The Auckland Loan Company website.


[Accessed July 3, 2019]
The Auckland Loan Company - We can help you manage your debt
Our fast approval loans were designed with you in mind, we cater for all people in every situation.
We use our years of experience to bring you the best deals when it comes to vehicle financing, home loans or debt consolidation loans then we can help you find what you are looking for. We offer debt consolidation loans up to the value of $5000 that doesn't need to be covered by a form of collateral.
Redefining your debt
If you have bad credit and you owe a lot of people a lot of money it can be very stressful to think about how you are going to get through the month or pay off your debt. Wouldn't it be nice if you had a fairy godmother to pay off your debt with a flick ow a wand? Unfortunately, life doesn't work that way, but we can consolidate your debt into one manageable account.
How does consolidating my debt benefit me?
Owing multiple creditors on personal and payday loans means that you can't always afford to pay each one each pay cycle this often leaves you paying some accounts while others get left unpaid and accumulate late fees and penalty charges. This means that you owe even more money and so you can never get ahead with your payments and keep getting more and more behind each month.
Our service will negotiate a favourable settlement fee on your behalf and then pay off your debt, we will then loan you the amount that you need and you will only need to pay back the loan. To give you some breathing room we will help you set up a payment plan that is easy to manage and reduce your monthly repayment fee.
The Auckland Loan Company Services
When you are considering debt consolidation that it is important to consider the interest rate, fees and additional charges involved.
Make sure that you understand the terms and what actions may result in penalty charges. A longer term loan with a lower interest rate will still end up costing you more than a short-term loan.
Ways to consolidate your accounts
There are many different ways to manage your finances when you are struggling to pay off debts from multiple lenders. Ways to cope with your debt include:
Debt management plans
Credit card and debt reduction plan
We will offer you professional advice and help you manage your finances better
Debt consolidation
The main reason to consolidate your debt is to make your life easier and more stress-free. Your new loan will be charged at a much lower interest rate and will save you money as you never have to worry about missing a payment on your multiple accounts again.
Having a bit of breathing room will allow you to budget better in the future. The easiest way to explain debt consolidation is that it is the act of combining multiple debts like personal loans and credit cards into one bigger personal loan. A debt consolidation loan allows you to pay off your new loan at a much lower interest rate.
The Auckland Loan Company – Consolidation loan
Loan Type

Debt consolidation
Benefits of The Auckland Loan Company
---
The Auckland Loan Company - One affordable monthly payment
Consolidating your debt will mean that you won't be charged late fees.
Juggling multiple creditors can be very tricky and not knowing which bill to pay and which can wait for means that you often fall behind on payments and end up paying penalty charges and other late fees.
You will only need to repay one personal loan repayment per month and the payment schedule can be customized to suit your budget. It's a good idea to know exactly how much money you owe so you know if a debt consolidation loan will be your best option.
Could using a low-interest credit card be beneficial?
Our aim is to create a debt-free Australia we do this by giving our clients access to a low-interest credit card that allows you to pay off your debt and only worry about paying down the balance of the credit card.
If you have multiple credit card debts on a number of different cards this debt can be combined onto one card. This will mean that you only need to worry about making one payment and will save money
Make sure that you are financially fit
When you only have one loan payment to manage it will be easier to budget more efficiently. One of the benefits of a debt consolidation loan is that you will be able to control your budget, track your spending habits to identify where you need to cut down on spending.
It is important to let your creditors know that you are struggling to repay your debt so that they can assist you where possible and provide a settlement amount if you plan on paying off your account in full.
What is debt management?
Debt management is the act of bringing in a middleman in order to help you consolidate your debt. If you are struggling to get your creditors to listen to you then a third person could negotiate for you on your behalf, they will be able to give you a clear picture of your finances without getting emotionally involved in the situation.
Customer Reviews & Testimonials
"
The Auckland Loan Company has been in operation for a number of years and has never failed me when I applied for credit.
George S
— Gore —
Applying for the Auckland Loan Company was fast, simple and convenient.
Charlie W
— Nelson —
If you looking for a reliable credit provider that will ensure that your loan never exceeds your affordability, the Auckland Loan Company is the organization you should choose.
Thomas W
— Auckland —
The Auckland Loan Company Contact
Contact Number
E-Mail
Website
Physical Address
Level 4, 238 Broadway

Newmarket

Auckland

1023

New Zealand
---
Postal Address
P O Box 28 231 Remuera, Auckland, 1541, New Zealand, Auckland, 1541, New Zealand
Opening Hours
Monday

08:00 – 17:00

Tuesday

08:00 – 17:00

Wednesday

08:00 – 17:00

Thursday

08:00 – 17:00

Friday

08:00 – 17:00

Saturday

– Closed

Sunday

– Closed