Lower mortgage rate
Compare mortgage loans
Compare mortgage rates
In-page navigation
---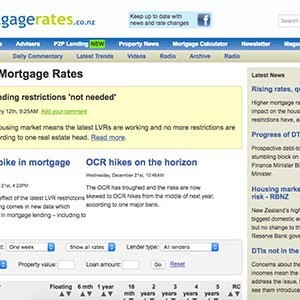 Author mortgagerates.co.nz. Screenshot of mortgagerates.co.nz website.


[Accessed July 3, 2019]
Mortgagerates.co.za Your dream home can become a reality
Our website was designed to provide New Zealand citizens with all the information that they need about home loans. We are an independent site that is there to assist you in finding the best home loan.
Our site offers comprehensive advice and news to homeowners and home buyers as well as good news and information on the latest news and rates.
Mortgage rates repayment calculator
To help you figure out the money situation you can use our free online calculator that is available on our website. Input the property value, the loan amount and the loan terms.
The calculator will let you know what kind of interest rate you will be charged depending on your choices and circumstances.
Compare mortgage rates, apply for revolving credit find out about offset rates and rate specials on our loan comparison site.
How to find the best home loan
A home loan is also known as a mortgage this refers to the long-term loan that is granted specifically to purchase residential property.
Securing a home loan is very time consuming and difficult. The property that you are buying will secure your home loan, the risk here is that if you don't make payments on your home loan your home could be repossessed.
There are 3 main types of home loans these include:
Fixed rate home loans
The floating rate home loan
Interest rate only home loan
mortgagerates.co.nz Services
The type of home loan that you chose will depend on your income, the expenses and the deposit you have to put down on your purchase.
If you are a first-time home buyer we are there to offer you advise and support and assist you until you have the keys to your new property.
Fixed rate home loans
A fixed rate home loan means that you will be charged the same interest rate for the first 5 years of the loan term thereafter the rate will become variable. Your repayments will then fluctuate with the same rates as a floating home loan.
This type of loan allows you to pay off the principle amount and the interest rate at the same time. The advantage of this type of loan is that you will always know exactly how much you will need to repay each month. This will help you budget more effectively and control your finances more easily.
Make sure that you read your contract carefully because some home loans do not allow you to repay your loan early or you will be charged a hefty penalty charge. If you end the contract early you could be charged a termination fee.
Floating rate home loan
This type of loan is perfect for those that require a bit more flexibility than a fixed interest rate home loan. This loan allows you to repay the interest rate and the principle loan amount at the same time. These loans are unpredictable and fluctuate with the markets but you can still use our loan comparison site to compare these types of loans.
You could benefit from a reduced interest rate or you could end up paying more depending on the markets. The main advantage of this type of home loan is that you can pay off your loan early without risking penalties. You are allowed to make as many payments as you wish for what ever amount you can afford to pay.
mortgagerates.co.nz – Loan comparison
Loan Type

Loan comparison
Benefits of mortgagerates.co.nz
Quick online application
Affordable mortgages
Choose a mortgage that best suits you
Loan comparison calculator
mortgagerates.co.nz - Comparing quality home loans
These types of home loans are usually for investors that plan to resell the property quickly after purchasing it.
This loan allows you to repay the interest rate on the actual loan amount rather than the interest and the principle loan amount. This type of loan will allow you to secure a low monthly or weekly term for up to 5 years.
A line of credit home loan
A line of credit loan allows you access to money based on the equity of the property and how much you have paid off your loan. this isn't classified as a home loan but is rather a line of credit that is secured by a property that you already own.
Most home loans offer terms of between 20 and 30 years and the type you chose will be determined by your needs which can be adjusted on our loan comparison website. It is a good idea to shop around and compare home loan offers before deciding on the best option. Make sure you understand the terms such as offset accounts, redraw facilities and extra repayment options.
Find out if it will cost you extra to switch your loan type or if you will be penalized for early repayments.
Compare home loan options
These are many different lenders that offer home loans. Credit unions and banks can be an alternative solution if you have a good credit record and meet the loan requirement terms. There are many loan comparison sights that allow you to compare home loans side by side for free.
Some terms to familiarise yourself with
Arrears: This is a formal term for the amount that is overdue in repayments.
Asset: An item of value that is used to secure a loan. This could be your car, house or any item of value that is greater than the loan amount
Credit report: A report that summarizes a person's credit history including payments made and any financial mishaps including missed payments
Customer Reviews & Testimonials
"
Your dream can become a reality with the assistance of mortgagerates.co.nz. Buying a house was a very exciting chapter of my life but it was also very stressful. I kept asking myself if I was mak...
Leonard D
— Dunedin —
I love the repayment calculator. Thank you for making finance a lot simpler than what it was before. With the assistance of the online calculator, I was able to determine the right repayment amou...
Wendy M
— Wellington —
Find the best option with ease. The staff at mortgagerates.co.nz are so helpful and friendly; they are dedicated to ensuring that they can help their customers as best as possible. They will make...
Paul M
— Nelson —
mortgagerates.co.nz Contact
Contact Number
E-Mail
Website
Physical Address
---
Postal Address
PO Box 2011, Rotorua, 3047, New Zealand