Excellent customer service
Fast decision
Variety of products and services
In-page navigation
---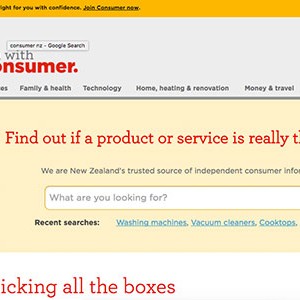 Author Consumer. Screenshot of Consumer website.


[Accessed July 3, 2019]
Consumer - we compare loans
Our site is here to offer New Zealand citizens the place where they can easily compare loans when they need a little extra money. You need to determine what you need the loan to pay for.
Decide how much you need to borrow and how much you can comfortably afford to pay back, you should try to pay back your loan as quickly as you are able to. Understand the terms that are set out in your long or short-term loan contract and look out for associated fees and early exit fees.
Deciding on a secured or an un-secured loan
A secured loan refers to a loan that is secured by an item of value know as collateral. This type of loan is less risky to lenders than unsecured loans as if you don't repay your loan or stick to the loan terms then your item of collateral will be taken to make up the funds. These items of collateral could include your car, a property that you own or an asset of greater value.
Unsecured loans are not secured by anything so they are a much higher risk for lenders if you have a good credit record a lender may offer you a good interest rate and favourable loan terms. If you have a bad credit record then you may be penalised with a higher interest rate and have stricter loan terms.
Examining the interest rate
The most import thing to consider when applying for a loan is the interest rate that you will be charged. If you are charged a higher interest rate you will end up paying much more for the loan than you originally borrowed.
Consumer Services
You can choose between different interest rates either a fixed interest rate or variable interest rate.
A fixed interest rate will mean that the amount of interest that you are charged will be the same for the duration of the loan agreement.A variable interest rate will fluctuate depending on how the markets perform and you will benefit if the interest rate is lowered.
Supporting documents required to apply for different loan types
To apply for any type of personal loan you will need to supply certain documentation. It is important to have these documents on hand when you apply for the loan.
You will need:
A copy of your drivers' licence
A copy of your passport
A copy of your ID document or a copy of your birth certificate
A copy of your latest utility bill
Proof of income
Proof that you will be able to repay the loan
In the case of applying for vehicle financing you may be asked to provide additional documentation.
Personal loans versus credit cards
A personal loan can give you access to quick cash when you need it. The interest rate on a personal loan is usually less than the interest rate charged on a credit card, this means that the you will save money if you opt for a personal loan.
Personal loans are long term commitments that need to be entered into carefully after you have competed your research and compared all the offers that are available to you.
Consumer – Loan comparison
Loan Type

Loan comparison
Benefits of Consumer
Easy comparison
Reliable lender
Lower interest rates
Loan comparison calculator
Consumer - Finance for your dream home
When you apply for a home loan you could come across terms such as refinancing or re-mortgaging this refers to switching home loans in order to save money, make your home loan more flexible, or use your home loan in order to reconsolidate your debt.
Refinancing is a popular option when it comes to offering lower interest rates and lenders offer significant savings to attract you to switch your existing home loan to their company.
How much it costs to refinancing a home loan
To refinance your loan is not a free service so you should consider the costs carefully before you decide and use our loan comparison site to find the best option for you. To get out of your old loan agreement you will be charged a discharge fee for terminating your loan agreement early. Then you will need to factor in the establishment fee that you will be charged and any settlement costs that may apply.
If your current home loan has a fixed interest rate then you will be charged break fees these fees could end up costing a lot and the savings you gain from switching could quickly be swallowed up if you are not careful. Look for lenders that offer to pay your discharge fees and forfeit an establishment fee in order for you to pick them as their new lender, some lenders will negotiate better loan terms to gain you as a client.
How long refinancing takes
Some lenders offer fast-track refinancing, this basically means that they will do the hard work for you and switch everything on your behalf within 3 days. The standard process involves you waiting 2 to 4 weeks for approval, the lender will still take care of the paperwork on your behalf.
Perform a home evaluation
When you want to switch home loans the new lender will want you to provide a valuation of your property to make sure that your home is worth enough to secure the new loan term agreement. Your home will need to be able to generate enough equity for the lender should you not be able to honour the loan terms.
Customer Reviews & Testimonials
"
Having the freedom to choose is something that I truly value in a lender. Consumer offers both secured and unsecured loans which means that you can find the exact loan to suit your preferences. G...
Lisa B
— Napier —
For the fairest interest rate, contact Consumer. They have access to a large panel of lenders each with their own special deals. What Consumer does, is help you to find the best deal for your sit...
Samantha M
— Alexandra —
Whether you are in need of a credit card, personal loan or home loan you can rely on Consumer for assistance. Their staff knows loans and they know how to make sure that you get what you deserve....
Jarred P
— Greymouth —
Consumer Contact
Contact Number
E-Mail
Website
Physical Address
Level 5, 17 Whitmore Street,

Wellington

6011

New Zealand
---
Postal Address
PO Box 932, , Wellington, 6140, New Zealand
Opening Hours
Monday

08:30 – 16:30

Tuesday

08:30 – 16:30

Wednesday

08:30 – 16:30

Thursday

08:30 – 16:30

Friday

08:30 – 16:30

Saturday

– Closed

Sunday

– Closed