Compare interest rates
Compare financial products
Simple and fast
In-page navigation
---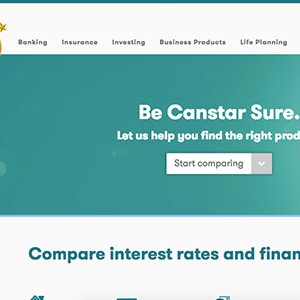 Author Canstar. Screenshot of Canstar website.


[Accessed July 3, 2019]
Canstar - A leading loan compare site
We are Australia's largest financial loan comparison site and give you access to the greatest number of lenders. Our company has been in the business for over 25 years, we own a privately-owned financial research agency that allows us to help you make an informed decision.
We allow you to understand and manage your finances. Our team specializes in collecting and analyzing data. We do the research for you and analyze thousands of products on your behalf.
Compare loans the easy way
Canstar offers expert ratings with easy to compare tables that allow you to make a decision with all facts at hand. The site is arranged by the star rating that is given and then by alphabetical order and the rating is completely independent. Canstar does not provide personal financial advice and we recommend that you consult a professional before signing any contracts.
Canstar the loan comparison site you are looking for
Our service is unique because we offer loan comparisons on over 740 lenders. This gives you access to lenders that you otherwise might not have known about.
We are invested in the finance business and we know finance – Our experts are there to give you advice in over 30 different financial categories
Compare personal loans side by side to secure the best value – research prices and other features
We rate customer satisfaction for over 900 brands
Canstar Services
We offer our financial information on our website and our loan comparisons for free. To secure funding to bring you the best deals we raise fund in the following ways:
We sell subscriptions
We sell and award licences
Sell advertising and provide lead referrals
Types of loans that we compare
Compare deals on home loans, car loans, personal loans, margin loans, low doc home loans and reverse mortgages. We provide information about savings accounts, transactional accounts and banking services. With our site you can compare over 4000 home loans, with so many choices you will be sure to find the loan that you have been searching for.
When you are choosing a home loan, you need to ask yourself the following questions:
How much can I afford to borrow?
What will my repayments be and how long will it take me to repay the loan?
Should I apply for a fixed or variable rate home loan and what is the difference between the different options?
Do I need to put down a deposit and how much deposit will I need?
How do I give myself the best chance to have my online loan application approved?
Canstar – Loan comparison
Loan Type

Loan comparison
Benefits of Canstar
Fast online application
Affordable rates
Flexible terms
Loan comparison calculator
Canstar - Helping you get your application approved
Finding out if you qualify for a home loan and making sure your application is approved
To improve your chances of having your home loan application approved there are things that you can do to make your application look more appealing to potential lenders.
Improve your chances by:
Make sure that you show your ability to repay the loan
Get a copy of your credit report and make sure that there are no mistakes on it that need to be rectified
Don't list unnecessary expenses on your application
Make sure you can prove you have a sound financial background and a strong history of saving
Show that you have a credit safety net in place
Only apply for one quick cash loan at a time
You will need to prove that you have a good job and a stable income
Can you afford a loan
The easiest way to have your loan application approved is to prove your ability to repay your loan easily. The lender will determine how risky it would be to loan you money. The riskier it will be, the more money you will be charged to secure your loan.
You need to prove to the lender that you have enough money to repay your loan and that you have a good handle on any debt that you may need to pay off. Always make sure that you know your credit rating and what is recorded on your credit report. If you access your credit report before a lender does you can make sure that you can rectify any mistakes while you still have a chance and contact the company so they can correct it.
Personal debt can be a problem
If you have a lot of different financial commitments and lots of unpaid personal debts this might negatively impact your loan application. If you have applied for a lot of different personal or short-term loans previously then this could also affect your chances.
If you have credit cards the outstanding amount is calculated on the maximum limit that the credit card has and not on how much you have spent on the card. Make sure that you cancel any credit cards or store cards that you aren't using before you apply for a loan. If your credit card has the option of decreasing the limit then decrease it as much as possible to improve your chances.
Show you are savvy with saving
People that are able to save are normally better with money if you show that you have the ability to save lenders are more likely to say yes to your loan application.
Your saving should make up at least 5% of the purchase price of your home. Having a safety net in place in case you lose your job will help convince lenders that you are serious about paying off your home loan and you will be seen as less of a risk.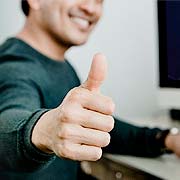 Canstar is a trusted & reliable provider of loan comparison
Customer Reviews & Testimonials
"
With so many lenders at your disposal, deciding which one is right for you is a difficult task on its own. This is why Canstar is my lifesaver. With one application they were able to help me find...
Duncan S
— Greymouth —
The application is easy-peasy – no more complicated applications that require tons of documents and additional bells and whistles. Just sit down and fill in your details and they will get back to...
Laura B
— New Plymouth —
If you have not quite made your choice that is okay. I did not know what the best option was either but Canstar helped me to find the best solution. They offer a wide variety of loan types which ...
Keith G
— Masterton —
Canstar Contact
Contact Number
E-Mail
Website
Physical Address
---
Postal Address
PO Box 2073, Shortland Street, Auckland, 1140, New Zealand