Compare credit cards
Credit card benefits
Earn points
In-page navigation
---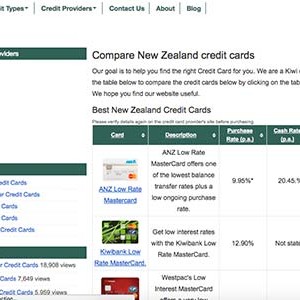 Author Credit Cards Compare. Screenshot of Credit Cards Compare website.


[Accessed July 3, 2019]
Credit Cards Compare - The best deals on credit cards
Credit Card Compare allows you to easily compare loans online and a range of offers on different credit cards from different lenders.
There are so many different credit card options available so you need to compare offers before choosing the one that is right for you. Each credit card comes with its own benefits from low-interest rates to rewards loyalty points or free deals on products or services.
Transferring your balance
If you already have credit card debt then you may opt to apply for a balance transfer credit card that will allow you to transfer your existing credit card debt onto your new credit card this will save you money because you will repay the credit card at a lower interest rate.
The new credit card will offer a low-interest rate introductory offer so this will save you a lot of money on your existing debt. You can also use your credit card to help repair your credit rating.
If you are using your new credit card to transfer your debt, look for lenders that offer a longer introductory period so that you can give yourself enough time to pay off your debt.
Be up to date with your revert rate on your new card
The card will offer low-interest rate payments for a fixed period of time, thereafter the card will revert and you will be charged the new interest rate on any balance that is still owing on the card.
If you are using the card to pay off the existing debt it is very important that you pay off the debt before the credit card reverts back.
Credit Cards Compare Services
Balance transfer credit cards can be used incorrectly and there are some common mistakes associated with them.
When you decide on your new credit card it is very important that you take note of when the special introductory offer ends and the loan reverts back to a higher interest rate. Our loan comparison website shows you all these crucial dates.
Some points to consider
Credit cards can negatively affect your credit score. Applications that you make when you apply for credit are recorded on your credit report. Some creditors monitor your credit report and if you use multiple cards to transfer your debt you may get into trouble.
Using your credit card for large purchases – if you use your credit card for large purchases you will have a challenge with repaying the card before it reverts
Not understanding the terms associated with your new card – The promise of a 0% interest rate may seem like a great offer but nothing is for free so you need to search for the hidden fees and charges.
Credit cards with rewards
If you prefer rewards to a low-interest rate there are many credit cards that offer great rewards and special benefits. Some credit cards reward you if you use them for everyday spending while others give you a reward in the form of points that can be exchanged for prizes or special offers.
There are many different type reward programs available, some credit cards offer free insurance offers to help entice you. Once you've decided on which card is ideal for you our site will lead you to the online loan application
Credit Cards Compare – Loan comparison
Loan Type

Loan comparison
Benefits of Credit Cards Compare
Online application
Credit card benefits
Affordable loans
Loan comparison calculator
Credit Cards Compare - Credit cards with added benefits
Look for the credit card that offers you the rewards that you enjoy by comparing loans online via our site. There are many different options available these include retail reward this card rewards you on your everyday spending in the form of points.
Some brands also give you discounts at certain retail stores and the points you earn can be exchanged for discounts on purchases or free products.
If you purchase groceries for a big family a supermarket rewards card could be your best option as you are rewarded for spending money at your favourite supermarket. For those that drive around a lot for work, a petrol rewards card can get you discount on fuel or special offers just for using your rewards card when you pump gas.
Rewards to suit your lifestyle
If your job or personal life involve you being a jet setter and flying around very often then you can use your credit cards to earn frequent flyer points that will give you discount on flights and special boarding privileges. Accumulate enough points and you could earn free flights.
Why would I be rewarded for spending
Getting rewarded for spending your own money may seem too good to be true so what is the proverbial catch to the card? You need to factor in the interest rate that you will be charged, sometimes the high-interest rate will mean that you are indirectly paying for your rewards.
Look for credit cards that offer interest-free days if your card doesn't offer these days then you will end up paying more for your purchase from the first moment that you use your new credit card. Some credit cards charge you an annual fee in order to belong to the particular reward group this fee may mean that the deal you are getting may not be as good as you think.
You need to consider the true value of the reward that you are being offered. If the points expire due to inactivity on your card you may end up losing out.
Customer Reviews & Testimonials
"
Credit cards are an excellent alternative to traditional loans. I am very happy with the credit card that Credit Cards Compare helped me to get. Thanks for the help guys!
Georgia F
— Picton —
Getting the finance that you need has never been simpler. Just give Credit Cards Compare a call or drop them an email and they will respond to you in a jiffy. Their products are fair and affordab...
Jessica Y
— Gisborne —
The great thing about Credit Cards Compare is that their credit cards can help you to improve your credit record. Not only do they consider the applications made by those with a less-than-perfect...
Timothy D
— Masterton —
Credit Cards Compare Contact
Contact Number
E-Mail
Website
Physical Address
Credit Cards Compare, 94 Chelwood Street, Takaro,

Palmerston North,

New Zealand