Car loans starting from $10,000
Low-interest starting from 6.95%
Repayment up to 5 years
In-page navigation
---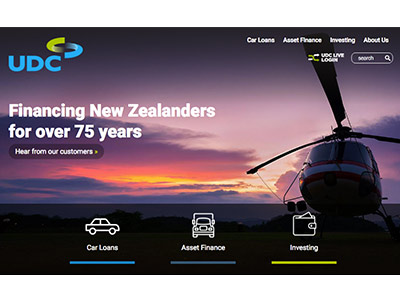 Author UDC Finance. Screenshot of UDC Finance website.


[Accessed April 17, 2018]
UCD Finance - Quick and easy loans
UDC Finance opened its doors in 1937 and in our over 80 years of helping people with their financial needs, we have grown into a company that New Zealand citizens trust. We have assisted businesses across all fields, including transport, forestry, agriculture and manufacturing.
In 1951 Financial Services Limited was purchased by a London company called United Dominions Trust the company was then renamed UDC (United Dominions Corporation) in 1954 and since then we have continued to grow and are now a household name.
Investing in the future development of New Zealand
We invest I'm the future of our company by providing business and personal loans for vehicles, plant equipment and other forms of machinery. By doing so we get our investor's solid returns and together we are investing in the future of New Zealand.
What we offer
We specialize in assets based finance that is not secured by land or buildings. We help our clients grow and prosper while fulfilling their financial needs.
Get the keys to your dream car
Our car loans offer you up to $10,000 to help you finance the vehicle of your dreams. Our competitive interest rates range between 9,50% and 14,50% pa with up to 100% finance for new and used vehicles. Find the car you like, apply online and have your loan approved today then pay for your car and drive away into the sunset.
UDC Finance Services
Applying is as easy as completing the online application form. Verify your identification, provide some financial information and consent to a credit check.
We will let you know if your online loan application was approved and if it is, you will receive the money for your vehicle the very same day. We offer loans for both used and new vehicles as well as marine finance and personal loans.
Figuring out your financing
If you have no idea how much cars cost or how much you need to borrow using the calculator provided, this will help you know how much you need and more or less what interest rate you will be charged this can help you figure out how long you will need to repay the loan.
No security required
You won't need any form of collateral to secure your loan and we can finance up to 100% of your loan. You can purchase a vehicle from a dealer or through a private sale. We can also assist you in finding a vehicle through Trade Me or many other dealers in our network.
Other fees that may apply
If you decide to repay your loan early you will be charged a fixed fee to cover the cost of offsetting the loan and a variable fee to cover any loss we incur associated with your vehicle loan.
There is a consequence to defaulting on your loan agreement, these include the ability for us to repossess your vehicle and sell it to cover your loan. If that amount doesn't cover your loan you will be held accountable for the outstanding balance.
UDC Finance – Car loan
Loan Type

Car loans

Interest Rate

6.95 – 9.95% p/a

Loan Amount

from $10,000

Repayment

12 months to 5 years
Benefits of UDC Finance
Easy loan application process
Approval is on the same day
Loan terms are flexible
UCD Finance - Drive away in your dream car
Drive your dream car and pay back your car loan over easy terms of between 1 and 5 years. The contract will be arranged to be budget-friendly.
The interest rate you are charged will depend on your loan terms, including the amount you borrow, how long you need to pay it back and if you have a deposit or not. We will examine your credit profile and perform a risk analysis to determine your affordability and then we will discuss any budget constraints or potential shortfalls.
Sponsorships
We challenge the way that you see finance and we support the people that challenge life we sponsor the UDC XTERRA Triathlon and encourage all our clients to support or participate in this challenging event.
Challenge normal day to day and life and push yourself to the ultimate limit. Many of our staff participate and more and more clients take part every year. This amazing triathlon consists of a 2km swim, 47km bike ride and an 8,5km run. To enter the race you must be at least 18 years old on the day of the race to enter.
Equipment financing solutions
These business loans offer flexible repayment terms that allow you to pay seasonally, they require little or no deposit and the cash can be put back into your business to help with day-to-day cash flow. Equipment is very expensive, so we allow you to repay your loan over the duration of the life of the equipment.
You do not need to secure your equipment using collateral so that lowers the risk associated with the loan. The asset that you purchase is the guarantee that you will pay back your loan if you don't repay the loan the collateral will be repossessed.
Tips to remember when buying a car
When you decide to buy a new car it is very exciting, a car is a very expensive purchase so you need to make sure that you make the right decision. Make sure you do your research on the car you are interested in and shop around for a basic price range. If you are buying a used car make sure you know what you are buying as a used car can come with many undisclosed problems.
If you want to trade in your vehicle, make sure you know how much you could get to put down a deposit.
Customer Reviews & Testimonials
"
When you are looking for a loan that will suit your pocket all you have to do is make sure that you have used the calculator as I did and now they will be our loan company from now one for all ou...
Billie S
— Auckland —
They have helped me to get the panel van that I needed to get my little business up and running. They are an amazing company.
Kevin R
— Nelson —
If you are ever in any trouble with your loans all you have to do is call them and they will help you get all your information you are needing or help you get the loan that will suit you.
Barry C
— Hamilton —
UDC Finance Contact
Contact Number
E-Mail
Website
Physical Address
23-29 Albert Street, Auckland CBD

Auckland

1010

New Zealand
---
Postal Address
PO Box 91145, Victoria Street West, Auckland, 1142, New Zealand
Opening Hours
Monday

08:00 – 17:00

Tuesday

08:00 – 17:00

Wednesday

08:00 – 17:00

Thursday

08:00 – 17:00

Friday

08:00 – 17:00

Saturday

Closed –

Sunday

Closed –