Car loans up to $50,000
Low-interest starting from 9.95%
Repayment up to 4 years
In-page navigation
---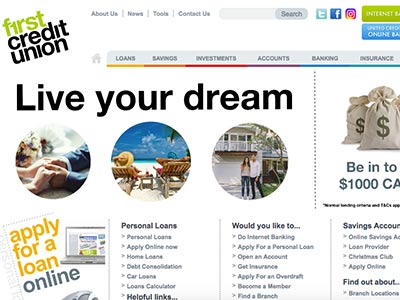 Author First Credit Union. Screenshot of First Credit Union website.


[Accessed April 17, 2018]
First Credit Union - We build a better tomorow
First Credit Union has been in the financial business for well over 60 years we have helped countless local citizens in their time of need by offering great financial products and services including car loans and cost-effective personal banking. We believe in giving back to the community and strive to build a better tomorrow for everyone.
We are a proudly owned New Zealand company that is run and operated by Kiwis. We aim to assist you when you need some extra funding to pay for the things you need and want including vehicle finance.
Our staff is highly educated and very friendly. They can provide financial advice on how to better manage your money and how to budget and save correctly.
Sustainable business practices
We adhere to a strict sustainability policy and do everything in our power to make our business sustainable this includes recycling all office waste and saving electricity wherever possible.
Our staff all follow our sustainability plan and implement it in their daily lives.
Our board of directors governs our credit union and makes sure that we act responsibly and have good lending practices.
We are fully compliant with the foreign account tax compliance act (FATCA) and we are a qualified financial entity (QFE)
First Credit Union Services
We offer loans for anything that you need. Our personal loans have very competitive interest rates, no extra fees and easy repayment terms.
Once you apply for one of our loans online by completing the application form you will be given an outcome within a few minutes.
The entire application process should take as little as 15 minutes to complete.
Once we have received your application form, one of our consultants will give you a call to help you through the rest of the application process.
Loans for all purposes
Our quick cash loans can be used for any reason and there are no restrictions attached. Our specialized loans include home loans, car loans and debt consolidation.
The finest vehicle financing
If you have always dreamed of owning your own car, but don't think you will be able to afford it, then one of our car loans could be the solution that you are looking for.
Apply for a pre-approved car loan so you know exactly how much you have to spend on your dream car this will also increase your bargaining power.
Once you have found the perfect car use our car loan to pay for your vehicle. Vehicles must be insured.
First Credit Union – Car loan
Loan Type

Car loans

Interest Rate

9.95 – 18% p/a

Loan Amount

up to $50,000

Repayment

12 months to 4 years
Benefits of First Credit Union
No application fee
No penalty fee for early repayment
Easy loan application
First Credit Union - Quick online applications
For more added benefits you can become a First Credit Union member by completing the online loan application form.
Before you apply you will need a few requirements
We will need a copy of your most recent payslip that provides your income details
If you are applying as a joint application, we will need a copy of your guarantor's details
If you are requesting a secured loan you will need to provide details of the item you wish to use as security
You will need to provide details about your finances, including earnings and expenses.
You will need to provide your last 3 months bank statements to prove your income
Our personal banking solutions are designed to help you manage your finances better and get more out of your money. Other banking services we offer include savings accounts, term investments, insurance policies and everyday banking functions.
Any profit that is generated goes back to our members as we are owned by the people who bank with us. Our members save on their personal and vehicle loans and take advantage of lower fees and charges.
All members receive a copy of our annual credit report and are invited to attend our AGM to see exactly how we operate.
Zero loan fees charged
Our loans offer the lowest interest rates with absolutely zero added fees and very easy to manage repayment terms. Credit unions are non-profit organizations that were designed to promote saving and providing personal loan for our members. If you would like to become a member you will need to be a resident of New Zealand and be over the age of 18 years old.
How the process works
When you become a member and deposit your money with us you will become a shareholder this means that you are entitled to one vote regardless of the amount that you contributed. You will also have the chance to vote for who should sit on our board of directors.
Your money will be protected as we comply with New Zealand's legal requirements.
Fees and charges
The best thing about becoming a member of the First Credit Union is the savings.
Pay no fees on all deposits or direct credit automated payments
To withdraw cash is completely free
There are no fees charged on transactions or to set up an automated payment.
You won't be charged for direct debits, bill payments, or bank transfers
You won't be charged a service fee
Customer Reviews & Testimonials
"
Have you ever been in a state over your financials well I was when it came to my business I needed a new car and I was able to get it from this amazing company.
Gregg T
— Auckland —
I will recommend them to friends and family and other businesses when we needed the help they were there for us and made us feel secure knowing that they had our backs and wheels.
Terry W
— Wellington —
They helped us to get the equipment that we needed to secure a new car and we have never looked back since thank you to them our company is stronger and better.
Charmaine S
— Queenstown —
First Credit Union Contact
Contact Number
E-Mail
Website
Physical Address
111 Collingwood St

Hamilton

Waikato

3204

New Zealand
---
Postal Address
PO Box 83009, Johnsonville, Wellington, 6440, New Zealand
Opening Hours
Monday

09:00 – 16:30

Tuesday

09:00 – 16:30

Wednesday

09:00 – 16:30

Thursday

09:00 – 16:30

Friday

09:00 – 16:30

Saturday

Closed –

Sunday

Closed –