Car loans up to $20,000
Low-interest starting from 12.95%
Repayment up to 60 months
In-page navigation
---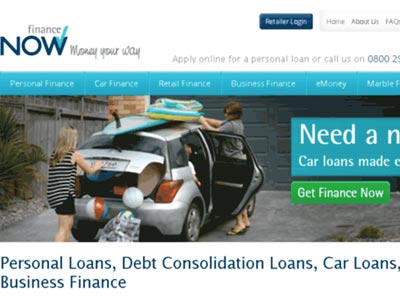 Author FINANCE NOW. Screenshot of FINANCE NOW website.


[Accessed April 17, 2018]
Finance Now - the car loan experts
Buying a car is an important milestone in your life but cars can be very expensive, that's where Finance Now comes in, we will help you find the car that best suits your needs and then provide vehicle financing for it.
If you already have a car and would like to upgrade your existing vehicle we can help you get a good deal and trade up so you can be driving in style in no time.
Apply online today
Finance Now gives you the ability to apply for a car loan at any time from anywhere as long as you have an internet connection. Complete the online loan application form and provide supporting documentation and we will get back to you and let you know if your loan has been approved.
Ask our experts for advice
Our experts will be able to give you helpful tips and tricks to remember when you are looking for your dream car and advise you on what option will best suit your needs without breaking your budget.
If you have found the car that you want, we can arrange for one of our consultants to accompany you to view the car and look for any potential problems. If you are still searching for the car, we can connect you to a dealer in our network and negotiate a better deal on your behalf.
FINANCE NOW Services
To help you determine how much you need to make your purchase use our handy online calculator.
Input the details that are required and how long you need to repay the loan and the calculator will work out your instalments to give you a basic idea of how much your loan will cost.
Financial solutions when you need them
We offer a wide range of financial solutions via our secured and unsecured loan options.
Whether you need a personal loan, retail finance loan, motor vehicle loan or business financing, we have the solution that you have been searching for.
Finance Now personal loans
Finance Now offers personal loans for many different reasons, including debt consolidation, loans for when you need some extra cash for your holiday, loans to pay for car repairs or home renovations and loans to pay for legal costs.
Finance Now retail finance
Our retail finance options provide motor vehicle loans for chattel goods and any related services these goods range from electronics and computers to household items such as furniture and even car tires.
FINANCE NOW – Car loan
Loan Type

Car loans

Interest Rate

12.95 – 29.95% p/a

Loan Amount

up to $20,000

Repayment

6 months to 60 months
Benefits of FINANCE NOW
Personalised loans
Get your cash on hand
Flexible repayments
Finance Now - Buy your vehicle today
Our motor vehicle loans can be used at any reputable motor dealer as long as they are licensed to purchase a vehicle and vehicle accessories.
Get pre-approved to know where you stand
Apply for a pre-approved loan so that you know how much money you qualify for and how much you can spend on your new vehicle. This will give you buying and bargaining power and make the process much easier and less stressful.
Finance Now business financing
Our business financial solutions are provided by B2B retailers and can be used to assist businesses and commercial companies to obtain financing or to help them raise capital. These options range from a small point of sale equipment to much larger industrial machinery and tools.
When you are searching for your new car, chances are you are going to be very excited and this can often lead to purchasing mistakes as well as mistakes relating to car or personal loans. It is very important to do as much research as possible before you start searching so that you don't get taken advantage of and don't get overcharged.
Tips and tricks to remember
When going to view the vehicle that you are interested in for the first time, take a friend or family member with you. Two sets of eyes are better than one and you can inspect the car more thoroughly for any imperfections.
Make sure that you take the car for a test drive. The best way to see if everything is in working order is to take a drive in the car. This will help you make sure that everything is in working order and that the car doesn't have any mechanical issues. This is very important, especially if you are purchasing a second-hand vehicle.
Make sure that the (WOF) Warrant of Fitness registration is up to date. If it isn't remembering to add the costs for updating the certificate to your loan costs.
If you are buying a second-hand vehicle, make sure that the car wasn't previously involved in an accident. Make sure that you have the contact information of the previous owner in case the car gives you issues in the future.
When purchasing through a private sale, make sure that you don't get scammed. Some scam artists will try to sell you a stolen vehicle or a vehicle that has outstanding fines or that hasn't been completely paid for and there is still an outstanding debt owing to
To make sure that there are no problems it is advisable to get someone to perform a pre-purchase mechanical inspection this will provide all the information that you require before you make your purchase.
Customer Reviews & Testimonials
"
They have the most amazing loan calculator that has helped us determine which loan would best suit us and our company's vehicle needs and that is why we choose to be with them.
Dwayne C
— Auckland —
When and if you ever need information about your loan all you have to do is call or email them and they will answer you faster than you have ever thought.
Bianca J
— Queenstown —
The service is great the people are great they have such an amazing work ethic that makes me very happy to have taken out a loan with them.
Farryn K
— Napier —
FINANCE NOW Contact
Contact Number
E-Mail
Website
Physical Address
114 Dominion Rd, Mount Eden

Auckland

Auckland Region

1024

New Zealand
---
Postal Address
PO Box 1204, Invercargill, 9840, New Zealand
Opening Hours
Monday

08:30 – 19:00

Tuesday

08:30 – 19:00

Wednesday

08:30 – 19:00

Thursday

08:30 – 19:00

Friday

08:30 – 19:00

Saturday

09:00 – 17:00

Sunday

09:00 – 17:00