Car loans up to $50,000
Low-interest starting from 6.99%
Repayment up to 5 years
In-page navigation
---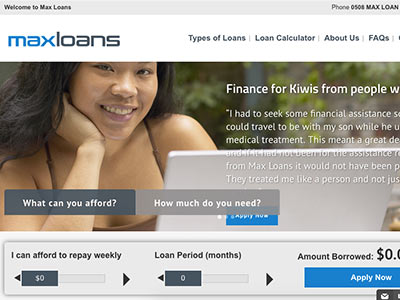 Author Max Loans. Screenshot of Max Loans website.


[Accessed April 17, 2018]
Max Loans - A loan to suit your needs
Max Loans offer a host of different instant loan options to suit your needs. Even if you have bad credit we will still find you a solution.
At Max Loans we know how you feel and we have been in the position of needing a loan before ourselves so we know exactly what you need. We understand that the situation you may be in may be a difficult one and that you need your cash as soon as possible.
We are your personal broker
Max Loans acts as your personal broker. We act as your personal broker by using our connection to our vast network of lenders to source you the best vehicle loans and deals that we can find. Apply with one application form and have access to all of our lenders this will give your application the best chance of being approved. We will do everything in our power to make sure that we fulfil all your needs and stay within your budget.
The best financing team
Our team is made up of financial experts that are leaders in their perspective field. Our pool of lenders offers you the opportunity to choose the best option that suits you. We treat you as a person and try to fix your financial problems.
Other loan options include secured personal loans, unsecured loans, debt consolidation, vehicle financing, mortgages and home loans and LANs designed for those that have bad credit.
Max Loans Services
Shopping for a car with the cash in your pocket is much easier as you know how much you have to spend and will make it easier to negotiate a better deal.
If you know your budget, it will be easier to narrow down your options and make finding your dream vehicle much easier. Some dealerships have very strict lending criteria, but we work within your budget. We offer combination car loans so now it is possible to drive your new vehicle to your holiday destination that you booked with your holiday loan. If you apply with a guarantor you will qualify for even more benefits.
Benefits of a Max Car loan
Your loan will let you act as if you are a cash buyer and you have the money in your hand as soon as you find the car you are looking for.
You will benefit from a competitive interest rate that is fixed for the duration of your loan agreement.
Long-term personal loans can range up to 5 years and your repayment terms can be matched to suit your payment frequency.
Secure your loan
If you have an item of collateral to secure your loan, then you will qualify for a lower interest rate and better repayment terms and up to 5 years to repay your loan. Make sure that you have a valid learner's permit or driver's license before you apply for a loan. We have a number of insurance options available that can be customized to suit you.
Max Loans – Car loan
Loan Type

Car loans

Interest Rate

6.99 – 17.95% p/a

Loan Amount

up to $50,000

Repayment

6 months to 5 years
Benefits of Max Loans
Quick online application
Speedy approval
Competitive and fixed interest rate
Max Loans - First time buyers beware
Before you get trapped in a long-term financial trap that sees you paying off your car for years without any real benefits you need to make sure that you do your research so that you aren't taken advantage of.
Make sure you know the average interest rate that is charged at the car you are interested in and the difference between a fixed and linked interest rate. If you are able to purchase your car without getting into debt that would be the best option available.
But if you need to relay on a loan make sure that you know your options. It's very tempting to purchase the newest, most expensive car on the market and trade it in every couple of months, but it is much more advisable to go for a car that will fit into your budget. Many deals look too good to be true.
Trade up or trade in
If you intend on trading in your vehicle for a newer car very quickly you will get more for it if your loan is paid up to date and you prove you are a responsible client.
Make sure that you consider all the costs that are involved with your loan to make sure you can afford the loan and find a car within your budget. If you are buying a new car make sure that you will be able to afford the maintenance and fuel costs. There is no point in having a new car if you can't afford to drive it.
Be patient and have a perspective
Shop around and be patient so just take the first deal that you see and try to avoid balloon payments whenever possible. Try to pay off your car loan as quickly as possible over the shortest terms, this will help you save money and prevent you from falling into debt.
Many clients are attracted to deals that offer low monthly fees with a large balloon payment at the end of the contract. This vehicle loan ends up costing a lot more because you are subjected to a lower interest rate.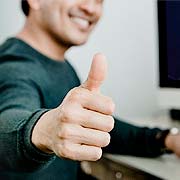 Max Loans is a trusted & reliable provider of car loans
Customer Reviews & Testimonials
"
If you would like to see if you qualify for a loan with them all you have to do is take the quick assessment and you will find out.
John J
— Auckland —
They will help you get a loan for your vehicle even if your credit score is low like mine was and I am happy to say that I have my car.
Katy M
— Nelson —
The loans are very nice and easy to apply for you don't have to wait long to hear back from the company they will let you know.
Jack K
— Christchurch —
Max Loans Contact
Contact Number
E-Mail
Website
Physical Address
27/27-29 William Pickering Drive, Rosedale

Auckland

0632

New Zealand
---
Postal Address
PO Box 331 565, Takapuna, 0740, New Zealand
Opening Hours
Monday

8:30 – 17:00

Tuesday

8:30 – 17:00

Wednesday

8:30 – 17:00

Thursday

8:30 – 17:00

Friday

8:30 – 17:00

Saturday

– Closed

Sunday

– Closed