Working Capital Solutions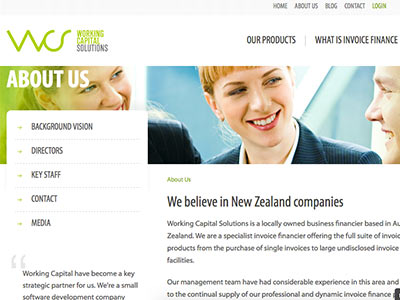 Author Working Capital Solutions. Screenshot of Working Capital Solutions website.


[Accessed April 17, 2018]
Working Capital Solutions - A responsible credit provider
Twenty-five years ago, we opened our doors to clients who needed help with money for whatever affair they were facing at the time. It was without fail that there would be certain customers, we wouldn't be able to assist due to matters that are beyond our control. However, we were set on making the best out of every situation and helping the clients that we could.
The people that weren't able to get a thumbs up for a business application were advised on what they need to fix in order for their next online loan application to be accepted.
It takes a great deal of risk to open a business and it is not a bad thing for asking for financial assistance from time to time.
We are set on helping entrepreneurs not because we want to make a profit from the loans taking from us, but because we want to see businesses flourishing and moving from strength to strength.
Working Capital Solutions loan calculator
The calculator has helped a number of clients. By using the calculator, you will be able to determine the amount of money you can take and when you have to pay back. This way, you will also know the interest charged.
This is good for the customers that weren't really sure how much they would like to apply for. We also encourage our clients to do these financial assessments prior to apply for business finance. It serves as a remedial action for the corporate owners who don't want to borrow a lot of money.
Working Capital Solutions Services
There are a number of reasons why you should choose us as a credit provider. Being a people-orientated has taught many customers to rely on us in their time of need.
We might not be able to able everyone financially, but we will do the best we can to ensure that their business prospects change for the better.
Working Capital Solutions is fast
There is no client that would apply for a business loan with the sole purpose of using the money at a later stage. It is normally a loan that is meant to be utilized with immediate effect.
Therefore, if you don't want your credit request to be delayed, you have to ensure that you submit everything to us on time to avoid your loan application being a drag.
If you are fast enough, you might get your loan before the end of business day or the next business day.
Flexibility is the name of the game
Due to the fact that problems often arise when you least expect them, Working Capital Solutions knows all of that and we understand it all too well. We are not a tough credit provider but we do believe in honesty and fairness.
Having said that, we don't want our clients to be afraid of talking to us should they have financial difficulties. We are flexible and can try to change their repayment instalments. At the end of the day, we always try to reassure our customers that our doors are always open!
Working Capital Solutions – Business loan
Benefits of Working Capital Solutions
Working Capital Solutions - Confidential loan applications
We understand how difficult it must be for a client to submit their private documents when looking to get a personal loan and even more so the financial information on their organization.
Every consultant that accepts these papers has to obey a Private Policy that declares confidentiality is a priority. We will never share your information with anyone. It is reassuring for clients to know that their documents will only be seen by the agent that received them.
Can I make a complaint?
We try our level best to ensure that we keep our customers happy at all times. However, we are aware that we won't always get it right. Having said that, if you would like to make a complaint about the service that you have received or you feel that you were mistreated, you can do so by contacting us.
We will see to it that your matter gets resolved and we will include other relevant parties, if we can't resolve the issue on our own. At the end of the day, we want to be the reason you're happy and if we are the reason you are upset, we want to resolve the misunderstanding.
Working Capital Solutions reviews and testimonials
The number of people that we have helped are very impressed with our services so much so that they have recommended our services to family and friends. This makes us very happy because it shows that there is something that we are doing right. The positive remarks are one of the reasons why we still do the kind of business that we do. A little credit goes a long way.
Can I make a physical appointment?
If you would like to talk to us and you feel that a phone call is not sufficient, you are more than welcome to set up an appointment. We will be waiting to hear from you and to resolve whatever issue or query you have regarding your business loans. On the other hand, you can also send us an email detailing all the queries that you have and we will respond to you as soon as possible.
Customer Reviews & Testimonials
"
Are you looking for a company that will care for you and makes sure that your company will be secure then look no further they will help you get the loan that you need for your company.
Nicole S
— Wellington —
They make sure to help you without asking questions and they do not judge you they want to ensure that you get the best service and the loan that you take for your business is the perfect loan fo...
Jace F
— Queenstown —
They have always made sure to give me the best advice when it has come to our business and that is why we choose to stay with them.
Rory L
— Auckland —
Working Capital Solutions Contact
Contact Number
E-Mail
Website
Physical Address
20 Hobson St

Auckland

Auckland Region

1010

New Zealand
---
Postal Address
PO Box 90339, Victoria Street West, Auckland, 1142, New Zealand