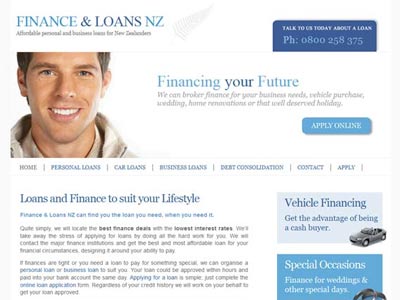 Author Finance & Loans NZ. Screenshot of Finance & Loans NZ website.


[Accessed April 17, 2018]
Finance & Loans NZ - Become an industry giant
Although most businesses start with sufficient capital, money tends to run short along the way. It doesn't have to do with business owners misusing funds but everything is just so expensive lately.
When you apply for credit, it is not because your enterprise is at the brink of bankruptcy, sometimes you just need a little help.
Finance and Loans NZ know these scenarios all too well and we have been assisting a number of cooperation's to date. At the end of the day, we want to see organizations grow and to be able to see a small enterprise grow to become an industry giant is one of the reasons why we opened up shop.
Standards have to be met
As much as we want to help every client that applies for a loan, there is a standard that we are looking for. Should a client not meet our criteria, we will have no choice but to decline their application. If you don't meet our requirements, we will help you in trying to fix the red flags that we have raised.
We will never leave you out in the cold because at the end of the day, we want you to be able to come back and apply for business loans and get the green light this time around.
There isn't much that we look for but we must emphasize that we are a bit strict when it comes to our criteria. There is a standard that has been set and it needs to be met by everyone who applies for credit.
Finance & Loans NZ Services
At Finance and Loans NZ, we know how difficult it is to get business finance. Quite frankly, the economy has made it harder for the bigger enterprises to get finance.
With people losing their jobs on such a regular basis, job security has become a thing of the past. However, not all hope is lost because we are still able to get clients the finance that they are looking for as far as the development of their businesses is concerned.
Loans for your specific needs
The customers that come to us are sure about the type of long term and short-term finance that they need. After we have done the necessary paperwork, we go out in search of what they said they want. It is very rare that we will not find them finance because most of the businesses we work with show a great deal of potential.
It is imperative to have an operation that is relevant to the current market and will always bring you profits. Although constant profits are not usually guaranteed, your business has to be slightly on the green side than the red.
What if you can't find finance for me?
We might not be able to find you finance now because you need a business loan right away but we will not rest until we get what you want.
Our agents work tirelessly to ensure that you get a financial business deal that you are happy with and one that won't break your monthly budget.
Finance & Loans NZ – Business loan
Benefits of Finance & Loans NZ
BUSINESS Loans
PERSONAL Loans
Finance and Loans NZ - A range of lenders to choose from
We will never put you in a position where you are not happy with the lender that we have found for you.
We will assess your online loan request before we look for a broker. This way, we will know your financial status and what your limits are. The brokers that we usually give to our clients are lenders that will be able to work within your financial means. We are always looking for ways to benefit the client at the end of the day.
Can I pay for my loan early?
If you have money before the date of your scheduled payment, you are more than welcome to settle your credit sooner. This shows us a great deal of commitment from the customer's side and we will have no problem helping you in the near future.
What if I pay my loan later?
There is a contract agreement that you will have to adhere to between the broker and yourself. If you miss a payment, there will be charges that you will have to account for. However, everything is thoroughly explained on the contract.
What if I have bad credit?
The bad credit will have to be assessed before we can eliminate your online loan application. We have helped a number of clients with a bad credit history. We are not concerned about how you used to pay your debts in the past, we are more concerned about your current payments. We are known to give such customers a second chance to make a better name for them.
Finance and Loans is a responsible lender
We will never lend an entrepreneur that we can clearly see is not in a good financial state to pay his loan. Further, we will never give you more than you can afford. The money that we loan our customers is a loan that has been assessed and found worthy and within the financial means of a client. Anything above that is automatically rejected.
Can I apply for more than one loan?
Having two or more business loans will depend on your broker. Not all lenders operate the same.
Customer Reviews & Testimonials
"
When we were looking around for the perfect business loan and for the company that understands us we were lucky enough to find them and they have always got our company in mind.
Madeline W
— Wellington —
If you ever have any queries they have such fast response that they will call you if you leave them an email or you can phone and have your query answered in minutes versus days with other compan...
George T
— Christchurch —
The application will take you a few minutes and you can have your loan for business it will be quicker than any other application you have ever done.
Leigh O
— Auckland —
Finance & Loans NZ Contact
Contact Number
E-Mail
Website