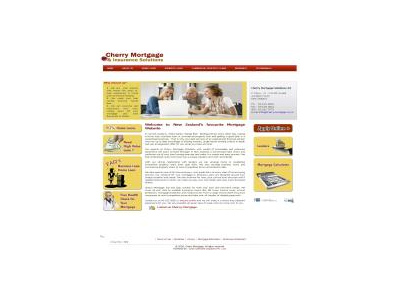 Author Cherry Mortgage. Screenshot of Cherry Mortgage website.


[Accessed April 17, 2018]
Cherry Mortgages - Affordable loan options
Cherry Mortgage is fast becoming the lender that business rely on when they are looking for small business financing. There are many different types of business loans available so it is important to know what you are looking for from your loan.
There is no one size fits all solution as each business has different requirements and reasons for applying for a loan.
A business overdraft facility
This type of loan is a revolving loan that is attached to your existing bank account. When your account becomes overdrawn your overdraft facility will be activated. The overdraft facility has a limit that is agreed to beforehand.
The loan does not have to be repaid during a certain time period and the funds will be available again as soon as some of the money has been paid back.
Advantages of an overdraft facility include:
This type of loan is great for a short-term loan cash injection into your business and your short-term and instant cash loan needs
Easy to obtain and the money is available immediately
There is no extra charge involved for clearing the overdraft facility
You will only be charged interest on the amount that is overdraw
You don't need to give up a percentage of your shares or business control
Some interest rates and other fees can be tax deductible
Disadvantages include:
If the loan is secured and you don't make payments on your loan your business could end up losing the collateral that was the security on your loan
If you miss payments or have legal action taken against you this will affect your credit score
Cherry Mortgage Services
Another option for businesses is to apply for a loan, these can be small or medium or short-term loans and each.
The interest rate that you are charged will depend on many different aspects.
The interest rate can be fixed or variable.
Advantages of bank business loans include:
Your business loan repayments can be customized to suit the needs of your business
You can arrange to repay your loan once your business has generated cash
The interest rate and fees can be tax deductible
Use the loan to improve your business's credit score
Disadvantages include:
This type of loan is not as flexible and if you need to change the terms during the loan cycle you will be charged extra fees
If the loan is secured the business can lose their collateral
May not be the best option for fluctuating finance requirements
If you default on the loan you could damage your credit score
Term loan
A term loan is a very common type of financing for businesses as you receive a lump sum of cash upfront and then the business repays the loan back with interest over the agreed upon loan terms.
The advantages of these types of loans include:
Getting the cash quickly in one lump sum
You will be able to borrow more money
Cherry Mortgage – Business loan
Benefits of Cherry Mortgage
HOME Loans
BUSINESS Loans
Cherry Mortgages - Flexible and reliable
The easiest and most common way that a business obtains funds in through a business credit card. You can use your business credit card to make purchases the cardholder then has a limited time to repay the loan.
Your business credit card often comes with benefits such as Air points that can be collected for discounted flights or travel insurance or other special offers. They are great to help manage expenditure.
Advantages of business credit cards include:
They are easy to obtain by completing an online loan application and can be used as an incentive for employees
Used to pay for everyday expenses
Very easy to monitor
This reduces the amount of petty cash that needs to be kept
They are safer than cash
Disadvantages include:
Business credit cards are not suitable for long-term borrowing due to the high-interest rate
There is the risk of fraud and employees overspending
Using a peer-to-peer loan to fund your business
This is a relatively new option that is available to businesses but it is fast becoming a popular option. This is when a company will act as a facilitator for a small fee. The business can then use a peer-to-peer company that matches the business to potential investors.
Investors can then offer different loan options such as secured and unsecured loans with customized loan repayment terms.
Advantages of peer-to-peer loans
The interest rate that you are charged can be lower than that of a traditional bank
The terms can be customized and are very flexible
The loan can be approved very quickly
Disadvantages include:
It can be difficult to find an investor and the amount that you need is not guaranteed
There are limitations and restrictions involved with these types of loans
The last way that you can get your business the money that you need is to ask a wealthy friend or family member for a business loan.
This option is especially popular for small businesses that are just starting out. Your family member may offer you a much lower than market interest rate and only expect payment once your business starts making money because they believe in you and want to see you succeed.
Customer Reviews & Testimonials
"
If you are looking for a company that will care for you and will go the extra mile and above and beyond look no further they will care for you.
Emily V
— Auckland —
They gave me the best advice and with them, I will be able to get my loan for my business premises any day now thanks to them.
Jensen L
— Queenstown —
They helped me to get a loan to start my business they believed in me and that was years ago and I am still with them they even lent me the money to expand.
Grayson G
— Auckland —
Cherry Mortgage Contact
Contact Number
E-Mail
Website
Physical Address
4 Charles Prevost Dr

The Gardens

Auckland Region

2105

New Zealand
---
Postal Address
PO Box 27 - 070, Mt. Roskill, Auckland, 1440, New Zealand
Opening Hours
Monday

08:30 – 17:00

Tuesday

08:30 – 17:00

Wednesday

08:30 – 17:00

Thursday

08:30 – 17:00

Friday

08:30 – 17:00

Saturday

Closed –

Sunday

Closed –