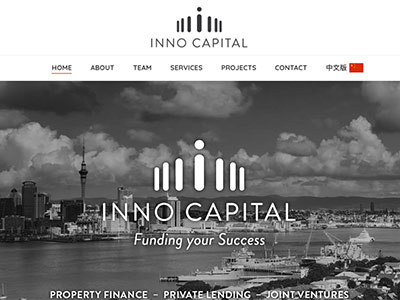 Author INNO Capital. Screenshot of INNO Capital website.


[Accessed April 17, 2018]
Inno Capital - A responsible credit provider
InnoCapital was first founded in 2006 and is responsible for real estate investment banking. We offer our clients value by providing access to capital, we provide attention to detail, will help you manage your time more efficiently and connect you to our wide network.
We are mortgage brokers that connect borrowers to lenders through our many years of experience. Our service offers quality products at affordable prices. Using our expertise, we are on your side and aim to please you.
Provide a business plan
Before you think of applying for a loan you need to make sure that you have a good business plan that outlines the details on how you plan on using the loan to help your business get ahead. You need to convince a potential lender to take a chance on lending you money.
The more details you provide in your business plan the better chance you have on your loan being approved. You need to outline how you plan on making a profit and growing your business.
Applying for a business loan at the correct time will also increase your chances if you need quick cash urgently then a business loan is probably not the best loan solution for you.
Business loans need to go through a lot of checks this can take a long time to complete. The process could take up to 3 months to complete and if you are determined as too risky then your loan application may be declined.
INNO Capital Services
To determine how much you need to borrow you will need to know how you are going to spend the loan and how you are going to use it to benefit your business.
The more detail that you are given the better chance you have of being approved.
You need to have a clear idea on how the investment will be used and what your planned return will be.
Finding the right business financing solution
The two main types of business loans are secured and unsecured business loans.
A secured loan means that you need to provide an item of value to act as security against your loan. The collateral will need to be worth more than the loan amount.
By applying for a loan using collateral you will prove to the lender that you would be less of a risk to lend money too, if you don't meet the terms of the loan then your security will be seized as payment.
What can be used as collateral for a business loan?
Any item of value can be used as collateral some examples include machinery, stock, property or investment portfolios.
An unsecured loan is much more risky for the lender and you will need to adhere to very strict lending criteria.
INNO Capital – Business loan
Inno Capital - we will help your business stay ahead
Before you apply for a business loan, you will need to make sure that you have a good credit report, you can do this by polishing your credit.
A potential lender will check your credit report and make sure that your credit record is clean and that you are not a risk to lend money to. Polishing your credit refers to making sure that any issues are sorted out before you apply. Make sure that you pay off any outstanding debt and remove any negative entries.
Business loans
A business loan can be used to pay for everyday operations and help with the running costs of your business. There are many different ways that your business can apply for financing.
Use a peer-to-peer business loan
A peer-to-peer loan connects those that need to borrow money with those that want to lend money through an online platform. The platform allows lenders to list their requirements and then a lender can choose which loan they would like to fund.
This method uses the latest technology to connect both parties and the entire process can be completed online.
If you can't apply for a business loan then you may be able to apply for a personal loan in your own name. You will need to have a good credit record and you will be held personally responsible for all the repayments.
Finance a marketing campaign to help your business stay ahead
Advertising can become very expensive, but it is the best way to get your business noticed and put your business ahead. There are special business loan options that allow you to finance a marketing campaign to help get your small business noticed.
Marketing will help you grow your business with a secured or an unsecured business loan. Our small business loans are much easier to apply for and can get approved much quicker than an ordinary business loan.
If you apply for a business loan this will not negatively affect your credit score. An unsecured loan means that you won't need to risk your own collateral if you are unable to honor the terms of the business loan agreement.
Use a business plan to outline what you want to from your business and where you see your business in the future.
Customer Reviews & Testimonials
"
This company what can I say but I recommend you to anyone that is looking for a loan for their business.
Jesse S
— Napier —
The service is great the application takes barely a few minutes to complete and submit and before you know it someone will phone you to let you know how the process is going.
Joey L
— Wellington —
We have taken a loan out for our business and we are almost done paying it and the best part is that we will be back to get more.
Cara C
— Queenstown —
INNO Capital Contact
Contact Number
E-Mail
Website
Physical Address
Ground Floor, Shed 19, Princes Wharf, 137 Quay Street

Auckland

Auckland Region

1010

New Zealand
Opening Hours
Monday

09:00 – 17:30

Tuesday

09:00 – 17:30

Wednesday

09:00 – 17:30

Thursday

09:00 – 17:30

Friday

09:00 – 17:30

Saturday

Closed –

Sunday

Closed –