Business loans up to $100,000
Low-interest starting from 11.95%
Repayment up to 60 months
In-page navigation
---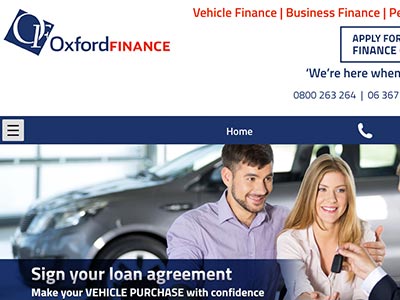 Author Oxford Finance. Screenshot of Oxford Finance website.


[Accessed April 17, 2018]
Oxford Finance - Reach your financial goals
Starting a business from the ground and building it to reach all your heart's desire is not the easiest job. There will always be challenges that will come along the way that may prevent you from reaching your goal.
However, if you are a business owner who knows that problems have the probability of arising especially when you are still in the early stages of your company, you will be in a better position to sort out your issues.
Effective financial solutions
If you need a business loan for your enterprise, it doesn't mean you didn't have proper financial management skills, it just means you need help. Everybody needs assistance from time to time and no one should fault you when you want to enhance your organization to increase profits. In essence, that is how business works.
Oxford Finance has helped organizations for a number of years. The size of an organization is also not a matter of concern for us because we believe any size of business can be in financial difficulty.
Patience is the ultimate key
The number of successful companies that we see today didn't become reputable brands overnight. It took a lot of efforts and dedication. We always encourage our clients to not stop at just opening shop as a business owner. In essence, it is beyond that. There is always work that needs to be done and targets that need to be met. It might seem hard to do at first, but once you put your mind to it, you will be unstoppable in all your business prospects.
Oxford Finance Services
Our Oxford Finance business loans are catered for different kind of sectors. Seeing that people are not doing the same type of work, it made sense to have a variety of credit options that will be able to cater for everybody.
The primary reason we established such an initiative was on the basis of the fact that every business won't perform the same financially so it wouldn't be fair to charge different sectors the same interest rate.
Plant and equipment business loan
If you are running a manufacturing company, you will require certain materials to run a successful enterprise.
Without having the right resources, your organization might not be able to meet the required goals that you have intended for the meeting.
It is very important to get the right tools if you want to become a reputable company.
Vehicle business loan inquiry
A client may need to buy more vehicles seeing that business is growing.
This is when you can apply for one of Oxford Finance's car loans and we will see if we can't sort you out soon enough.
Oxford Finance – Business loan
Loan Type

Business loans

Interest Rate

from 11.95%

Loan Amount

up to $100,000

Repayment

12 months to 60 months
Benefits of Oxford Finance
Flexible finances
Quick response
Fast funding
Accommodation is very important in any kind of operation.
If you are interested in opening more franchises, you can do this by ensuring that you have submitted all the documents that we will need for your business loan application. If you are operating from more than one office, you will need to have many properties, and these require money in order to run smoothly.
How to get a business loan with Oxford Finance
If you are interested in applying for a loan with us, you can do so by applying online. The information that we require for your online application is important and will be used to determine your financial stability.
Knowing when your loan has been approved
We try our level best to be quick on our feet and work as fast as we can. Having said that, we will revert back to you regarding your credit application within a day or two.
The loan repayment period and terms
The loan application can be settled between 12 and 60 months. Should you have enough capital to pay off your loan sooner, you can do so. We will never prevent you from paying off your debt sooner than the required date. In actual fact, we commend the customers that settle their loans as soon as possible. It shows that you take your business finance seriously and you don't want to be in anybody's bad books. Although there might be charges that will be incurred for settling your loan sooner, we will still recommend that you do it if you have the money.
Methods of loan payment
Although there are many payment methods available at the customer's convenience, the direct debit methods seem to be working for everyone. This way, the client won't have to go pay the payment at a bank.
Loan eligibility
A client needs to be at least 23 years old to apply. Other customers can apply at the age of 18 but they will need to be accompanied by an elder. It's not due to the fact that we don't trust clients who are 18 but it is mainly because not many people have matured to a level that they realize what they doing at such a tender age. However, when you have someone who is older than you and someone that you trust, you will be more at ease and they can also serve as an advisor from time to time during the credit application process.
Customer Reviews & Testimonials
"
They offer you calculators so that you can see which loan will suit your company better if you are looking for a small amount or large they will help you get the amount.
Jackie B
— Auckland —
We were looking for the perfect company to help us get a vehicle loan and we found them they have helped us to get the vehicle for our company.
Denna S
— Wellington —
They are the best in the loan business if you are needing assistance or have a query you should contact them they will help you.
Dylan T
— Nelson —
Oxford Finance Contact
Contact Number
E-Mail
Website
Physical Address
171 Oxford Street,

Levin

5510

New Zealand
---
Postal Address
P O Box 429, Levin, 5510, New Zealand
Opening Hours
Monday

09:00 – 17:00

Tuesday

09:00 – 17:00

Wednesday

09:00 – 17:00

Thursday

09:00 – 17:00

Friday

09:00 – 17:00

Saturday

Closed –

Sunday

Closed –