Business loans up to $20,000
Low-interest starting from 9.95%
Repayment up to 5 years
In-page navigation
---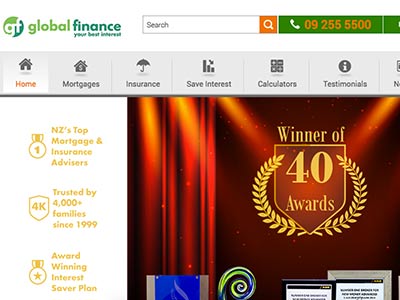 Author Global Finance. Screenshot of Global Finance website.


[Accessed April 17, 2018]
Global Finance - A reliable credit provider
Global Finance has been in the market since 1999 and we have seen drastic changes on the Kiwis as far as their finances are concerned.
Many people paid little to no attention to how they spend their money. It often resulted in the case of an entrepreneur spending more than he has and it is always the business that suffers.
Loan eligibility
This is where we come in before we give you the green light on your online loan application, we assess your other expenses. The reason we do that is because you don't want you to fall behind on other debts and focus on paying us at Global Finance, we want you to be able to continue paying other debts and if you can't, this means you are not in good financial standing to take up business finance.
It is often sad when we have to break this news to industry bosses that were really counting on us to help. However, we wouldn't be doing you any justice if we continue with a business loan of such a nature, we would be actually failing the client in the wrong run. We are a financial services provider that puts people first. At the end of the day, we want people to be able to trust us.
Our advice is not nice all the time
When we see that a business owner is getting out of hand, we will advise him in the best possible way because we don't want to see great enterprises failing due to poor financial management.
Global Finance Services
There are a number of reasons why entrepreneurs conclude that they need business finance. For starters, you are always in a competition with other enterprises and it is for this reason why you always have to be relevant.
Enhancing your area of work or introducing a new product or service is one way of going about it to stay in the market. Some businesses don't fail because they didn't have potential, they struggle because there isn't somebody to mentor them and show them the right path.
Global Finance is not only a financial service provider but we also advise our clients on a financial path that is best for their business prospects. At the end of the day, we want to see our customers rising above all adversity and staying in line with all the other competitors.
How long you can pay for your business loan
The great thing about the duration of your long or short-term loan is that it can take a number of years to be paid off. However, we always urge our clients to settle their debt as soon as possible if they can. The sooner you pay off your loan, the better.
Amount to borrow
The amount you want to borrow will be based on how financially capable your operation is. We can't lend money to an operation that we clearly see is failing and there are no efforts made in making it rise to the top again.
Global Finance – Business loan
Loan Type

Business loans

Interest Rate

9.95 – 29.85% p/a

Loan Amount

up to $20,000

Repayment

1 year to 5 years
Benefits of Global Finance
High approval rate
Lower interest rates
Online loan application
Global Finance - Talk to us, we are here for you
The open relationship that we create with our customers is one that doesn't require a client to be afraid of us.
If you have a problem with our interest rates figures and you would like them lowered, we can try to negotiate your amount. We can't promise you that we will drop it to an amount that you preferred but we assure you that we will be fair. However, we must emphasize the fact that as much as we try to meet our clients halfway, they also have to do the same.
When a loan application is rejected
There could be a number of reasons that could lead to having your requests for business loans turned down. However, we try our utmost best to ensure that clients get the green every time. Be that as it may, not everything is in our control and if a customer doesn't meet our credit criteria, we will have to be the barrier of bad news.
After we have declined your application, we will give valid reasons that mounted to be rejected. We will never leave you hanging without fully explaining the causes. On the other hand, if your credit request was approved, we will ensure that you get your loan as soon as possible.
Rescheduling a payment
There is nothing you can do if you are facing financial obstacles that are preventing you from paying your loan on time. However, you need to inform us as soon as possible because if you don't do so, we will presume you are skipping your payment on purpose. Customers need to inform us as soon as they realize they are unable to maintain their financial obligations.
Bad credit history
We usually want to access the severity of bad credit history before we can confirm whether we will be able to assist the customer with a bad credit loan. However, we believe in giving our customers a fair chance regardless of how they used to pay their debts in the past.
Customer Reviews & Testimonials
"
The best part about the company is that if you would like them to contact you all you have to do is leave your number and your email and they will phone you.
Roxzanne D
— Auckland —
They will help you secure a loan for a company that you would like to buy or even a franchise they will help you because they see you're potential.
Jonah C
— Queenstown —
The service is outstanding and I will no longer be looking anywhere else for a loan anymore. I will be staying with them, after all, they have done.
Lorenzo B
— Auckland —
Global Finance Contact
Contact Number
E-Mail
Website
Physical Address
Kudos Business Centre 19/203 Kirkbride Rd

Mangere

Auckland Region

2022

New Zealand
Opening Hours
Monday

09:00 – 18:00

Tuesday

09:00 – 18:00

Wednesday

09:00 – 18:00

Thursday

09:00 – 18:00

Friday

09:00 – 18:00

Saturday

12:00 – 17:00

Sunday

– Closed