Business loans up to $100,000
Low-interest starting from 11.95%
Repayment up to 7 years
In-page navigation
---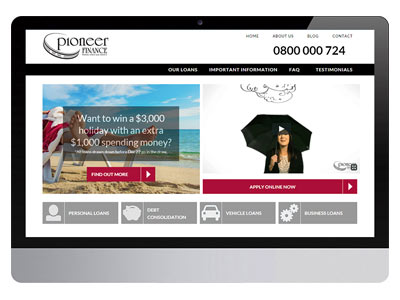 Author Pioneer Finance. Screenshot of Pioneer Finance website.


[Accessed April 17, 2018]
Pioneer Finance - Affordable business loans
Opening a business is a great accomplishment. Knowing that you have a company under your name is not only rewarding, but it also encourages you that you have to work twice as hard to ensure that your operation stays on top of its game.
Should you require a loan at Pioneer Finance, it doesn't mean you are allowed your enterprise to perform financially negatively in a bad way. It just means you too, like everybody need business finance.
This is not something to be ashamed of as it can happen to anyone. We will guide you throughout the process and hopefully give you an advance that will come in very handy for your organization.
Size doesn't matter to us
There is a big misconception that we only borrow money to great companies. This is not the case, in fact, we would even give along or a short-term loan to an operation that just opened a shop. Size is not really a factor for us, what matters is the potential and profits a business is willing to produce.
Although, we must emphasize the fact that we will never lend a company that is clearly in a bad financial position. It is vital that although a corporation may be slightly in debt, it should have an idea of how they are going to ensure that the profits start running in so they can make due of their expenses. At the end of the day, a well-organized plan may just benefit your business needs.
Pioneer Finance Services
For starters, whether you have the money to pay off your credit advance or not, everybody is constantly looking for an easier way of doing things.
Having said that, when you combine all your business loans into one big credit, you will have less interest to pay.
This is what we call debt consolidation. If you are interested in this financial plan, give us a call and we will explain everything to you in further detail.
This idea has helped a lot of customers and by merging all your loans, you will also finish paying your credit quicker.
Pioneer finance hardship validate clause
There might be problems that prevent you from being able to pay your business loan. If you are facing any financial difficulty, please contact us as soon as possible.
Don't wait for the last day and notify us when it is already too late for us to figure out a plan for you.
We know that enterprises may face problems, whether it is an economic issue or a personal issue, we understand all the factors that may arise.
As much as we are always willing to help you, we also need our clients to meet us halfway.
Pioneer Finance – Business loan
Loan Type

Business loans

Interest Rate

11.95 – 27.95% p/a

Loan Amount

up to $100,000

Repayment

1 month to 7 years
Benefits of Pioneer Finance
Low-interest rate
Quick and friendly services
Choose repayment terms that suit you
Pioneer Finance - Confidential loan applications
How can I get a business loan at Pioneer Finance?
We recommend that the clients who are looking for a quick loan to apply online, it is the fastest route compared to calling us and having to book an appointment.
Adhering to the terms and conditions
There is always a little bit of seriousness that needs to be taken to heart before we grant your credit application. We always encourage our customers to read the terms and conditions that are included in the credit contract because if you don't read them and familiarize yourself with them, you will find it very difficult to get acquainted with them in the long run. Getting excited after your loan has been approved is normal but we always expect you to know what you getting yourself into when you get accepted for a loan at Pioneer Finance.
Pioneer Finance private policy
Everything that is done at Pioneer Finance is done by extreme privacy and confidentiality. Having said that, nothing will be shared with anyone. The information and details regarding your company will be for our records only. Every agent that works with us has to adhere to a Private Policy that we have. This Private Policy is part and parcel of the responsibilities that they have to do on a daily basis. We remain professional and civil at all times during your credit application.
If you have any complaints
We always try to do the best we can to ensure that our clients remain happy. However, we know that we won't always get it right. If you feel that you have been mistreated as a client, please contact us as soon as possible. We will see to it that your issues are not only addressed but dealt with so that you can have a great working relationship with the workforce at Pioneer Finance.
Early loan repayment
If you would like to settle your debt sooner than the required date, you can do so. We always encourage our customers to pay their business loans sooner if they can. By doing this, you are making a good name for your business and reputation. No financial service provider likes working with people who don't take their debts seriously. The last thing you want is to start things on the wrong foot by skipping your period payments.
Customer Reviews & Testimonials
"
They have helped our company out of the hole that it saw itself in once the market had dropped they helped us get all our unpaid loans paid off and thank you to them our company is better than ev...
Tommy H
— Nelson —
They have given us the hope that even if your credit score isn't too great they are still willing to help you and when you start a new business you can bank on the fact that your own account will...
Chiara M
— Queenstown —
They have given me the best service when I was unsure of added-on fees such as rates when it came to another loan company I phoned them and they were more than willing to help.
Sofia C
— Auckland —
Pioneer Finance Contact
Contact Number
E-Mail
Website
Physical Address
119 Queens Drive, Hutt Central,

Lower Hutt

5010

New Zealand
---
Postal Address
PO Box 97199, Manukau, Auckland, 2241, New Zealand
Opening Hours
Monday

09:00 – 17:00

Tuesday

09:00 – 17:00

Wednesday

09:00 – 17:00

Thursday

09:00 – 17:00

Friday

09:00 – 17:00

Saturday

Closed –

Sunday

Closed –